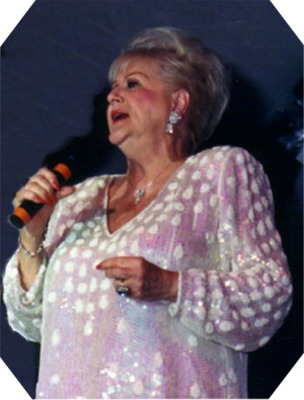 Afterward
When the act finally broke up for good at the very end of the 1980s, Whiting returned to the solo work she had been doing consistently when not working with the 4 Girls 4. She continued to appear at New York's toniest supper clubs and occasionally release a new CD. In the 1990s she toured with a Johnny Mercer review produced by Jack Wrangler, whom she had married quietly in 1994. By then Wrangler had long ago gotten out of the adult film industry and was a successful musical comedy producer. Now together for over 25 years, Whiting and Wrangler work tirelessly on behalf of AIDS causes and the Johnny Mercer Foundation. They are also, according to the Chicago Tribune,"one of New York's most popular, most controversial and most durable duos."
The Wrangler-produced Mercer review eventually morphed into the Broadway show "Dream." Clooney was performing in the New York area when the show was having its run, and went backstage to visit Whiting after catching the show. Whiting said that was the last time she saw her.
Margaret Whiting and Johnny Mercer
In 1990 O'Connell married the famous bandleader Frank DeVol, who had been orchestra conductor on recordings with Whiting and Starr, among many others. O'Connell and DeVol performed on cruise ships together for the rest of her life.
Starr also continued to work, getting the occasional cabaret or cruise ship work and appearing in the enormously popular Palm Springs Follies. In 2001 she returned to the recording studio to cut a duet with Tony Bennett for "Playin' With My Friends: Bennett Sings the Blues." Other artists who performed with Bennett on the CD included Diana Krall, Sheryl Crow and Bonnie Raitt. "I was very proud to be asked to be part of that," Starr said. Every New Years, she has a big party at her home in California. Whiting and Rose Marie often show up for black-eyed peas and cornbread.
Rose Marie never slowed down. Turn on the TV today and you're likely to catch her on-screen. In 2004 she returned to Hollywood Squares and is working with the other cast members of the old Dick Van Dyke show on a reunion special. She did a guest spot on "Friends." She did a guest spot on Tracy Ullman's HBO series. She did the voice of "mother" in the 1998 "Psycho" remake. She did an "American Masters" PBS documentary on Vaudeville. When she got a star on the Hollywood Walk of Fame in 2001, 4 Girls 4 creator Bill Loeb showed up to congratulate her.
Rose Marie unvailing her star on the Hollywood Walk of Fame.
l-r Dick Van Dyke, Hollywood Honorary Mayor Johnny Grant,
Rose Marie and Carl Reiner
Ballard is booked through 2005. She's currently touring the country in Nunsense and getting the same kinds of laughs she's been getting for fifty years.
Throughout the 1980s Martha Raye continued to work on television and on the road. But in 1990 she suffered a stroke, which effectively ended her career. But she remained in the public eye. In 1991 she sued Bette Midler because she believed Midler had stolen parts of her own life for use in Midler's film "For the Boys." The same year she married the much-younger Harris, to the delight of the supermarket tabloids that covered the nuptuals. On September 9, 1993, she was sitting in her home with Harris, watching TV, when it was reported that legendary singer Helen O'Connell had died. Raye took a long drag on her cigarette, let out the smoke, and turned and looked at Harris.
"At least we won't have to hear 'Tangerine' anymore," she said. Raye herself died the following year.
When Allen Sviridoff took over Clooney's career management in 1983, he told her that in ten years she would be placed in the same legendary category as Frank Sinatra and Ella Fitzgerald. His prediction came true. By the time of her death on June 29, 2002 of lung cancer, Clooney had scaled the heights of fame and accomplishment in the entertainment industry, garnering multiple Grammy nominations, a Lifetime Grammy Award, an Emmy nomination, two number-one jazz albums and sellout concerts nationwide. She was the most important asset on the Concord Jazz label, which became the number one independent jazz label in the United States on the strength of Clooney's CD sales.
How did Sviridoff manage to usher Clooney to these heights?
"I couldn't have done it if she didn't have that talent," he said recently.
Months after Rosemary died, a program devoted to the life and career of Bing Crosby was held at Hofstra University in New York state. A special tribute to Clooney was held during the program. There, Margaret Whiting spoke eloquently and with great emotion about her departed friend. And when a Rosary service was held for Rosemary near her former home in California, Rose Marie was in attendance.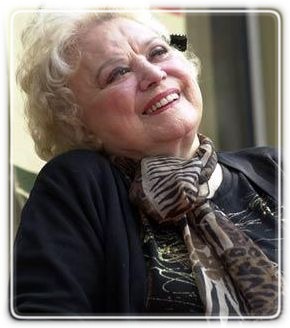 "I think it was one of the best acts that ever appeared anyplace," Rose Marie said of the 4 Girls 4. "I mean, we did phenomenal business and were just about tops as far as anyplace that we played. It was a wonderful show, a wonderful act, and we got great reviews wherever we went. It was one of those things that happens once in a while... In fact, it would be very successful today."
As for Rosemary, we'll give the unsinkable Miss Marie the final word on the subject, too.
"Clooney?" she said. "She was a great, great singer. There'll never be another Clooney."
Go To Page: 1---2---3---4---5---6---7---8---9---10---11---12---13---14 --- HOME>>>