In her book, Clooney wrote that Whiting was driven to put a high gloss on the act and to make sure the four women dressed in sequined evening gowns that complimented each other.
From Girl Singer: "Margaret had the grandest visions for us – she wrestled us into coordinating costumes, pushed for publicity, talked of television and even Broadway."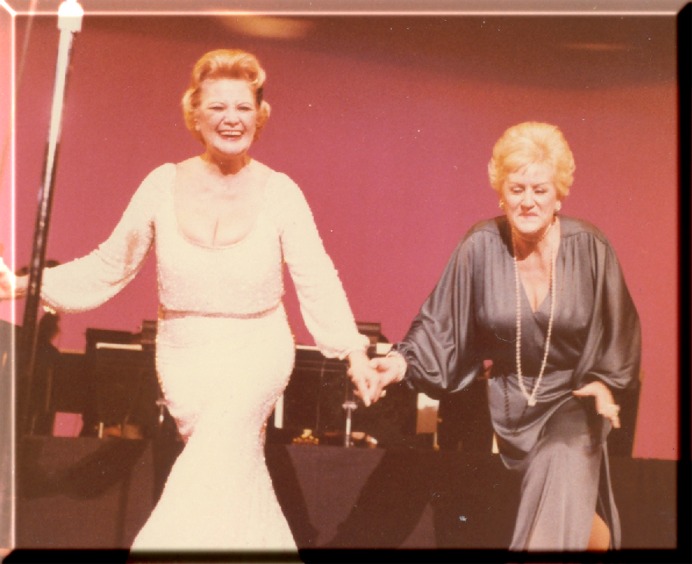 Rose Marie, Clooney wrote, "encouraged the rest of us to liven up our acts."
"That's right," Rose Marie said when told of Rosemary's published comments. "I taught them how to talk in the show, I taught them how to bow. I taught them quite a few things. The finale was the most important thing to me. I was the one who would find a lot of the material."
She also found a clothing establishment that would sell the "girls" beautiful beaded and sequined gowns at wholesale prices. Margaret, Rose Marie and Clooney were thrilled and each bought a number of glittering dresses. For a long time, however, O'Connell resisted purchasing on-stage attire, which was expensive even at a deep discount.
"Margaret was wonderful. She'd always say, 'Let's do it.' She was Miss Show Business," Rose Marie said. "And Clooney would go along with everything. But Helen was a drag. She really was. Most of us were beaded and in sequins, and Helen would appear in a plain dress.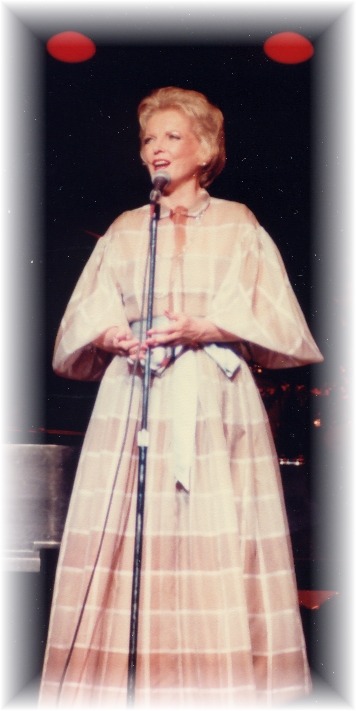 "She would underplay it, until John Kenley, of the Kenley Theater Circuit, in Ohio, went over to her and said, 'You look like you're wearing pajamas next to the other girls.' She said she was wearing a designer dress, and he said, 'I don't care. You look like you're wearing pajamas. They're all sequined and beaded and theatrical and you look like you just came out of the bathroom.' She didn't care for that too much."
Before long Helen, too, discarded the casual wear for a more theatrical look onstage.
The format of the show was fairly simple and straightforward once a few wrinkles were ironed out. Whiting would appear first, singing a mixture of her old hits and a contemporary song or two. O'Connell, who also performed a mixture of her signature songs and more modern selections, followed her. After a brief intermission, a snippet of film showing "Baby Rose Marie" would appear on an on-stage movie screen, and Rose Marie would appear in a sequined dress and floor-length fur coat and belt out a whiskey-voiced rendition of "I'm Glad I'm Not Young Anymore," with new lyrics written by Sammy Cahn. Clooney, considered by many as the anchor of the group, performed last, and like Whiting and O'Connell, mixed her old hits like "Come On-a My House" with more contemporary numbers like "A Song for You" and "Come In From the Rain."
At the close of the show, all four women would appear on stage for ten minutes, doing funny patter and singing a parody version of "Together" from the Broadway show "Gypsy."
"As we toured we finally got a song, The Four Girls Four Song, to sing at the finale," Whiting said. "It was fun. It kept us on our toes. Every night I opened that show, I did it with a great love for those girls. And god, weren't we lucky to do that? It turned out to be a sensational act."
The Four Girls Four Song was co-written by the songwriter John Meyer, who had worked with Whiting for years, writing special material for her.
"I joined that tour along the way when I was writing for Margaret," Meyer said as part of a telephone interview in February. "The title song originated from a guy from the West coast, Tom Hatten. He was not primarily a lyricist but he did write a lyric, The Four Girls Four lyric. Margaret came to me and said, 'John, we have a lyric for a number that the four of us could do together, but there's no tune.' I usually write music and lyrics, but she asked me if I would consider setting Tom's lyric to music. I said okay, and did and it turned out very nicely."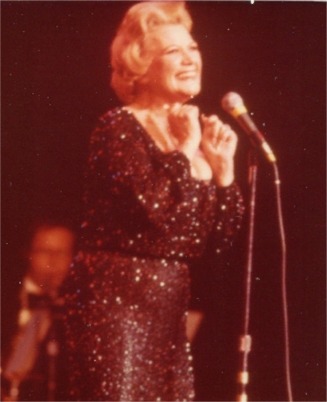 Key to the song was a series of lyrics that provided quick character sketches of the four ladies, and allowed the audience a perceived glimpse into their life on the road.
Take, for example, a snippet of "The Four Girls Four Song" as sung by Rose Marie, in which she describes Whiting:
"Margaret is sweet
But she'd rather shop than eat.
Starts at ten and cleans out every store.
From Steuben glass to Gucci gloves,
United Parcel dearly loves
Miss Margaret of the Four Girls Four."
One reason the song went over so well with the audience and the performers was that it had an element of truth to it: "We would all go on adventures, either shopping adventures or dining adventures," Sviridoff said. "Margaret was the one that always found stores and restaurants. She was almost like the tour guide."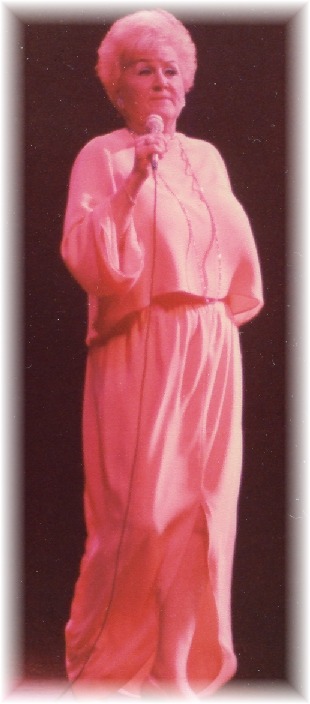 Or this bit of lyric, sung by Whiting about O'Connell:
Helen is great,
But she's always slightly late.
She's due at two? You'd better make it four.
Helen, dear, where have you beeeen?
Helen answers: Still memorizing "Tangerine!"
"We would have a press conference set up and Helen wouldn't show up," Rose Marie said. "You'd say to her, 'Why didn't you show up?' And she'd say, 'Nobody told me about it.' Well, she'd be standing right there at the time the plans were made! So we used to get into arguments over things like that."
Or this bit, as sung by Clooney about Rose Marie:
Number three is Rose Marie,
Who lives on Sweet 'n Low.
She holds court in a coffee shop for tea.
If we go in, we get a bill, but she just wears a bow.
And her whole hot damn pot of tea is free!
Indeed, Rose Marie's signature black bow got her a great deal of attention when she'd be out in public with Clooney and Whiting: "It got very embarrassing," she said. "People would ask me for an autograph and they wouldn't ask Clooney or Margaret. But what the hell, that's part of the game."
And finally, it was Helen's turn to sing the lyrics pertaining to Clooney:
Rosemary's fun,
Cause she never sees the sun.
"Do Not Disturb" just hangs there on the door.
She's always sleeping in her room
At least that's what we all assume!
Miss Clooney of the Four Girls Four!
When the "At least that's what we all assume" line was sung, Rosemary typically winked at the audience and gave them a conspiratorial "OK" sign, as if to teasingly suggest that "sleeping" was not what was going on behind the doors of her hotel room. That lyric was a gentle reference to Rosemary's long term relationship with the charming DiPaolo, whom the women almost universally adored.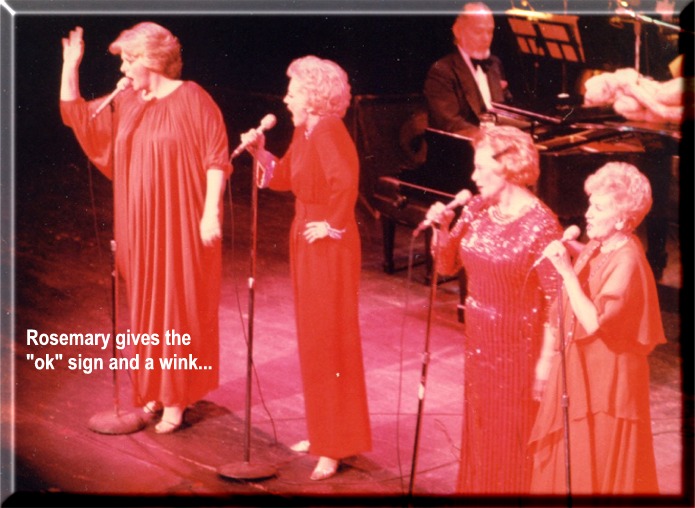 [click here for a video of the 4 Girls 4 singing "The 4 Girls 4 Song"]
"They treated me like their little brother," DiPaolo said. "They bought me presents and things. I was so spoiled."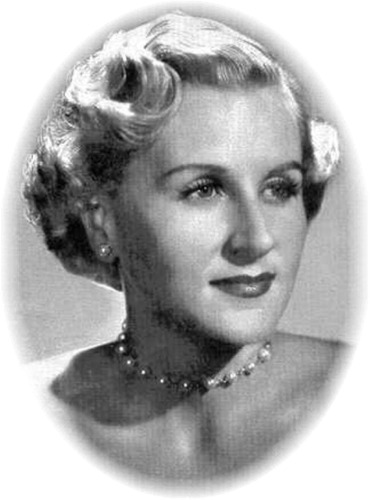 Though eventually The 4 Girls 4 Song was discarded, for the first few years of the tour it was among the most popular numbers in the show. Indeed, if there was one consistent criticism of the act, it was that there wasn't more time spent with all four women performing together.
"The funny part is that Margaret brought this new tune in to the girls very proudly because she had basically engineered its conception," Meyer said. "She sang it to them, and they all just turned away and made no remark at all. When they heard the song for the first time, that was their reaction, and I think it was because they felt it would be formidably difficult to learn. I think they didn't want to have to be bothered to learn a piece of new material. But they did and they sang it for maybe the first leg of the tour until somebody was replaced."
Meyer's memory of the "girls'" initial reaction to the song is confirmed by an account of the incident in Whiting's autobiography.
"To say I was crushed was to tell the truth," she wrote of the women's response to the Four Girls Four Song. "I found myself standing onstage crying terrible tears of frustration. I was mad and I was tired. And I had worked so hard. And to get this kind of dismissal?"
Songwriter Meyer briefly followed the tour during its early days, and saw the four women coalesce into what Whiting described as a "circus family," despite their occasional differences.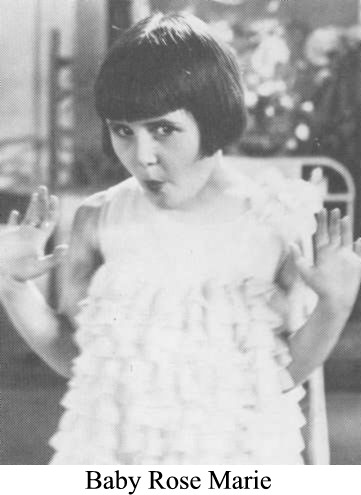 "They had a wonderful camaraderie. Margaret has a great sense of humor, and so had Rosemary. And Rose Marie, of course, is a comic. Helen had a very dry wit. And so it was fun. I can't remember any particular exchange that happened, but they certainly had a lovely dynamic going in terms of the ease with which they negotiated with each other. They got to be very friendly."
In May of 1979, 4 Girls 4 performed at Westbury Music Fair on Long Island, New York. John Wilson of the New York Times caught the act. He described it as follows:
"Miss Whiting, a vigorous, outgoing performer with a strong, lusty voice, lingers longest in the past with both a brief reminder of her old hits (an obligatory segment for each singer) and a medley of 1940s songs. Miss O'Connell, who emphasizes the fact that she is the oldest of the group (she will be 59 next Wednesday) although she looks like everybody's fairy godmother, is not only a singer of much greater range and control than she was in her Jimmy Dorsey days, but a comedienne with a dry, underplayed delivery. Miss Clooney, exuberant and husky-voiced, is the least encumbered with the past, looking toward the future with a song she will sing at her son's wedding to Debby Boone.

"In this company, Rose Marie serves as a change of pace. A child star on radio when she was 6 years old, latterly on television on the Dick Van Dyke Show and 'Hollywood Squares,' she is primarily a comedienne, shooting out one-liners as she sprawls over a piano and shouting out a few lines of a song in a husky, gravel-edged voice. With four distinct personalities, four different singing styles, but with a unified point of view, '4 Girls 4' has a sense of immediacy that manages to make the past a relevant part of the present."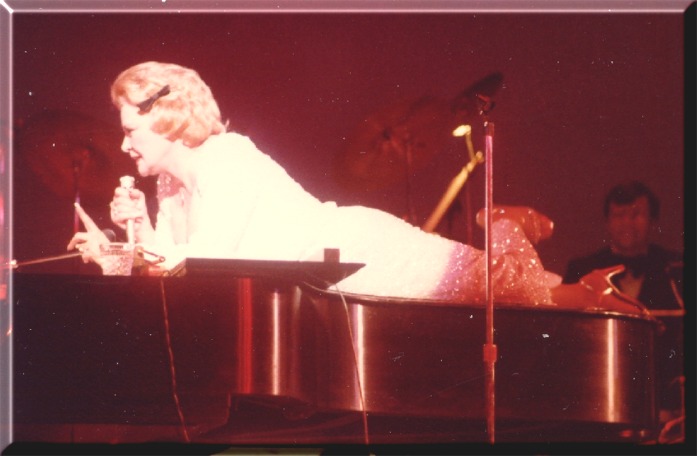 Go To Page: 1---2---3---4---5---6---7---8---9---10---11---12---13---14 --- NEXT>>>