Always a Party
Like the legendary Rat Pack that DiPaolo referenced in his description of the 4 Girls 4, the ladies of the act were not opposed to knocking back a few cocktails now and then. Indeed, drinking was almost always a part of the post-performance celebration, or, for that matter, the pre- airline-boarding celebration. On one occasion, DiPaolo had to go above and beyond the normal call of duty in facilitating a pre-flight booze fix for the girls.
"One time, early in the morning, we arrived at the airport and were waiting to take off," DiPaolo begins. "The girls always liked to have a drink before they took off in a plane. So they said, 'Gee, it sure would be nice to have a Bloody Mary right now.' And I said I'd go over and talk to the bartender. But there was no bartender. It was so early in the morning, he hadn't shown up. So I went back and told them there was no bartender, no Bloody Marys. They said, 'Oh, man!' So I said, 'Well, give me a minute. I'll see how far back I can get into the kitchen and see if we can't find something.' So I went back there on my own and came back with five Bloody Marys – one for myself. The stuff was back there, so I just went ahead and made the Bloody Marys myself!"
In life, Clooney made no bones about her enjoyment of an occasional cocktail, always emphasizing that she never drank before showtime. O'Connell, however, had no such personal rule.
"Helen drank a lot of booze before she'd go on-stage," DiPaolo said. "She'd start at 5 o'clock, at dinner, with martinis, and by the time she got to showtime, by 8:30, forget it. She used to be so stoned, so smashed, when she went out on stage, that she would do exactly the same show every night. She'd bat her eyes in the same place. She'd move very little. Every song she sang, she'd sing it exactly the same every night. It could have been a recording."
"Helen had her martinis all the time before dinner," Loeb said. "She kind of stayed to herself because she didn't want to spend the money to go out to dinner with everybody. She wasn't as involved as the rest of them were together."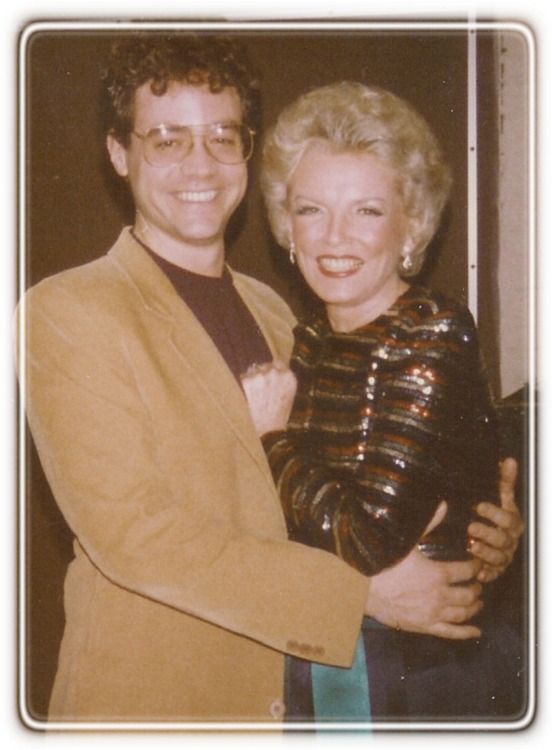 Attorney Mark Sendroff would later become Rosemary's personal lawyer, close friend and a co-executor of her estate. A huge fan of the 4 Girls 4 act, he saw it repeatedly and was one of the few folks who consistently got along well with O'Connell.
"Helen was a pisser," Sendroff said. "Oh, my god. She'd have a bottle of vodka on her dressing table as she was getting her makeup done, and it would look like a water glass. And she would just gradually drink the vodka and she would get funnier and funnier. I thought she was just hilarious and an outstanding singer. I was crazy for her. But there was some friction there."
Helen's habit of drinking straight vodka from a water glass created a memorable situation for Rosemary, Dante related.
"Helen used to drink straight vodka. No ice, no nothing. So one night she had her glass of vodka there backstage, and for some reason or another she didn't drink it. She left it there. Rosemary had to go on, and the vodka was there where Rosemary's water glass usually was. Rosemary never drank before a show – never – but she thought it was her glass of water and she took a nice big slug of it. Man, I'll tell you, her eyes were rolling! She said, 'How am I going to sing!' So I got some water to flush it down. She had to go on in about a minute. A lot of these stories have to do with booze."
Told this story recently, Rosemary's old friend, singer Mimi Hines was aghast. Hines was interviewed by phone from her room at the Windham Hotel in Baltimore, where she was performing in the 20th Anniversary Tour of Nunsense, with Kaye Ballard, who would herself join the 4 Girls 4 act in later years. Hines had known Rosemary well before Clooney joined 4 Girls 4, when both were performing at the Desert Inn in Las Vegas in the early 1960s.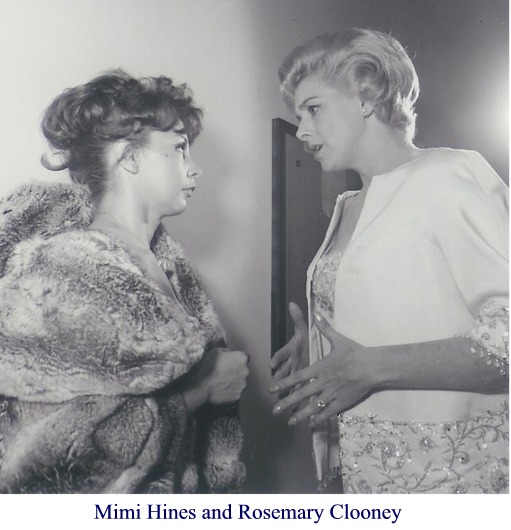 "Wow, can you imagine reaching for something that you think is water and taking a big swallow?" Hines asked. "In the theater, we have water bottles on both sides of the stage, and when you come off from a number, the assistant stage manager or prop person will hand you a water bottle and you suck on it like crazy, get yourself a big drink of water, and then run back out onstage. If that turned out to be anything but water I think you would go cross-eyed!"
Clooney, Hines said, "was a beautiful woman. She was just like her name. She was as delicate as a rose, but if anybody hurt her, there were thorns. She protected herself just like the rose does. She got hurt a lot, you know? But she was strong. She was really, really strong, like the stem of the rose. She was really her name, and I loved her dearly, dearly, dearly. And so did Phil [Ford, Hines' performing partner]. We were crazy about her."
So were audiences and critics, and 4 Girls 4 entered the 1980s hotter than ever. In 1981 the women signed to do a syndicated TV special from a theater in Vancouver, British Columbia, Canada. Seen today, fans of 4 Girls 4 complain that the show is shortened to its detriment – with commercials it runs barely an hour, as opposed to the 2-hour stage show – and is badly edited. Still, it remains today the only videotaped document of the act.
"Unfortunately, as happy as I am to have that around, it was so truncated," Sendroff said. "It was pathetic. It was badly done. They only gave each of the girls about two numbers."
Still, for the curious few who have never seen 4 Girls 4 live, the TV special has preserved a version of the act in amber, and can be obtained today through a collector whose audio/video collection is featured on the Rosemary Clooney Palladium.
Despite the undisputed success of 4 Girls 4, Whiting remained unsatisfied. She believed the act had potential far beyond what it had already achieved.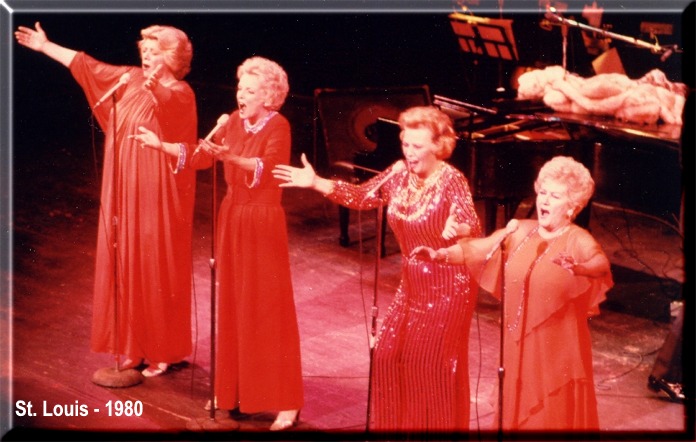 "We had the opportunity to be extraordinary," Whiting wrote in her autobiography. "Maybe even go to Broadway."
That opportunity presented itself when Jimmy Nederlander, of the famous Nederlander theater family, booked the "girls" into his Fox Theater in San Diego. It was something of a trial booking, the women were told. If business was good, Nederlander might be interested in booking them for a Broadway run. Whiting dreamed of a fabulous show directed by Tommy Tune or Michael Bennett.
"My Lord, there were so many possibilities with our four basic characters," Whiting wrote. "A television series. Broadway. I dreamed happily."
Then reality set in. The San Diego engagement was a disappointment. The advance publicity for the "girls" had been lukewarm, and the audience didn't show in the numbers they had at previous engagements. The women consoled each other with their usual rave reviews, but they never heard from Jimmy Nederlander again.
Go To Page: 1---2---3---4---5---6---7---8---9---10---11---12---13---14 --- NEXT>>>