As part of Ravinia's Festival 2000, Rosemary headlined the opening night's main event on the same stage as the Dave Brubeck Quartet and Marion McPartland. Dave opened the show, and then Marian joined him for some piano duets and comical banter. After they finished their set and a brief intermission was concluded, the sell-out crowd was treated to the inimitable Rosemary Clooney escorted to her center stage spot by her handsome husband Dante DiPaolo. While the band played the introduction to Gershwin's "A Foggy Day," Rosemary commented that she'd waited a long time to come back here. Rosemary last performed at Ravinia in 1990.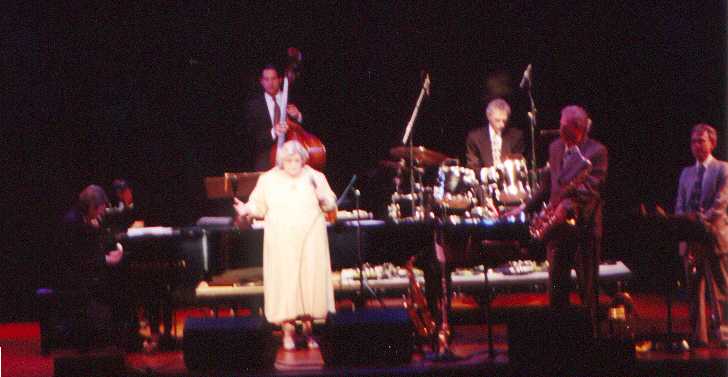 From the start, Rosemary was in a groove and embodying the lyrics and melody for every song. Before she moved to her second number, Rosemary introduced the men on the stage with her, "The musicians," she says, "are the most important part of the show." On sax, Doug Lawrence, on trumpet, Art Davis, on bass Jim Cox, on drums from New York, "the best drummer and the nicest man I know, Joe Cocuzzo," and her favorite conductor, arranger, accompaniast "John Oddo." (and she should know as she said, she's "been around a while.")
In talking with the audience Rosemary commented that she grew up in Kentucky and Chicago was "our big city" and everyone wanted to get the jobs in Chicago. "So not bad that at 72 it came around, times running out." She reminded the audience that she used to come to Chicago a good bit, because she'd dated Dave Garaway for a time. He'd initiated something in the 50's, "or maybe that was the 40's" that she'd originally thought was kind of neat. Instead of wanting people to clap after a song in a performance, he wanted them to snap their fingers instead. She realized it was actually stupid and fell out of love with him right about then. She joked that she'd been engaged for some time to Ali Dragon, and that Bert Thurstrum had to tell Ali that Rosie had actually gone off and married someone else. And it was reported to Rosie that Ali would just go on and on to Fran that he was mourning the loss of Rosie.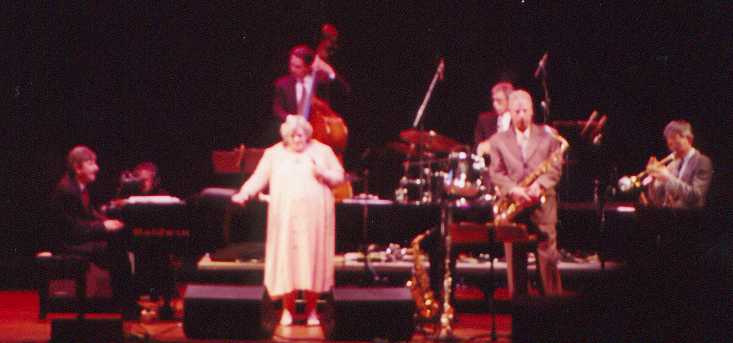 She took a few minutes to update the audience about her family. Said she had 5 kids "all doing well, all vertical." And at this stage of life, that's most important. She has 9 grandkids, "easiest thing I'd ever done!" she said. Commented that a couple of them are real pistols but she'd tell the audience about that later. She wanted to give an update about another interesting relative shes has, "George Timothy who is also doing well." She said he deserves all of his success he is experiencing because he really worked hard when he first started out and "it doesn't hurt that he look so good too. His new picture 'The Perfect Storm' will be out soon and we will see how it does." She said she likes to sing a song that she dedicates to him from the whole family, which was her sequa into "We're In The Money."
She said she'd opened with a Gershwin tune and wanted to do another one for the audience. She had the good fortune to live by Ira for 35 years. He was an interesting and unassuming man. He told silly little stories and one of the things she is most proud of in her life, is her relationship with him. Some of her favorite words by one of her favorite men...."But Not For Me."
With Joe doing a number on those drums, and Art belting it out on the trumpet, Rosie next sang "Strike Up the Band."
Then Rosie said she wanted to sing some of Johnny Mercer's song for the audience. These were the songs related to the second world war. She'd met Johnny through her friend Bing Crosby. Bing and Johnny were close friends and had often lifted a beaker together. She recounted the story about the hostess who met Bing and Johnny on the walkway to her home and said to him, "Johnny I don't want your damn flowers in the morning, so behave yourself tonight." The medley included, "P.S. I Love You," "I Thought About You," "Bye Bye Baby" and "I Remember You."
Next Rosemary told the audience about one of her "pistol" grandchildren. Harry. Harry has this crazy idea that some day he's going to go on the road, he has lots of enthusiasm and studies hard, but it isn't going to happen! She recounted their experience of being at a restaurant and Harry telling the pianist that his Grandmother wanted to sing for them and he'd play. Only to leave Rosemary half-way through the song. She then sang all of "Hey There" for the audience.
Next she said that she really liked Dave Frisberg's songs and wanted to do a couple tonight. She then sang "Sweet Kentucky Ham" with its many regional references the crowd especially enjoyed this piece. She asked Dave if he could write a Brazilian song, so that she could include it on her latest CD. He said, "No!" and instead sent her a book of the songs he's written. He sends her a copy everytime she asks for a song. He later told her that he'd already written a "Brazilian" song. as "Let's Eat Home" has a reference to "RIO" in it. So Rosemary sang that for the audience.
On a more serious note Rosemary recalled that when she'd been in New York two or three weeks ago, Tony Bennett came to see her. They talked and decided that those of them who have been around for a while and knew Frank Sinatra, should include one of his songs in everyone of their performances., as he was the inspiration for everyone who came after him. And with a sadness in her voice, she said, "this is his," and then sang "In the Wee Small Hours of the Morning." It was obvious to any listener that she misses him. The audience was most appreciaitve of her sentiment and her rendition of Frank's song.
| | |
| --- | --- |
| | Rosemary then asked Marian McPartland to come back and join her on stage. After greeting one another, Marian told Rosemary that recently someone had written to her and told her that their favorite rendition of "Don't Fence Me In" was Rosemary's. A flattered Rosemary humbly responded "how nice." (Rosemary performed "Don't Fence Me In" on Marian McPartland's NPR show, PIANO JAZZ with Rosemary Clooney recorded on October 14, 1991.) |
And as if they performed together every evening, Marian and Rosemary concluded the evening's performance with Gershwin's "Out Love is Here to Stay." It was so wonderful to watch two professionals be able to follow one another, it was like watching a flawless dance.
---
Here are a few pictures from backstage....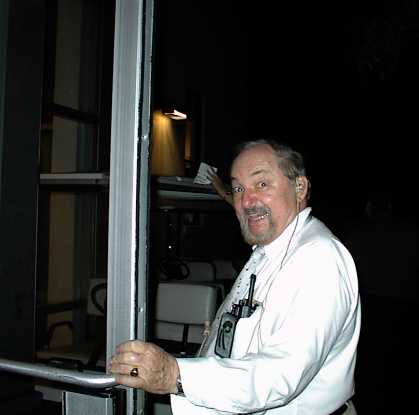 This is Evans, the best Backstage Door Security Man a venue and star have ever met!
And as always, a happy Dante and Rosemary after the performance is over.
And that's Rosemary right after saying hi to imusic fan, CAM2!