Note: The accompanying feature story on Rosemary Clooney appeared in Zest Magazine, the entertainment and arts magazine of the Houston Chronicle, on Sunday, Dec. 11, 1977. Only one of the photos that the writer, Fernando Dovalina, shot was used. Dovalina searched his files and has made the others available to the Palladium. He has made minor changes in his article for this reprinting, mostly in punctuation and spelling, but in one case to clarify a statement; in another to insert a substitute for a word that, though correct, he considers, in hindsight, ill-chosen; and in a third case, to delete a short phrase for which he can no longer find the source of information. He has also written a remembrance of that interview exclusively for the Palladium.
Dovalina is a playwright and features and opinion writer who retired as a newspaper editor in 2000. He served on Pulitzer Prize juries on four occasions, and two projects he supervised as an editor for the Chronicle were Pulitzer finalists in international reporting. Dovalina has had four plays produced since his retirement, most of them short plays, but one of them, The Man in the Trunk, which ran for six weeks and to good reviews in Houston, was a two-act play. He has also enjoyed staged readings of other short plays, including Come In From the Rain, a fictionalized encounter between Rosemary Clooney and a young, female, black jazz singer. He hopes to eventually enlarge and re-write that one into a longer play.
Interviewing and Photographing
A Playful and Confident Clooney
At the Birth of Her 2nd Career

By Fernando Dovalina

©2002, The Rosemary Clooney Palladium
The plane arrived late into Los Angeles, and the taxi was slow getting to the Holiday Inn where I was staying. Then someone at the hotel gave me wrong directions to the Huntington Hartford Theater, where Rosemary Clooney was appearing in 4 Girls 4 and where I was scheduled to interview her within a half hour.
Why, I castigated myself, did I arrange for the interview on the evening of the very day I was arriving in LA? I should have arrived the day before. I should have scouted the theater beforehand. But there had been reasons for the low overhead. I was a news editor for the Houston Chronicle, but the entertainment editor, though amenable to the interview and at least one photo, could not foot the bill. I was on my own, paying for everything, including the film in an inexpensive 35mm camera, one I had borrowed, and, I hoped, had learned to operate in one brief lesson.
By the time I realized I was walking the wrong way in my search for the theater, I had lost precious time. A friendly Los Angeleno set me straight, and I began to run the rest of the way to the theater. I was puffing and sweating in my khaki safari jacket, which looked smart and sexy in the 1970s, but looks pretty ridiculous in the first decade of the 21st Century. What were we thinking back then?
I arrived backstage only a few minutes late, but I was panting. Rosemary Clooney was waiting for me in her dressing room. After introductions, she said, "You're out of breath, honey. You need a drink." Something like that. I didn't keep notes of that exchange.
"How about a scotch and water?" That's what I was drinking in the 1970s, and that suited me fine.
A drink from Rosemary Clooney. Well, wow, I thought to myself, as she left to fetch me the scotch from the dressing room of one of the other "girls." I was fast losing my journalistic objectivity, not that I really ever possessed it when it came to Rosemary Clooney. She had been my favorite singer since I was a child, and I was unashamedly using my profession to finally meet her.
Soon, drink in hand–she wasn't having one-- we began the interview. The news pegs were numerous. Her first autobiography had been released, her first CD for Concord was out that month, and she and Margaret Whiting, Helen O'Connell and Rose Marie were making a bit of a splash in the newsmaker columns with their show. We talked about all of that.
She was every bit as down-to-earth as everyone has said for decades. No pretension. And she was relaxed, intelligent, a wonderful conversationalist with a self-deprecating sense of humor. And she pronounced my first name almost perfectly, that world-famous voice trilling the Rs and broadening the vowels in "Fernando," her Spanish from her Ferrer and Touch of Tabasco days still accurate after all these years.
But this was 1977, the beginning of her re-invention. She had not yet become a headliner again. Her dressing room was medieval, messy, the walls scratched, flaking and soiled. A rat in the corner would not have surprised me. Her gown was elegant and simple. But I noticed it had a tear in the back. Nobody in the audience would see it, but in better days, somebody would have taken care of it.
The other three "girls" wafted in and out of the room. The four exchanged joking remarks and faux insults. One of them had started calling Rosemary "the Cloone," which explained the name on Clooney's dressing room door. Later, I would read of some friction among some in the four, but none of that emerged during this comfortable repartee.
After the interview was done, Rosemary agreed to photos, and without my having to ask, she put on a happy face, a serious one, even a come-hither look.
Then, Dante Di Paolo, her boyfriend, and Miguel Ferrer, her oldest son, came in. Miguel, then in his early 20s, was in a playful mood and asked to have his photo taken with Dante and his mother. As I focused the lens on them, Miguel reached out with one hand and began toying with Dante's neck medallion. The camera clicked.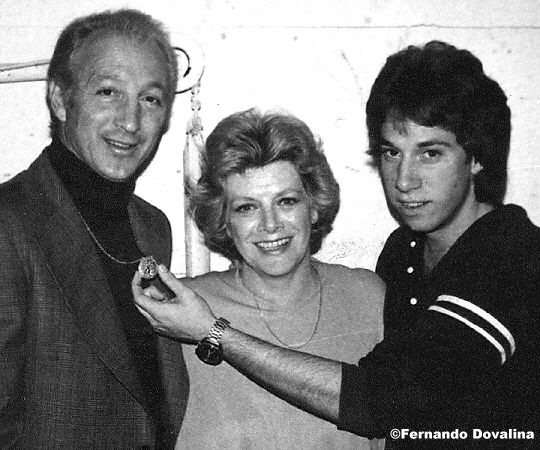 Then either Dante and Miguel–why didn't I keep notes?–agreed to shoot a photo of me with Rosemary. Click. I hoped he knew what he was doing. And the thought did occur to me: What am I thinking? This shot may be the only one in focus. Wouldn't that have been embarrassing?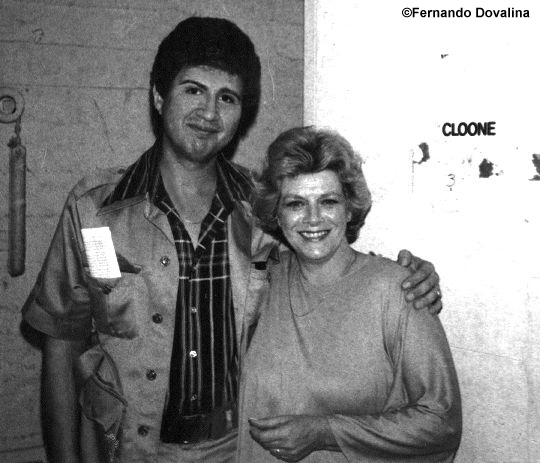 Despite the budget constraints, I ended up staying in LA a few days and went to see 4 Girls 4 three times. Later I saw her perform four or five more times in Houston and New York, and I wrote about her on numerous occasions, but I never again made an attempt to meet her.
I wrote the feature story hurriedly, on my own time, and turned it in on deadline. It got a pretty good splash in the Sunday entertainment magazine. The paper used only one of the photos.
Some of my newspaper friends who knew I liked Rosemary kidded me about doing a story on "a has-been." But as the Cloone once sang, "Ha, ha, ha, who has the last laugh now?"
When I look back at what I wrote, I cannot help but be stopped dead by the paragraph that mentions her smoking. And I cannot help but wonder, too, what might have been had she given up the habit by then.
In every story or play I write, if I can look back and pick a few words or phrases that bear survival, I am pleased.
In this story, I am proud of this passage:
"Her voice remains, unmistakably, Rosemary Clooney's voice. But it has changed. It is no longer a young girl's voice. It is the voice of a woman who has seen and walked the world. It bears the burrs and scars of living, but these have enriched it, not marred it. It is a resonant voice, a fireplace voice."
The photos I shot that December in 1977 are the only reason that this old and now yellowing article and this remembrance merit any attention. There are hundreds, perhaps thousands, of Rosemary Clooney photos from the bookends in her career, the 1940s-1950s and the 1980s-1990s, but not too many photographers were expressing an interest in Rosemary Clooney in the mid-1970s. Not yet.

These photos capture a Rosemary at the genesis of her revival. Her posing antics during our photo shoot reveal a serious Rosemary, a confident Rosemary, a playful Rosemary, even a slightly suggestive Rosemary.

We didn't know it, but it was a time when the next and most successful chapter of her life was only in its first paragraph.
---
Beyond the thorns

After overcoming mental – 'Yes, I was insane' – problems, Rosemary Clooney is making a comeback and talking openly about mental illness. And it could well be that the title of her new LP – 'Everything's Coming Up Rosie' – indicates her future.

BY FERNANDO DOVALINA

Houston Chronicle Staff



Singer Rosemary Clooney, after years of psychoanalysis and group therapy, feels that she can now face the realities of life.
Rosemary Clooney makes no bones about it. Her protective friends may say that she suffered a nervous breakdown. Her psychoanalyst strings together a handful of words that typically end with "otic." But the 49-year-old singer likes the direct approach.
"I was out of my mind. Yes, I was insane," she says with disarming candor.
She is sitting on a dumpy chair in a cell-like dressing room at the Huntington Hartford Theater in Hollywood. She is appearing there in 4 Girls 4, a cozy, nostalgic musical show that also includes Margaret Whiting, Helen O'Connell and Rose Marie.
Miss Clooney, whose thin figure in the 1950s presented a problem for the Paramount movie moguls hoping to make her the female Bing Crosby, is wearing a walnut-colored, loose-fitting outfit that attempts to mask her weight problem. Despite this sop to show business, her weight doesn't seem to bother her much. In "The Lady Is a Tramp," one of the tunes she does in the show, she alters the lyrics to joke about her ample frame, in effect, saying, "This is what I am, take me for who I am."
This unself-consciousness has softened even the toughest of critics who feel compelled to remark on her weight. One, for instance, merely referred to her as "Junoesque."
This particular day, her voice evidences the ravages of a flu-like illness. The top notes are coming harder. She is clipping them, instead of sustaining them. Her doctor warns her: No talking. Save your voice for the show, or it will be 3 Girls 3. But she talks anyway, often gesturing with one hand in which she holds one of those long, thin, chocolate-colored cigarettes.
She steals a glance at the cigarette, shrugs and, with a guilty, little-girl look, acknowledges, "I know, I know."
She wants to talk about her newly released book, This for Remembrance, which details her journey into the depths of insanity and her long trip back.
But a fan breaks in. The woman has come all the way from Minnesota to see the show, and she wants her copy of the book autographed. Her father loves Rosemary, too, but he couldn't be there. So would Rosemary please write something to him. He's always called her Little Annie Rooney. Affectionately, of course. Miss Clooney jots a few words on the frontispiece and thanks the woman. "I read the book in two nights," the woman says. "You're a courageous little gal, Rosemary."
It wasn't courage alone that compelled Miss Clooney to write her memoirs.
For one thing, there was that desire to end the rumors.
"For years," she says," there had been speculation that Rosemary Clooney was an alcoholic. Not true." She drinks, but it has never been a problem, she says. "And speculation that I was a drug addict. That was true." Downers of all strengths, from tranquilizers to sleeping pills.
The false rumors about alcoholism and the on-target speculation about her addiction grew as her moods see-sawed between easy-going All-American charm to irrational bitchiness.
Once, in Reno, she lashed out at her audience and walked off the stage in the middle of a performance.
It might have been easier, once she began her return to normality, to ignore the past and hope the rumors would die as she rebuilt her career.
"But," she says, "it was better that people know the truth. It was time for saying it out loud."
"Actually," she says, "the book was the farthest thing from my mind" back in 1974 when she first acknowledged her mental problems. It came during a taping of The Merv Griffin Show. Griffin told her she looked and sang better than she had in a long time. "Were you in therapy?" he asked her without warning. She answered truthfully, without flinching.
"It was as though I was completely unaware there was an audience out there," she says. She credits Griffin's friendship and the complete trust she has in him for that first step in going public.
A writer saw the show and contacted her. He wanted to do a magazine piece with as much detail as possible. She hesitated, but finally gave her consent. "Approving the interviews that led to the Ladies Home Journal article was my Big Concession," she says.
The response was astounding. There were hundreds of pieces of mail, to me, to the magazine, to my psychiatrist. People with problems. People who were at wit's end, reaching for straws, people who didn't have anyone to turn to. Sad."
Some of her friends approached her with problems, they insisted, of someone in their families. Almost always, they spoke in hushed tones.
Miss Clooney sits up a little straighter and brings a hand to her cheek, pensively.
"Is it (mental illness) something that we think is so alien in our society that we must speak about it in whispers, as if it were something to be ashamed of? What are we so afraid of?"
She tells the story of two of her aunts, one of whom complains to the other. "Now that everyone knows Rosemary had a mental problem, how on earth am I going to face my friends." The other aunt, unamused and indignant, shoots back, "Honey, you wouldn't have that problem if you hadn't boasted to the whole wide world that you were Rosemary Clooney's aunt."
Miss Clooney asked her psychoanalyst for advice on how to respond to the pleas for help. "There is, after all, help, professional help, available. Some of these people, though, were from small towns, where there is no mental health facility."
The psychiatrist told her to refer them to the American Mental Health Association. She answered every letter.
Undoubtedly, she will be swamped once again with the publication of This for Remembrance.
It is a tale that would make good drama.
A wildly successful entertainer. Critically acclaimed singling style. Hit records: "Come on-a-My House," "Half As Much," "Tenderly," "Hey There, "This Ole House." Movies: Here Come the Girls with Bob Hope, White Christmas with Bing Crosby. Two TV series. Marriage to the Oscar-winning actor Jose Ferrer. Five children.
By 1968, she writes in her book, she was on the brink of madness. She was 40 and her lover of two years was 15 years younger. Her on-again, off-again marriage to Ferrer had long ago ended, and this affair had been her shaky moorings.
Suddenly, he broke off their relationship. She flung herself into an international tour, trying to forget with new sights – and more and more pills. She became nervous and temperamental.
Sympathetic friends who noticed the Jekyll-and-Hyde transformations tried, in diplomatically worded pleas – and in vain – to get her to rest.
Once, in Canada, a wondrously wise boy gave her a small plaster buffalo and told her, "We're taking care of things that are unique and that can become extinct, so you've got to take care of yourself, just the way we've got to take care and protect these animals. You're unique, and you're destroying yourself."
It was the first time anyone had told her the truth. The boy may have been on target, but it was too late. The target didn't feel the impact. The pills had seen to that.
Then, in a plot twist that would have been incredible in a fictionalized case history, Rosemary Clooney joined the California presidential campaign of Robert F. Kennedy, a man who, her fragile mine had decided, would be a savior.
She was on hand for the victory celebration June 4 at the Ambassador Hotel, singing on stage even though she had no music. She was offstage when Kennedy finished his victory speech and walked into the pantry.
She thought she heard photographers' flashbulbs popping. She thought she saw a woman coming out of the pantry with bloodied hands. She thought she heard screams, "He's been shot."
She grabbed two of her children who had accompanied her to the rally, shoved them under a television table, knelt and began saying the rosary. Her arranger brought her to her feet and took her and the two children outside where she watched Kennedy being placed in an ambulance.
On June 6, Robert Kennedy died, and Rosemary Clooney lost touch with reality. As she sat glued to the TV set, she said and laughed, "Kennedy is not dead. It's a hoax." She had convinced herself there was a gigantic government plot that would show an apathetic nation the value of its leaders.
Eventually she ended up strapped like the madwoman she was to a bed in a psychiatric ward of a Los Angeles hospital. She screamed and cursed. She saw demons and attacked the walls.
Miss Clooney doesn't spare herself in This for Remembrance, but neither does she offer glib explanations for her condition.
"There just are no facile explanations," she says. Two more fans – a man and a woman – come into her dressing room. They are in their mid-40s. "Miss Clooney," she says, "I've had to share him with you all our married life, but I don't mind."
Miss Clooney's Irish smile goes for the stretch. "Oh, you're so kind." He shakes her hand, and they leave. She returns to the conversation. "There are many reasons – pressure, for instance."
And as the book makes clear, perhaps the unhappy marriage of her parents; constantly being shuffled from the home of one grandmother to another; a bitter, cold and domineering mother who abandoned her and her sister Betty for a sailor; a loving, but alcoholic father who squandered their wartime savings in a drunken spree on VJ Day.
Writer Raymond Strait taped hours of interviews with Miss Clooney, then organized the material into This for Remembrance, a title borrowed from a line in Hamlet.
"The last thing Raymond wanted to ask me about was about my sister Betty," who died in 1976 of a hemorrhaging aneurysm of the brain. For Miss Clooney, younger sister Betty had been a singing partner in their big-band days with Tony Pastor's Orchestra. She had also been a friend and alter ego. Together they had survived a tough s childhood.
Though the death tested her sanity, Miss Clooney emerged whole.
But writer Strait's reminder that there was still one more subject to cover reopened the wound. She found excuses for avoiding Strait.
"Finally," she says, "he called me. 'You know what you're doing,' he said. 'You're avoiding the subject. We've got to talk about Betty'. " She agreed. The chapter on Betty, written with unashamed poignancy and affection, was finished.
"I knew," says Miss Clooney, her face still mirroring sorrow, "I knew that If I could survive that pain again, I was going to be all right."
She pauses. "I'm still in group therapy. Every Wednesday, when I'm in town." But she feels better able to deal with life. That life revolves around her children, her new love and her rejuvenated career.
Her children range in age from 17 to 22. Her autobiography records her affairs, honestly but not clinically, but, she says, her children reacted with uncommon maturity. The book didn't confront them with any surprises, she says. "They knew, and they read the book as we progressed," she adds.
Her constant companion is Dante Di Paolo, a handsome man her age whom she met more than 20 years ago when they were working together in one of her movies. Di Paolo, a tall, graying dancer-singer, often performs with her. After 4 Girls 4 closes today, she and Di Paolo will do a concert tour in Japan.
Her career, a Los Angeles Times critic said, "shows signs of passing into greatness." Her voice remains, unmistakably, Rosemary Clooney's voice. But it has changed. It is no longer a young girl's voice. It is the voice of a woman who has seen and walked the world. It bears the burrs and scars of living, but these have enriched it, not marred it. It is a resonant voice, a fireplace voice.
The show, 4 Girls 4, may hit the road. There have been nibbles from San Francisco, San Diego and Roxbury, Conn. Reviews generally agree she is the star of the show.
Before her finale, she reminds the audience that in the last year and a half she toured with Bing Crosby, playing in San Francisco, New York and the Palladium in London, a week before Crosby died.
A hush falls on the audience as she tells them: "He was elegant, and he did his last performances with class. I'll always be grateful that I was with him those last performances. And now, ladies and gentlemen, I hope you won't think me presumptuous if I do one of Bing's songs. But it is that time of year, and I did sing this song with him in a movie we did together."
She sang "White Christmas." The audience didn't think it was presumptuous.
After nearly 10 years without a new record, Miss Clooney is back in the business. Two British release albums, available here only in some stores specializing in imports, contain such contemporary music as that of Paul Simon, James Taylor, Paul Williams and Eric Carmen.
The Bing Crosby Palladium concert album, which includes a duet with Miss Clooney and Miss Clooney soloing on "Tenderly," recently hit the top 10 in England.
Finally, Concord Jazz Records has released an LP in which Miss Clooney returns to the jazz idiom of her big-band days before, as she says, commercial success "pegged me as nothing more than a popular singer." The title of the album may very well tell the story of Rosemary Clooney, 1977: Everything's Coming Up Rosie.