"4 Girls 4"
Concord Pavilion Magazine | May 1979
How can 4 girls with four celebrated backgrounds, 4 very private lives and four very distinct egos travel together, work together night after night all over the country and get along without driving each other up the walls? College sororities, women's olympics, girl scouts and bridge clubs have been dealing with this problem for decades. And these four girls are definitely not the "women's olympics" and certainly not the "girl scout" types. Any on of them would ordinarily rather travel with three men, or a bevy or be a mascot for the men's olympics. But together they are, and hundreds of thousands of men and women all over the country are sharing in the pure delight of it. "The Girls" happen to be Rosemary Clooney, Rose Marie, Helen O'Connell, and Margaret Whiting, all legends in their own right but together as "4 Girls 4" one of the most exciting attractions on the American stage today.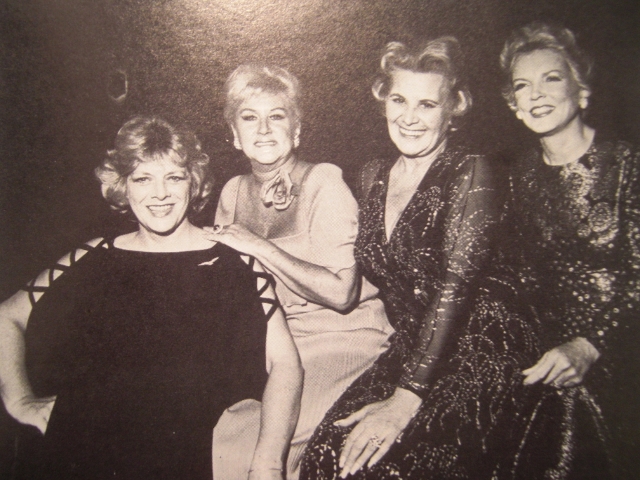 On September 6th, 1977, the Beverly Hills Doheny Plaza Theatre witnessed a happening. Four girls got up and sang. That doesn't sound particularly earth shattering in an era where everyday happenings might consist of 42 topless Playboy Bunnies skateboarding down Sunset Boulevard with sparklers on their tails or Dino De Laurentis blowing up the Bistro in a towering inferno amongst a hurricane with a large ape serving martinis, all for fun. But a happening it was. Because these were four very special girls with four very unique gifts exploding on stage with the big band sound of Frankie Ortega. The evening generated such excitement and warmth that the show was soon moved to the Huntington Hartford theatre where singularly and together they mesmerized sell-out audiences for three weeks and formed a bond that would carry them to the Fairmont Hotel in New Orleans, to Savannah for the dedication of the new "Johnny Mercer Theatre," to the Anaheim Convention Centre, to San Diego, to the North Shore Music Theatre in Beverly Mass., to the Smithville Music Tent outside Atlantic City, to the Fairmont Hotel in San Francisco and on and on breaking all records wherever they played and sending producers scurrying back to their desks wondering, "Why didn't I think of that?" "New York Magazine," "Time," "Newsweek," and "People," plus the major talk shows all began to sing praises to these singers and now everybody wants to share in the fun from New York to Vegas. The girls have just enough time to get home and wash out their lingerie before hitting the road again leaving lovers, family and friends waving at the airport. How do they handle it, the girls, not the lovers? I guess the key work is chemistry and the fact that it all happened so fast.
When Rosemary Clooney, whose own natural warmth and distinctive singing style on recordings and on screen has made everyone, including the late unflappable Bing Crosby, want to "C'mon to her house," first heard of the idea, she thought, "Great. Terrific. It'll just be one week in L.A. I can be home with my five kids (count 'em five), and that will be the end of it." Little did she know that some of the kids would end up traveling with her which turned out to be a good thing for Margaret Whiting. When Maggie's hairdresser didn't show up on night the "Cloon's" oldest daughter, Maria, came to the rescue and did a better job than the hairdresser.
"Baby" Rose Marie, who was a national child-singing phenomenon at six, grew up right before the public eye to become one of the cleverest and, thanks to her brilliance on the Dick Van Dyke Show, and her predominance on every other show (especially Hollywood Squares), one of the most instantly recognizable comediennes in the business. She still sings in her own inimitable style and cracks up the other girls by imitating them in the dressing room. Christmas day, Rose included Margaret, who makes her home primarily in New York, as part of her family celebration in her L.A. home.
When not stringing beads for Rose, Helen O'Connell holds the unchallengeable title of "Backstage Health Counsel," She can diagnose anything from leprosy to laryngitis right on target, and secretly always wanted to be a pediatrician. She also removes costume stains, repairs lipstick smudges, and has the uncanny ability to negotiate professional discounts at hotels, jewelry shops, and clothing stores-- including free parking. This is the same beautiful Helen O'Connell who, with her lilting voice and hit songs like "Tangerine," really gave Jimmy Dorsey and the Big Band era its swing.
Every evening when the houselights go down, the audience tenses in anticipation, the follow-spots laser in on the imposing form of Frankie Ortega as he cues up the orchestra and, with ah wave of his baton, cuts loose with the most exciting overture since Garland hysteria--it is Margaret Whiting who starts the show, singing. Every morning as the sun comes up it is Margaret Whiting who starts the day, singing. Who needs coffee when Maggie's around? Her zest for living and genuine sparkle can warm even the coldest winter in Vermont, whose "Moonlight" she made famous, along with so many other hits. Having grown up surrounded by the greatest music in the world, much of it written by her father, Richard Whiting, her entire life is a song, be it upbeat and radiant or mellow blues, or the innocent desire of those around her. She is totally disciplined (alright girls, let's get moving . . . we're running into overtime): approaches everyone with love, and is an incorrigible flirt.
So there you have it . . . "Four Girls Four," an enigma. An incomparable mixture of nostalgia and today! Girls who can fill a theatre without the need of complex electronics, but with simplicity and purity of sound emanating directly from the heart. And when they open their hearts on stage for a few brief hours it seems like the whole world is in love.