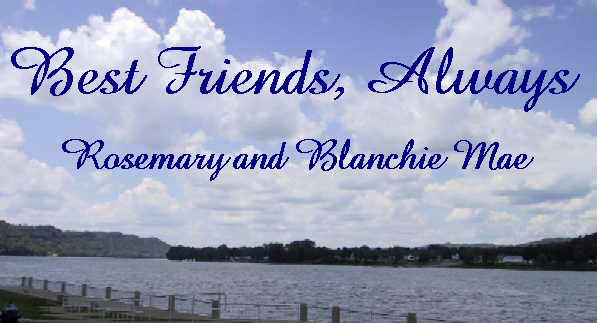 One was a black girl, the other one a white Irish-American girl, and they were both growing into womanhood in a place, Kentucky in the 1930s, where black children and white children were not supposed to be friends.
But they were friends, the best of friends, one of them named Blanchie Mae Chambers, the other Rosemary Clooney. Blanchie Mae grew up and is now a retired housekeeper and Deacon at All Saints Episcopal Church in Maysville, and Rosemary grew up and is a legendary singer, one of the greatest of her generation.
When Rosemary Clooney became a star, she did not leave behind her old friend, but rather remembered her, included her and took her along where she could, if sometimes only in her heart. Blanchie said, "she'd have taken me the whole way to Beverly Hills if I'd have just agreed to go."
In 1947 before "The Clooney Sisters" left Cincinnati to join Tony Pastor, they took a trip back to Maysville to say their goodbyes.
We walked down Casto Street to say goodbye to...Blanchie Mae. Blanchie was thrilled. "I'm sure going to miss you," she said. "But I'm so happy for you."
I put my arm around her shoulder. "Don't worry, Blanchie Mae," I told her. "We'll always be best friends."
In the early years of Rosemary's career she was appearing in Lexington, Ky., and took Blanchie Mae with her. Rosemary was on the same bill with the rock singing sensation Fabian. They shared a dressing room, and Fabian and Blanchie Mae were sitting on opposite ends of the couch when Rosemary requested Blanchie Mae's help in zipping up her dress. A second after Blanchie got up, a brick crashed through the dressing room window and landed on the couch where she had been sitting. "It scared us to death," Blanchie Mae said. Fabian's security increased dramatically after that, and it was one time Blanchie might have wished she hadn't been with Rosemary.
In 1953 when Rosemary selected her hometown of Maysville and the Russell Theatre for the premier of her movie "The Stars are Singing," she insited that Blanchie Mae share the spotlight with her during all the days festivities.
Black and white photos from the 1950s show Clooney and Chambers enjoying the festivities the
town of Maysville was putting on to honor their hometown movie star and her first motion picture
"The Stars Are Singing." The review mirror of the convertible blocks Blanchie Mae's face, but
that's her telling Rosemary to "wave back" to the 20,000 people lining the streets and waving to
her, and on the right with the roses.
Rosemary told everyone in charge that if Blanchie Mae couldn't be with her, then she wouldn't ride or participate. But the 1950s were not all that different from the 1930s. Segregation was still alive and well. So it was Blanchie Mae's idea that she would pose as Rosemary's Maid for the Day. That would avert the snide remarks that this young black woman considered herself a celebrity. Rosemary was angry about the necessity for this impersonation, but Blanchie Mae insisted. And if anyone asked about Blanchie Mae's presence, they were simply told, she was Rosemary's personal maid.
Our open car became a motorcade. I rode with Grandma, with our mayor...and with Blanchie Mae Chambers; I'd refused to ride without her. "You're my best friend," I reminded her when she protested that a black person in the car would upset townspeople, especially my snobbish Aunt Olivette. It was Blanche's idea, then to tell the press that she was riding with me as my personal maid.
Blanchie Mae recalls that, of course, Rosemary didn't have any work for her to do. She really didn't act as a maid that day, but that designation kept people quiet.
In the summer of 1997, after Dante, Rosemary, Nick and Nina had taken their annual trip, this time cruising the Greek islands and then to Rome and a visit with the Pope, they returned to Kentucky and visited with Blanchie Mae, still Rosemary's best friend. After a little local shopping and some more visiting they all went to dinner at Caproni's in Maysville. It was on that evening that Rosemary and Dante became officially engaged. Blanchie was there. And it was just a few months later that they were married at St. Patrick's in Maysville, and, of course, Blanchie Mae was there.
See there's is a story of true friendship, of a courageous Rosemary battling Southern traditions in her own personal way and an equally courageous Blanchie Mae, protective of her friend, even to this day. Chambers will talk only about things that Rosemary has already discussed in her books, but in an interview with the Palladium, she knew their friendship was unique.
Rosemary tells of the friendship's beginning in her autobiography Girl Singer:
Papa's store was across the street from the New Central Hotel, where he took me to meet LIzzie Chambers, the black maid. "Lizzie didn't have a chance to go to school," he told me. "She didn't learn how to read because nobody would teach her. That was very, very, very wrong. When she was just about as old as you are now, she was working in the tobacco factory. Doesn't matter what people say, doesn't matter what color her skin is, and don't you ever forget that."
I never did. I became best friends with Lizzie's daughter, Blanchie Mae, who came to the hotel after school to wait for her mother to finish work. Lizzie worked late, so when I got home from my school, I'd go over and bring Blanchie Mae back to Papa's. Aunt Olivette, a born snob with a cruel streak, disapproved. "She shouldn't be bringing that colored child here. What will people think?"
"They'll think that these little girls are friends," Papa said firmly, reminding his wife to make some of her fancy sandwiches for us to eat as we played together after school.
In explainging why Papa Clooney would have been so supportive of their relationship, Blanchie Mae said, "He was an Irish Catholic in a small southern town. He knew what it was like to be on the receiving end of prejudice."
So Papa Clooney became very protective and encouraging of Blanchie Mae's and Rosemary's relationship. He treated Blanchie Mae as one of his own, Chambers said.
Schools were still segregated at the time. Blanchie Mae and Rosemary obviously went to different schools, and each of them had their school friends. But Blanchie doesn't remember that Rosemary ever hung around those chums, or ever brought them home with her or invited them to Papaa Clooney's home. Instead, Rosemary kept to Blanchie Mae.
Nonetheless, the times had dealt each of them a different hand. Rosemary could do things that Blanchie Mae could not do; she could go places where Blanchie Mae could not go. Was she envious? Did she feel badly because of this? Blanchie Mae says no.
But Blanchie Mae did not have it as bad as other blacks in her community. Her mother was highly respected in the community, and that stature made life a little less painful. But Blanchie Mae said she also knew what the limits were and simply accepted them. She knew that if the white community made an exception for her, they would have to make exceptions for others, an unlikely turn of events. As a result, Blanchie Mae never pushed the limits.
Rosemary went along with that, but with a twist that showed commitment to a friendship. In those days, when they went to a moviehouse, blacks had to view the film from the "buzzard's roost," whites could sit in the main hall. Rosemary and Blanchie Mae had several choices if they wanted to see the movie together. One of them was not Rosemary sitting with Blanchie with the rest of the white audience. Another was Rosemary downstairs and Blanchie Mae upstairs.
The two friends chose an alternative: Rosemary sat with Blanchie Mae and the other black citizens of Kentucky in the balcony. And on the way home they'd stop for ice cream cones. And instead of Rosemary eating inside, the two of them ate outside together.
Maybe the solution for the times was simple. Blanchie Mae says she and Rosemary didn't see each other as little black and white girls. They were just Blanchie and Rosemary.
When asked if she knew if Rosemary would be famous one day, she said, "Of course, we were all going to be famous. She'd sing and I'd dance."
Blanchie loves Rosemary very much, always knew she would survive and make it because, Blanchie says, that's what she is, a survivor. She's not envious at all or in awe of the celebrity, though she is very happy for her. To Blanchie Mae, she remains just her old pal, Rosemary.
In looking at recent pictures of some of Rosemary's performances, Blanchie would hold the picture up, shake her head and say, "Awh, sweet child. What's she's been through." She is very maternal with Rosemary, in part, because she says, she is a few years older.
She knows Rosemary so well, she can look at a picture of Rosemary and tell you how Rosemary is feeling. She was so happy when Rosemary and Dante finally married - and knows they adore one another. She believes the loves of Rosemary's life are her children and grandchildren, her music and Dante, not necessarily in that order.
Blanchie Mae has never been to New York to see Rosemary. Nor has she been to L.A. to visit Rosemary, although Rosemary has always wanted her to come. But she doesn't drive, and she doesn't like to fly. Her life is simple, but busy, very different from a star's. But that is not to say that she is not a kind of celebrity in Maysville.
Practically every person we passed on our tour knew who she was.
But a special friendship with a girl who became a star has not gone to Blanchie Mae's head. She is humble and doesn't brag, even when given the opportunity. We came across one Kentuckian whom we did not know, but we stopped and talked. He lived in Maysville and started to tell us stories about Rosemary and the Clooneys, tales that were wrong according to Rosemary's books and interviews, and tales that Blanchie Mae knew were wrong because she had lived them.
But never once did she say or let on, "Hey, sir, I'm Rosemary's best friend." She says that sort of thing happens a lot.
"Tenderly," Rosemary's signature song, is one of Blanchie Mae's favorite songs, and when she is in the audience, Rosemary often dedicates it to her.
Some of the lyrics could convey the thoughts of two young Kentucky girls, one black, one white, looking at the Ohio River, wondering about their friendship and their futures: "Then you and I came wondering by, and lost in a sigh were we..."