Everything's Rosy for Clooney
Riding high on records, films and TV, Rosemary Clooney keeps moving up at a legend-making pace
by Evelyn Harvey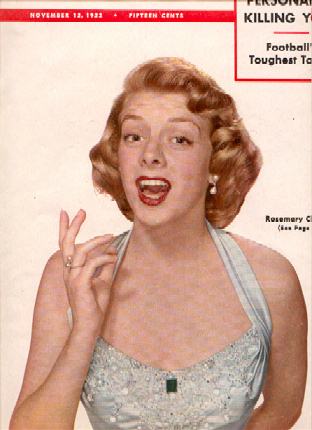 Since her hit recording, Come On-A My House, made her the toast of Tin Pan Alley a couple of seasons ago, Rosemary Clooney has been on her way up. Her four-way career as a leading Columbia Records artist, TV and night-club headliner and Paramount Pictures star has been fizzing like a bottle of vintage champagne. But thought the twenty-sour-year-old songstress takes the breakneck life of a celebrity in stride, she has little use for the trimmings. Rosemary is still a skirt 'n' sweater girl at heart.
"It feels good to be on top," she said suring a recent three-day stopover in her elegant modern apartment at Hampshire House overlooking New York's Central Park. "It took seven years of hard work, so I'm going to enjoy it while it lasts." At that moment the phone ranf and the bouncing little blonde from Maysville, Kentucky, answered it by pealing off a stanze of her current dialect-record smash Botch-A-Me. The caller at the other end of the line was startled--but delighted.
"The telepohne," says an acquaintance, "is a big thing with Rosie," (She's "Rosie" or "Clooney" to most of her friends.) Her two phones rang 17 times in the course of the next 60 minutes.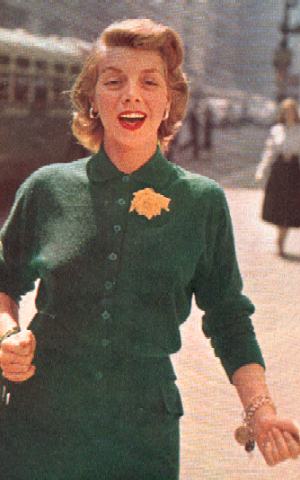 Rosemary cheerfully took messages for her friend and companion, a handsome, capable blonde named Jacqueline Sherman. "Jackie" doubles as adviser, confidante and organizer of details, has lived with Rosie since they met two years ago. In rapid sequence Rosemary arranged for tickets to the Broadway revue New Faces; made a hairdressing appointment; planned a practice session with her accompanist; talked about a disc-jockey show and recording date scheduled for the following night; chatted with managers Joe Schribman and Charles Trotta; discussed the dress she would wear for a photography sitting; and hashed over the merits of a new tune with arranger-orchestra leader Percy Faith.
"When I don't particularly like a song," says Rosemary, "it's sure to sell. Look what happened with Come On-A My House. That harpsichord arrangement appalled me when I first heard it. But it was Mitch's idea and I've learned that Mitch (Columbia's popular records chief, Mitch Miller) is generally right."
Between phone calls, Rosie hunted up a steam iron for a friend actress Ann Rutherford; absentmindedly pasted a wet handkerchief on the posing, ceiling-high mirror (an old touring trick to eliminate ironing); showed off the portable record player she carts with her wherever she goes; and talked about the fund-raising telethon for the United Cerebral Palsy Associations, Inc., she and CBS's Garry Moore were to do that week end in Louisville.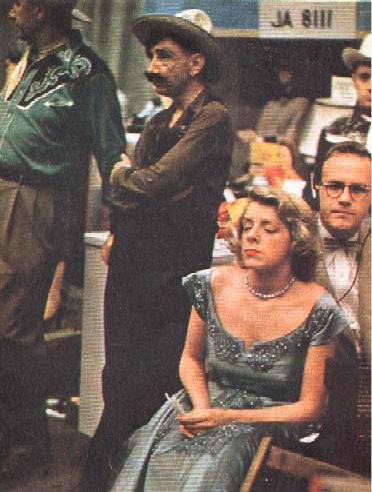 "I haven't been to Kentucky since my grandfather died, several years ago," said Rosemary. "He was mayor of Maysville, my home town, for years and years. When he knew I wanted to be a singer, he used to take me to sing spirituals with the Negro congregation of a nearby church."
Rosemary's most recent visit to her native state had much of the flavor of the celebrity's return. A motor-escorted parade and waiting crowds of autograph seekers preceded the 16-hour telethon, during which Rosie sang, clowned and answered telephones in the sweltering auditorium, stopping only for an occassional snack or a cat nap off stage.
Although Rosemary now looks upon New York as home, touring is in her blood. She and her younger sister Betty (currently a radio and TV singer on her own) traveled together for several years singing duets with Tony Pastor's band.
"They were just a couple of fresh-looking kids when we hired them," says Charlie Trotta, who was Pastor's band manager. "They were doing a local radio show after school when they came to sing for me. They'd come straight from swimming. Their hair wasn't combed. They had on flat-heeled showes and no stockings. There was no piano, but they sang a full arrangement of Patty Cake--Patty Cake Baker Man without missing a note."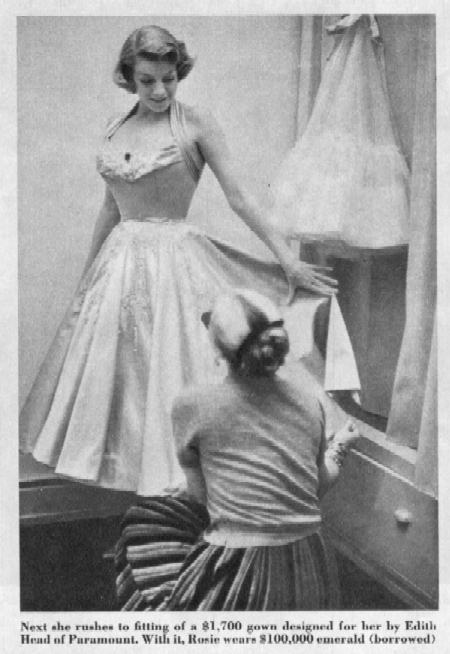 Rosie's occassional solos began to catch on. She was a vocalist on the TV show Songs for Sale when Jan Murray was M.C. Then came Come On-A My House and the big time.
A singer with many styles, she has since recorded with Frank Sinatra, Guy Mitchell, Harry James, Gene Autry and Marlene Dietrich. Her children's records are doing well, too.
Nowadays, between her television movie and record commitments., Rosie takes off for frequent night club dates and one-night theater stands. With her go Jackie Sherman, one of her managers and a bagful of evening dresses, most of them white. She fits in as many as five performances a day when she plays theaters, plus a couple of disc-jockey shows, sipping soft drinks continually. For after-show suppers she leans more toward crackers and milk than caviar and champagne.
Now that Rosemary has a movie contract, she has set up housekeeping in Hollywood as well. She had made one picture, The Stars Are Singing, as yet unreleased, and has another on the agenda, Here Come the Girls, with Bob Hope. But although she has taken over a star's dressing room and is being fitted to an impressive wardrobe, Rosemary has not yet been absorbed by glamour. She liked a good time, of course, and her escorts have ranged from TV's lethargic Dave Garroway to Broadway's supercharged Jose Ferrer. But basically she's still a casual kid who likes to clamber into play clothes, put her feet up and listen to records.
"I'm having a lot of fun, and for a while at least, I want to go on doing just what I'm doing. Life right now, is real rosy," Rosemary Clooney declares.
---