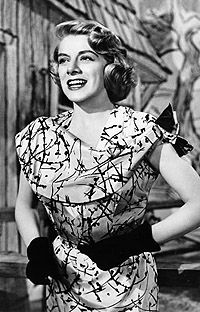 "AN APPRECIATION"
An edited version of this appreciation piece will appear in the Houston Chronicle in Tuesday's (7/2/02) edition.
By FERNANDO DOVALINA
Born poor in Kentucky in 1928 just before the Depression, abandoned by a boozing father and a heartless mother as an adolescent, Rosemary Clooney survived to turn herself into the interpreter-in-chief of the Great American Song in the last quarter of the 20th Century.
She survived more than poverty and desertion. Her husband Jose Ferrer betrayed and humiliated her; her career as a hit-maker came to an abrupt stop in the mid-1950s as rock 'n' roll advanced; her love affair with the gifted arranger Nelson Riddle came to a heart-breaking end; she became addicted to pills; her friend Bobby Kennedy was shot and killed just feet from her, and that assassination triggered a foray into madness that almost ended in suicide. Then, in therapy and on the road to recovery, her beloved sister Betty died of a brain aneurism.
But on her way back, Clooney didn't turn her back on those tragedies. Like most artists of the first rank, she mined them.
Always considered a fine singer, even when she was doing the novelty songs that catapulted her to stardom in the 1950s, Rosemary Clooney, when she began her comeback in the 1970s, had a more convincing delivery, especially when she sang about the sorrows of life. Not that she couldn't impart joy to a lyric. Fortunately, she never let go of a sense of boundless optimism and an incredible sense of humor that made her a supreme raconteur on stage.
By 1977, she had been signed by Concord Jazz, a small independent record company with unfaltering faith in her abilities. She never left Concord, averaging one album a year through 2001, an enviable and highly praised life's work.
In most of the first recordings she was backed by a small combo of gifted jazz musicians. One such album devoted itself to the music and lyrics of Irving Berlin, another to the lyrics of Ira Gershwin, another to the music and lyrics of Cole Porter. She took turns honoring Rodgers and Hammerstein and Rodgers and Hart, Harold Arlen, Johnny Mercer, all the great exponents of the Great American Song, that unboundaried collection of great music from the 1920s, 1930s, 1940s and 1950s. She also honored Bing Crosby, one of her co-stars, a dear friend and a mentor, Billie Holiday, the jazz singing great who recognized the greatness in Clooney's singing, and Riddle, her lost love.
Although she introduced some songs to the world, most notably the pensive Johnny Mercer-Barry Manilow beauty, "When October Goes," most of the Concord songs had been done before, sometimes by masters such as Frank Sinatra and Sarah Vaughan. But Clooney imbued these familiar songs with new shadings and phrasings that had not been tried before. Where Sinatra sometimes sang with swagger, Clooney sang with vulnerability. Where Vaughan and Ella Fitzgerald devoted their energies to veering from the melodies, sometimes at the price of neglected lyrics, Clooney always honored the wordsmiths and their intentions.
When she sang of hope in "The Best Is Yet to Come," we believed her; and we believed her when she whispered the boy's name disconsolately in "Danny Boy." It was acting of the first order, the kind of innate understanding, intelligence and believability that playwrights and directors seek in their actors.
Although she often recorded with jazz musicians, her departures from the written melody were few and marked by restraint
Some jazz purists scoffed at her growing reputation as a jazz singer. She can't scat, they said, she can't improvise. Clooney had no argument with them. But some jazz experts whose vision was more inclusive placed Clooney alongside Fitzgerald, Sinatra, Holiday, Vaughan and Mel Torme. Whatever the merits of the cases for and against Clooney-the-jazz-singer, Clooney was herself content simply calling herself a "girl singer." She had timing, pitch, rhythm and swing. She also had uncommonly good taste and pipes.
And oh, what pipes. Her voice has been called mellow, sultry, husky, smoky, Kentucky bourbon and rocks, honey with a touch of lemon, innocence with the touch of the blues. And it was all of that. As the years went by, it became progressively warmer, woodier and darker. She found it harder to hit some notes, but it didn't matter. Where once she had been a raucous belter of such hits as "Mambo Italiano," she now concentrated on the story, not the decibels.
The scars from a hard life, years of smoking, asthma and other illnesses took their toll on her voice, and yet it remained strong and malleable. She retained remarkable breath control that allowed her to sing a long phrase where a less experienced singer might have opted for an inhalation.
She was also blessed with clear diction. One writer once remarked that she was the best friend a vowel ever had. But she embraced the consonant even more dearly. Never was there any question that she was singing "rolled," not "role," or "mist," not "miss." Of the great ones, only Sinatra was as precise.
At the end of her life, she had recorded in seven decades, from the 1940s through the first year of the new millennium. With the exception of Tony Bennett, no other major singer of her generation was still recording on a regular basis.
Without the 25 albums she produced for Concord beginning in 1977, she might simply have become a nostalgia act, forever trapped singing "Come on-a My House" and "Botch a-Me." Instead, she redefined herself as a performer, regaling her audiences with untold versions of the splendid American tale: love won, love lost, love regained. To tell us that story she used all the interpretive powers at her command, yearning in "Sentimental Journey," irony in "I Get Along Without You Very Well" ("Of course, I do, except when...") and bitter sarcasm in "Miss Otis Regrets." Each album was produced with care, even the first ones, done on a limited budget because the Rosemary Clooney of the mid-1970s could not justify the big bucks.
By the 1990s, she was fronting big bands, her albums were on the charts, and one of them, "White Christmas," reached No. 1 on the Billboard jazz charts. It had been four decades since her previous No. 1 on any chart, the novelty, "This Ole House."
No other singer of the last 25 years matches this great contribution to the Great American Song, although her friend Tony Bennett comes close.
In her 60s, belated accolades began to come Clooney's way. Paul McCartney sent her a special copy of "When I'm 64." Composers and lyricists gave her their top awards. Singers as disparate as Linda Ronstadt, k.d. lang, Michael Feintein and Diana Krall cited her influence on their work. The Grammys honored her for lifetime achievement.
Her output for Concord was a surprising accomplishment for a child of the hard-scrabble life in Maysville, Ky. Rosemary Clooney was a high school dropout, but she became the darling of average people who appreciated her artful simplicity and sophisticates who appreciated her simple art. She never quite explained how she developed her gift, although she once told an interviewer that her voice was an instrument, the only one in the orchestra that could play words.
Perhaps it is true that artists are born, not made.
They die, too, but the voice and the magic and the melody linger on.
(Fernando Dovalina, a retired journalist, is a playwright. His two-act play, "The Man in the Trunk," ran for six weeks in Houston this spring.)