Miguel Ferrer recalls keeping beat for Rosie, Bing
By John Kiesewetter, jkiesewetter@enquirer.com - The Cincinnati Enquirer, Sunday, August 04, 2002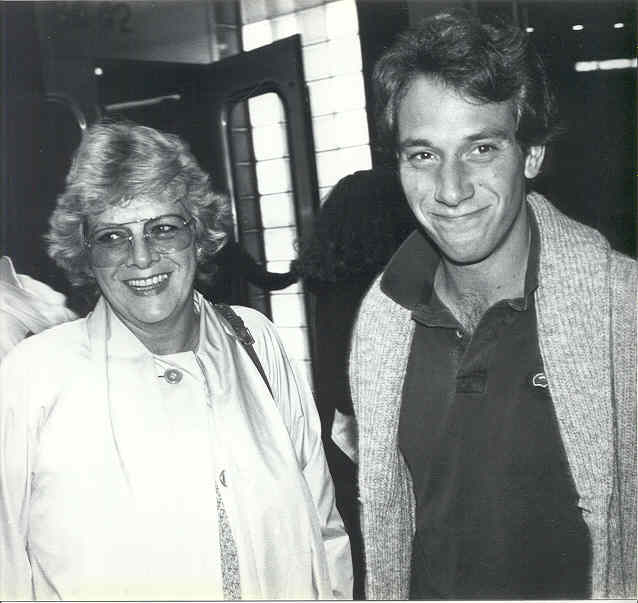 PASADENA, Calif. — Not only has he marched to the beat of a different drummer, Miguel Ferrer has been the drummer.
Long before starring in Robocop, Traffic, Twin Peaks or NBC's Crossing Jordan, Mr. Ferrer played drums for his mother, Rosemary Clooney, and Bing Crosby on their world tours in the mid-1970s.
"It was an extraordinary experience. We played the London Palladium twice, Broadway, all over the United States and the world," says Mr. Ferrer, 47, reminiscing about his mother last month at an NBC party for TV critics. Rosemary Clooney, who grew up in Maysville and maintained a home in Augusta, died June 29.
"We started with Bing when I was about 21. We had a lot of good times — she and Dante (stepfather Dante DiPaolo) and I — on the road," he says.
"It was amazing. We'd finish a gig, have a late dinner and a couple of drinks, and watch TV to 3-4 a.m. I don't know anybody who had that kind of experience with their parents. These are times I'll never forget."
Though he's best known for his tough-guy roles in films, music has been a part of Mr. Ferrer's life since he was born to the singer and her husband, actor Jose Ferrer, in 1955, a year after mom finished shooting White Christmas with Mr. Crosby. Their Beverly Hills home often was filled musical guests, including Billie Holiday and Nat King Cole, not to mention neighbors composer Ira Gershwin and comedian-violinist Jack Benny.
"I've always wanted to play drums since I was 8 years old," Mr. Ferrer says, "because I loved little Ricky (who played drums) on I Love Lucy, and Ringo Starr," he says.
His father, an accomplished pianist, insisted that Miguel take drum lessons, under a threat of having them locked in the basement if he skipped a weekly class. So he learned to read music and play a variety of styles.
"As a result, I was immediately employable by my teenage years, because very few guys my age could" play, he says. "It was a wonderful gift my father gave me."
His mother's gift was to further his career, as she made her comeback in the 1970s from drug addiction and nervous breakdown.
"I played with her from about the time I was 18, and I conducted for her many times, too," he says. "There was not a night I didn't want to pinch myself and say, "Look what I'm doing!' Some nights she'd come off the stage and I'd say, "You really sang great tonight.' And she would compliment me. We were great friends and colleagues. It was amazing."
Mr. Ferrer still plays drums — just for fun, he quickly notes — with longtime friend Bill Mumy, the former Lost in Space star. Their band, the Jenerators, plays Los Angeles clubs about once a month, he says.
Mr. Mumy, a guitarist, lured Mr. Ferrer into acting by writing a part for a drummer-actor for his short-lived 1975 TV series Sunshine.
"He talked me into it," Mr. Ferrer says. "I auditioned and got the job, and that's what planted the seed." When Bing Crosby died in 1977, he decided to switch careers, following his famous father into acting.
"I found the best acting school I could, and started studying," Mr. Ferrer says. "I took a big pay cut for a while — and was broke — but it kind of worked out."
In the early 1980s, he did guest shots on Magnum P.I., Trapper John M.D., CHiPs, and Miami Vice. His breakthrough role came in Peter Weller's RoboCop in 1987.
By 1990, he was a series regular on ABC's Twin Peaks, playing uptight FBI agent Albert Rosenfeld. He appeared in the pilot of NBC's ER in 1994, though not in a scene with cousin George Clooney. He starred in Lateline, NBC's Nightline parody with Al Franken in 1998, and played a drug dealer-turned-informant in the Oscar-winning film Traffic.
This fall he begins his second season on NBC's Crossing Jordan medical examiner series. He plays forensic examiner Dr. Garret Macy, a divorced forensic examiner with a teenage daughter and a myriad of personal problems.
"He has problems like you and I do. He's just a guy trying to get through life, and do the right thing," Mr. Ferrer says.
Asked how he relates to the character, Mr. Ferrer says: "We share the same conscience, but I'm much happier than he is. I've got a great marriage (to Leilani) and two beautiful kids (ages 9, 6) who still think I'm a great guy."
He's glad the children saw their grandmother sing several times before her death from cancer at age 74. "My kids watched her sell out the Hollywood Bowl two straight nights. That's pretty good," he says.
When they get older, he'll enjoy telling them some of his mother's favorite stories about the Hollywood stars who dropped by their home. She loved to tell about the time Marilyn Monroe came to a party in 1955 shortly after the birth of Miguel, the first of her five children.
Ms. Monroe insisted on seeing the baby, so Ms. Clooney took her upstairs to peek in the bedroom. The actress walked over the crib and picked up Miguel, who burst into tears.
"To hear my mother tell it, I started to cry instantly until my eyes opened, and I looked at that face. And I stopped crying, and just stared at her wide-eyed," Mr. Ferrer says. "And I'm told she spent the whole party upstairs with me."
His mother died in that same Beverly Hills house, where she had lived for nearly 50 years. She had made her professional debut singing on WLW-AM (700) in 1945, at 17, and by 1953 she had married Mr. Ferrer and moved into the house where they would raise Miguel Jose, Maria Providencia, Gabriel Vincente, Monsita Teresa and Rafael Francisco.
In June, during an examination at a Los Angeles hospital, doctors discovered that the cancer had returned from her January surgery at the Mayo Clinic. Although she was talking about singing in September at the annual Rosemary Clooney Music Festival in Maysville, doctors knew the disease was terminal.
"They knew it was over," he says, "so I just wanted to get her back in the bedroom in which she had slept for almost 50 years." His mother begged him not to cancel a Hawaiian family vacation in June, and that's why he was the only one of her five children not to be with her when she died.
"She said, "Hell no, I'm not going anywhere!' We didn't think it would be two weeks, but it turned out to be just short of that," he says.
His family was touched by the huge crowd in her hometown of Maysville, for her funeral in St. Patrick's Church on July 5.
"The love and affection and dedication — I felt the same thing when we were back five years ago for her wedding, in the same church," he says.
"What a life she had! And loved by so many people!"
The legacy she leaves — instilled in Miguel and his famous cousin, George — is how to persevere and triumphantly return to stardom in the fickle world of show business. Her strong work ethic and dedication to her art took her back to the top in the 1990s, four decades after her hit singles and Time magazine cover story.
The outpouring of emotion in Maysville last month also reminded the family of how she never forgot, never lost touch with the folks back home, never let fame go to her head.
"George and I and countless others learned from my mother, not from what she told us, but in the way she lived. She had a lot of ups, and a lot of downs," Mr. Ferrer says.
"She lived an example. That's what she taught us all — that you're never as great as they say you are, and you're never as bad as they say you are.
"And that we're all just people — just people with great jobs."