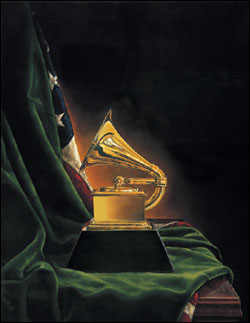 Rosemary finally gets a Grammy
by Nick Clooney for the Cincinnati Post
2-27-02
--------------------------------------------------------------------------------
Rosemary Clooney and her husband, Dante DiPaolo, will not have the best seat at the Grammys tonight, but you won't hear them complain.
Along with a few million other people around the world, they will be looking at their television screen when the festivities begin this evening.
In two ways, their perspective will be unusual. First, they will be watching in a hospital room where Rosemary continues her steady recovery from major surgery. Second, Rosemary will be one of the recipients of a Lifetime Achievement Award.
Of course, it would be a lot more fun if she were there in person, decked out in a new Bob Mackey gown, getting the applause of her colleagues, being escorted to the microphone by Dante.
On the other hand, Rosemary knows she has much to be thankful for on the night of this important milestone in her life. She has survived dangerous surgery. Her husband is at her side. Her children and grandchildren are in constant touch. She has the best medical care possible.
And on every inhabited continent in the world, there are those who have loved her music and love it still, who every day send prayers and good wishes in an endless stream of affection. All of these sustain her at least as much as the medical arts, important as they are.
And now there will be a Grammy. She had all but given up on that elusive award.
As many of you know, Grammys did not exist in the salad days of many of the greatest popular singers of the 20th century. The Grammy was the child of rock and roll and of an emerging youth culture. The ceremony struggled for respect through its early years, growing steadily to the Goliath of today's music business.
To their credit, organizers have done their best to include every kind of music, from classical to rap, creating in the process a bewildering number of categories.
One of them, usually called ''classic pop singer,'' has found Rosemary nominated several times, only to run into a bulldozer -- who is also one of her oldest friends -- Tony Bennett. Grammy loves Tony, with good reason, but to the virtual exclusion of other ''classic pop'' singers.
This fostered a wonderful exchange between Rosemary and Tony at one of her cabaret shows in New York when Tony was in the audience.
''Why don't you just take your next Grammy home and retire undefeated? Give the rest of us a chance,'' Rosemary said to him.
''Wait a minute, Rosemary, don't you remember Arthur Godfrey's 'Talent Scouts' program? You won and I didn't.''
''Talent Scouts!' That was a hundred years ago. You've beaten me like a drum ever since. Boy, you sure hold a grudge!''
The audience loved the bantering between two old friends who had started together at CBS, on Columbia records, getting their first big hits within months of each other and staying in touch for more than 50 years.
So Rosemary's Grammy drought will end tonight. Her son Miguel Ferrer will accept the award, a perfect choice. Not only is Miguel the oldest of her five children, but he traveled as her drummer for a time on her personal appearances.
The Grammys will have a big audience. Someone will say something outrageous, someone will be silly, someone will be eloquent.
The audience in the theater will be alternately glamorous, weird, eloquent, eclectic, eccentric and, as always, interesting.
But it is my guess that none will be more appreciative than an audience of two wearing robes and slippers in a hospital room in Minnesota.
Congratulations, Rosemary.