Rosemary Clooney at her home in Augusta, Ky.
(Craig Ruttle photos)

There's something about Rosemary

From Kentucky to stardom and back again -
Clooney's long, sweet-singing ride isn't over

By Janelle Gelfand
The Cincinnati Enquirer
Tuesday, July 04, 2000
AUGUSTA, Ky. — Rosemary Clooney has no childhood memory of Augusta. "We didn't have a car, so we couldn't get in a car and drive even 20 miles away," says the "girl singer" and movie star, who was born in Maysville, upriver from Augusta.
"My aunt and uncle used to come and take us to Cincinnati to visit. We drove on (U.S.) 52, on the other side of the river. So I'd look at this little town, and see it from the other side of the river, but I didn't get here until much later."
She creeps carefully down the steep stairs of her Augusta home, wearing a green dress and freshly applied makeup. "I've had knee surgery," she explains, a bit out of breath. At 72, she is moving slowly. A frightening bout with viral meningitis two years ago left her with some residual weakness, and she's cut back her schedule.
But cutting back, for Ms. Clooney, means performing "just one show a night." Tonight, she'll be a headliner for Erich Kunzel and the Cincinnati Pops' Fourth of July show, broadcast live from Riverbend on PBS and hosted by her brother, Nick.
She's just finished a two-week stint at Feinstein's at the Regency, her friend Michael Feinstein's intimate Manhattan supper club.
Ms. Clooney's career spans 56 years, millions of records sold and classic films made with Bob Hope and Bing Crosby. She is more popular than ever; her extraordinary comeback over the past two decades signals a revival of traditional pop songs, the kind crooned by her onetime pals Frank Sinatra, Doris Day and Bing Crosby.
She continues to turn out fine albums on Concord Jazz, the label that picked her up from what looked like an irreversible slump.
Divorce began downslide
The slide started in the late '60s with her divorce from actor Jose Ferrer — whose reputation as a Latin lady-killer had continued during their marriage — followed by addiction to prescription drugs and a mental collapse after the assassination of her friend Robert F. Kennedy in 1968. It was all outlined in her first book, This For Remembrance (Playboy Press; 1977), which was made into a TV movie starring Sondra Locke.
Mr. Crosby put her back on the road for his final tour in 1976, and wrote the introduction to her first book. (He died the same month it was published.)
"I couldn't get a job in the kind of venues that he offered me, working with him," she says quietly.
But that is light years behind her. Her 19th-century, yellow brick house on a leafy lot overlooking the Ohio River is a contrast to her Beverly Hills mansion, the same house where George and Ira Gershwin wrote "Love Is Here to Stay."
That house, she says in her new autobiography Girl Singer (Doubleday, 1999; $24.95), "is too big for me now, takes too much maintenance, and is too filled with memories for me to move."
Tourists have not yet discovered the sleepy river town where, a few blocks away, live her brother, Nick, and his wife, Nina, (parents of George). Augusta, population 1,400, has quaint antiques shops and on the corner, the Beehive Tavern, built in 1796, where locals (including the Clooneys) gravitate for a drink.
Her voice drops to a whisper. "This house was once part of the Underground Railroad," she says. Slaves were hidden in the dirt-floored cellar, where a now-blocked tunnel led to the river and their escape to freedom.
Neighbors helped
During the flood of '97, neighbors moved her belongings upstairs, away from the water that filled the first floor. "It's so gratifying to know that you live in a place like that. All the sound equipment, the rugs, everything — they took them all upstairs," Ms. Clooney says.
"That kind of attitude and caring, I think I missed. That's something that stayed with me."
She has a clear view of the Ohio from the upstairs bedrooms — something her Grandma Guilfoyle, who helped raise her, always wanted but never had. Flowers spring up around the front stoop, planted by friends as a birthday surprise in May.
For about 20 years, Augusta has been a place to escape the hectic life of Hollywood for Ms. Clooney and Dante DiPaolo — the dapper flame she met on the set of Here Come the Girls (1953). He moved back into her life in 1973; her first marriage had ended a few years earlier. She wore dark green velvet for their November 1997 wedding in Maysville, which she explained was "for the grandchildren."
Fast friends Bob and Dolores Hope alighted from one of three chartered jets for the glittery reception in Augusta. Mr. Hope was singing, "She's getting married in the morning ... "
"I talk to Dolores Hope often. I was in New York when this last little set-to happened," Ms. Clooney says, referring to Mr. Hope's recent hospitalization for intestinal bleeding. "He's better, but he's 97 years old."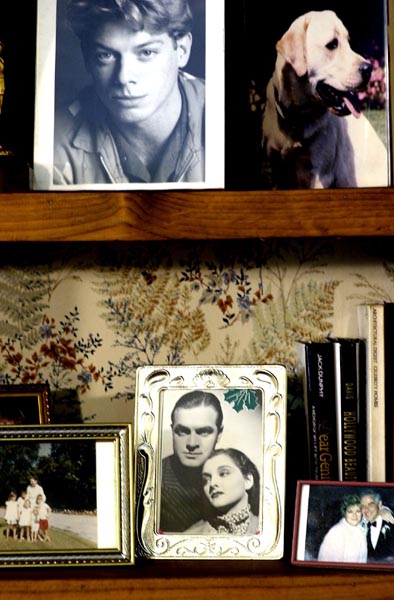 Photos at Clooney's home include a formal portrait
of Bob and Dolores Hopes (bottom center)
She launches into the last chorus of Cole Porter's song, "It's De-Lovely," a tune Mr. Hope introduced with Ethel Merman.
"He's appealing, he's appalling, he's a polliwog, he's a paragon, he's Popeye, he's a panic, he's a pip, he's de-lovely."
"I can walk up and whisper that to him, and he'll say to me "10 curtain calls!' " she laughs.
Her funniest memory with Mr. Hope is of an incident that did not make her book.
"It was when they started taping radio shows instead of doing them live," she says. "Bob threw this question at me: "There's your marriage to Jose Ferrer and he's this intellectual, and you're a kind of a down-home girl from Kentucky. How do you get together?'
"I said, we meet somewhere around the middle.
"And the audience was slow, then it started building, and they started laughing. And he said, "We'll never be able to use this!" she laughs.
"He was certainly right! It was never on!"
A place to hide
Augusta is also a place to run away from the memories she didn't want to dredge up for her second book, co-written by Joan Barthel. She wrote it because "a lot had happened since the last book, including Bing's death."
"I didn't think it would be that hard, and it was. Poor Joan, who is such a good writer, I would find myself running away from her," she laughs.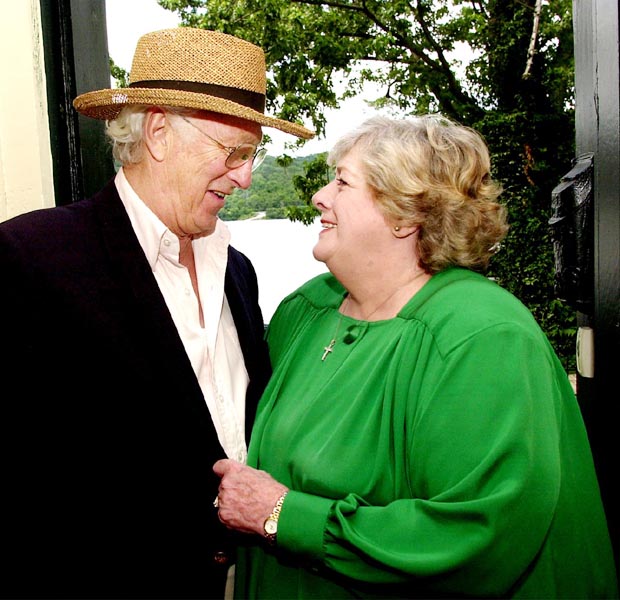 Clooney and husband Dante DiPaolo
can see the Ohio River from their front door.
"I'd come here, and I had no machine on the phone here, and she couldn't talk to me. I'd only do that for a couple of days. It would get to a hard patch, like Betty's death, or my divorce, that I didn't feel like talking about very much."
Her sister Betty, who died of a brain aneurysm in 1976, comes up often in conversation. Ms. Clooney began her career singing duets with Betty for WLW radio in Cincinnati. She was 16; Betty was 13. After their parents divorced, their mother remarried and moved to California; their father disappeared after a drinking binge.
Ms. Clooney attended four Cincinnati high schools: "Hughes, Withrow, Our Lady of Mercy Academy and Western Hills," she ticks off. "I lived everywhere, with every which relative that was available."
It was Betty who had the chutzpah to get them to an open audition at WLW — and the savvy to get them home by asking for a $2 advance on their singing job. They had a dime between them for the streetcar.
"She was special, really special. She also explained me to Nick, and Nick to me. When she died, Nicky and I decided that we were going to go on vacations together. We needed the time to get to know each other, because Betty wasn't around to help us anymore."
With Betty, she went on the road with Tony Pastor's Band, both still teen-agers. Then, when Rosemary was 23 and going solo, Mitch Miller made her a star with a folksy but weird Armenian number called "Come On-a My House," lyrics by William Saroyan. It was jazzed up, improbably, with harpsichord accompaniment.
Celebrity photos
Around her house are old pictures — of Bob and Dolores Hope, Dean Martin, Arthur Godfrey, Joan Crawford, Princess Diana and Prince Charles, and her Uncle Isadore and Aunt Rose, who lived down the street in Augusta. Nearby are framed posters from her movies, the 1953 Time magazine cover with her picture, and a photo from Bing Crosby's last tour to England.
Lining the bookshelves of her living room are snapshots of her five children and nine grandchildren ("There's one on the way," she says). They bring on a gush of memories.
In 1956, during one of her five pregnancies — a succession Bob Hope called "Vatican roulette" — she cut an album with Duke Ellington. Blue Rose, which included the tune Mr. Ellington wrote for her, was unusual because he was in New York; she was in Beverly Hills.
Billy Strayhorn, Mr. Ellington's arranger and a fine composer, helped her learn the music. She recorded the album while listening through headphones to Mr. Ellington's instrumental track.
"I was pregnant and couldn't travel, and (Mr. Strayhorn) had a key to the back door," she says. "He would just come up the stairs to the bedroom and wake me up, and say, "What do you want for breakfast?' He would cook breakfast for me, and we'd sit on the bed, and we'd talk about the songs that we had to do. We had the best communication in the world."
Then there was Ella Fitzgerald, a singer she admired deeply.
"We never talked about music. We would talk about our family," she says. "I knew how she felt about (ex-husband) Ray Brown. I think that was the love of her life.
"I always admired her. Always, always. And I loved Doris (Day)," she adds. "I want her to sing! She could sing right now! But she won't."
Wild ride with Bing
Then there was the wild ride she had with Mr. Crosby, driving home one night from San Francisco to Hillsborough during rush hour. "He just would stick his hand out, and then make the move — and never look for a second to see if there was a car coming!" she says. "I said, I'll never do that again. To myself. I did not say that to him!"
As for Frank Sinatra, "I find there's a feeling of loss there still," she says.
The regulars had shown up for her New York show: longtime friend and Grammy rival Tony Bennett; Al Pacino with his main squeeze Beverly D'Angelo (Chevy Chase's wife in the National Lampoon Vacation flicks), whose father Ms. Clooney had known when he was a bass player with bandleader Tony Pastor.
Bea Arthur (Maude, Golden Girls) came one night. Broadway veteran Elaine Stritch was there. "They're working on her life story on the stage, a one-woman show. It's gonna be a doozy," she says.
On an easel in her living room sits an oil painting of Maysville's Russell Theater. On the theater's facade, the artist has painted a poster of the young Ms. Clooney in her first movie, The Stars Are Singing.
It was to Maysville that she returned for the movie's Hollywood-style premiere in 1953, and a parade down Main Street in a red Cadillac convertible, wearing her $8,000 fur coat. Last year, she founded the Rosemary Clooney Music Festival to raise funds for the theater's restoration.
"Whenever I see her, I see her like she was when she was 24," says her husband, Mr. DiPaolo. "That's what I'm left with, more than anything else. If you know a person to be a certain way, and they go through a lot of things in life, they change. But you still see that person you knew when you were young."
Still branching out
The next night, she and Mr. DiPaolo are holding hands at a banquet in Union Terminal, where brother Nick is being inducted into the Cincinnati Journalism Hall of Fame by the Society of Professional Journalists. A radio and TV personality, he was the news anchor at WKRC-TV (Channel 12) in the '70s and '80s.
She beams and then howls when, in his keynote speech, he identifies himself as the brother of legendary singer and Hollywood actress Rosemary Clooney and the father of movie star George Clooney.
"I told him, "You're getting those (awards) because you're getting really old,' " she laughs.
Is there anything she hasn't done yet? No, she whispers. "I loved doing ER (with George). I loved getting nominated for an Emmy, that was wonderful."
Yet she is still branching out. In her newest album, Brazil, she teams with two hot young jazz stars: singer/guitarist John Pizzarelli and singer/pianist Diana Krall.
Her next record will be a big band album, she says, something she has not done since she worked with Nelson Riddle, another old flame from the past.
Her illness took a toll, but she plans to be on the road, "as long as I can make it — and make it fun," she says.
"I know that I'm 72 years old and I know that time is measured in years and days and hours, and I know that I came very close to dying.
"But see, that's the only thing I've ever done. I just get to the point where I say, OK I'm here. Now when do I work again?"
For now, she'll be in Augusta "more than you know."