This for Remembrance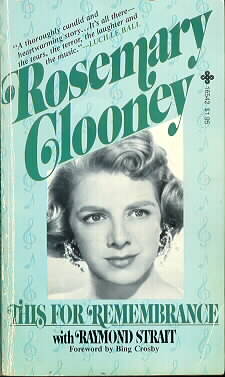 "This for Remembrance" is the autobiography of singer Rosemary Clooney, written in collaboration with Raymond Strait -- there is a foreword by Bing Crosby. The hardback version of the book was published in 1977 and the paperback copy in 1979 by Playboy Press.
On the backcover of the paperback version it says:
As a young girl, she had done it all. She rose from the squalor and poverty of a small Southern town to the heights of American show business. A smash recording artist, a famous film star, the host of her own network TV show -- almost overnight she became America's sweetheart. She was married to the internationally celebrated actor Jose Ferrer. She was the close friend of Bing Crosby and Marlene Dietrich, John and Robert Kennedy.
Then in one terrible year it all came crashing down. From the heights of stardom she began her long, terrible descent into hell, a descent that would end in the isolation ward of a Los Angeles mental hospital
But Rosemary fought her way back -- and made it. At last, she tells her story...