TV Guide
February 22-28, 1958
"Rosemary Clooney's Household: 'It's Like Crazy!'"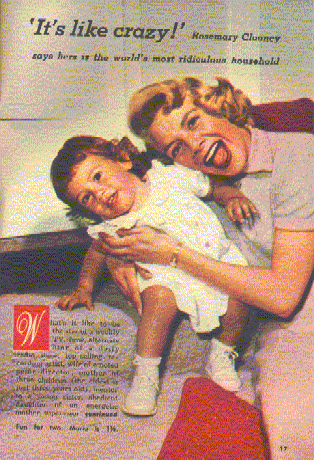 Rosemary Clooney says hers is the world's most ridiculous household.
What's it like to be the star of a weekly TV show, alternate star of a daily radio show, top-selling recording artist, wife of a noted actor-director, mother of three children (the eldest is just three years old), mentor to a younger sister, obedient daughter of an energetic mother, supervisor of four tull-time household employees and owner of four dogs and a bird?
Rosemary Clooney, who meets these specifications, says it's like crazy. "We have the most ridiculous household in the world.
"Joe [that's Jose Ferrer, her husband] and I want at least three more children. I guess we just like to be surrounded by kids and people." (Rosie's 12-year-old- sister, Gail Stone, who's featured on The Eve Arden Show, also lives with them, and her mother is there most of the time, too.)
How does everything and everyone function in such an elaborate and complicated existence? "The secret," explains Miss Clooney, "is going to bed early."
The day, too, starts early in the Clooney-Ferrer menage in Beverly Hills. At 6:30 A.M. Ferrer keeps a daily appointment with a tennis pro and plays tennis until 7:15. He then joins Rosie for breakfast and, at 7:40, departs for work. (That takes care of him until 7 that evening.)
Now Rosie starts rolling. She helps tend to the children. (Gabriel, 6 months old, has a nurse; Maria, one and a half, and Miguel, 3, are watched over by a governess; a couple takes care of the house.) At 8:45 Rosie drives Miguel to nursery school, and by 9 she's at NBC to start rehearsals for The Lux Show Starring Rosemary Clooney. At 11 she dashes over to CBS to cut tapes for "The Ford Road Show Starring Rosemary Clooney" (she alternates with Bing Crosby on the daily five-minute radio program). Then a fast lunch and back to NBC for more rehearsal until 5. After that, it's straight home to the big house in Beverly Hills.
"I play with the kids until Joe arrives. Then we have a drink, dinner and by 10 o'clock--it's pow!--off to bed."
Does any conflict stem from the manipulation of a large household and two separate careers? "Naturally, we're under tensions and sometimes temperament flares up," admits Rosie. "But Joe is levelheaded 50 percent of the time and I'm levelheaded the other 50 percent, so things work out smoothly. The most important thing, though, is that I have made it a firm rule to make the concessions, if any concessions have to be made, in order for us to be together. If Joe said, 'I'd rather you not work any more,' I'd stop right now. He's allowing me to work. And once you reach that conclusion, there are no misunderstandings along the way."
And it seems evident that the Ferrers actually adhere to that rule. During the four years of their marriage, their longest separation has been only 25 days, when Ferrer was in London making a film. Now Ferrer is in New York with his production of the Broadway musical, "Oh Captain," but "I fly to New York every Thursday night after my TV show and return Monday morning."
Actually, Miss Clooney should have more time for her personal life, since her TV show is being canceled in June.
Jose Ferrer, director-star of M-G-M's new "Bay the Moon," credited Rosie with keeping their life moving on an even keel. "In a situation such as ours, one person has to be responsible for the whole thing," he said, "and that person certainly isn't me.
"Concerning Rosemary's career," he continued, "I have absolutely nothing to do with her success. We hardly ever talk about our work at home."
What is Rosie really like at home? Ferrer smiled, "Every performer 'gives' himself away when he appears in public. And so, of course, does Rosemary. She projects a pleasant, warm personality, a basic dignity, a sense of humor. She has an extraordinary ability to embrance the world; she pours out love when she sings. People who watch her sense this, and this is what she's like at home."