A friend recalls Rosemary Clooney's glorious late period.
By Matt Connor
I'm standing alone in a long narrow nightclub hallway between a cocktail lounge and a performance space. Tucked under one arm is a long narrow box tied with a light blue ribbon. I'm listening at the closed door of the performance space as the singer inside closes her act with a rollicking rendition of "Will You Still Be Mine?" Then the doors swing open and the star brushes past, the matre'd and her escort giving me empty glances as they stroll down the hallway with her. Then, to my immense surprise, the star stops dead in her tracks, turns around and faces me.
"Don't I know you?" she says, gesturing toward me.
"Um..." I begin nervously. Then the star smiles, a look of recognition coming to her face.
"The Blue Rose guy!" she cries happily.
I had met her perhaps a handful of times before, and each time I had brought with me a dozen white roses surrounding a single blue rose, a tribute to the brilliant record she had made with Ellington back in the 1950s, a largely overlooked artistic triumph that had only recently begun to attract a whole new following. Despite her obvious pleasure at having received the blue rose previously, I had no reason to believe she would remember me again without prompting. I mean, she was a star. She must receive flowers every day.
"Yeah," I say, "Yeah, that's me." I'm shocked but I quickly recover, and hold the long narrow box out to her. "Guess what's in here?"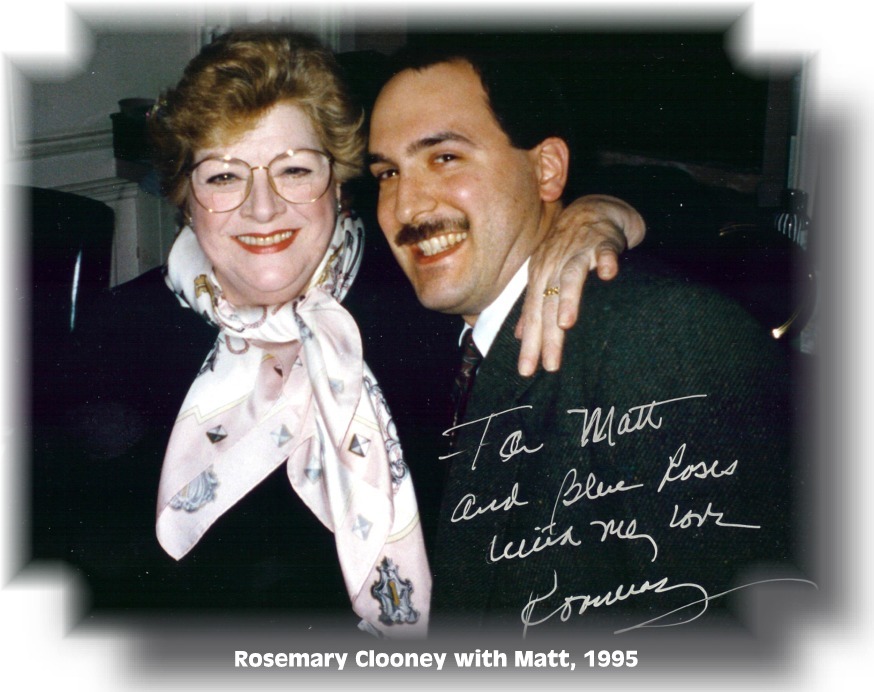 "A blue rose!" she nearly shouts, with such joy that I think I might just burst, right there in the corridor of the Rainbow & Stars cabaret. "Dante, why don't you take these upstairs," she says, and her companion scurries forward and takes the box from my hands.
And then Rosemary Clooney throws her arms around me and gives me a huge kiss, as if I was an old pal she had long hoped to run into again.
"I have to get back to the dressing room, but you'll stop back and see me after the show, won't you?" she says. I, of course, assent immediately.
Rosemary Clooney was like that. And not just with me, mind you. This was a woman who had known the giants of this or any other era of entertainment. She knew Crosby. She knew Sinatra. She knew Nat Cole, Billy Holiday, Cole Porter, Irving Berlin, Ira Gershwin, Count Basie, Ella Fitzgerald Marlene Dietrich, Duke Ellington and Billy Strayhorn, Benny Goodman, Nelson Riddle. She had feuded famously -- if briefly -- with Judy Garland. She had been married to Jose Ferrer, who was perhaps the brightest light on broadway of his generation. I assumed she had Tony Bennett on speed dial. But she did not just hobnob with the smartset. She stood shoulder-to-shoulder with the most talented and creative individuals of her day, as an equal, as an artist of rare and special talent. She could have been stand-offish, aloof, as many of her contemporaries were -- and are. And yet there are dozens of stories out there -- the fans will tell you if you ask them -- of ordinary schlubs who wandered into her dressing room and left feeling like they had made a friend for life.
I was just one of those folks, and I'll never forget her.
I was born in 1965, so I can't say that I grew up listening to her music. By '65 "Come On-a My House" was no longer a radio staple. Her movie and TV careers were essentially over, and she was three years from the emotional breakdown that would leave her life in shambles. Still, if you grew up in the 1970s, as I did, you had to have at least a passing acquaintance with the image Rosemary Clooney. There were the perennial airings of "White Christmas" on TV during the holidays, for example, and paper towel commercials, and tours of a nightclub act called "4Girls4" that was selling out across the country. We saw her on "Merv" and "Dinah!" but even so, I can't say as I paid especially close attention to her in those days, enchanting though her voice was. I was just a kid, and the radio airwaves were full of songs by John Denver, The Eagles, Billy Joel, Elton John, Paul McCartney & Wings (didn't he used to sing in another group, years ago?), Barry Manilow, Stevie Wonder...
I went to High School. I went to college. I learned to appreciate jazz and pop standards and the films of Cary Grant and Humphrey Bogart. But Rosemary Clooney was still a hundred miles from my radar screen.
But in 1991 I found myself out of work, and depressed as hell about it. I was twenty six and trying desperately to find a job in publishing during the worst period for the publishing industry since World War II. I took to taking long walks, sometimes three a day, just to clear my mind and get out of the house. One day I was walking by a record store and I stopped in to browse. I found something called "Girl Singer" by Rosemary Clooney. It had made one of the national magazine's "ten best" lists, so on a whim I bought it and stuck it in my walkman.
I think I danced the entire way home.
For the remainder of my long period of unemployment I listened to that tape over and over again. When I think back on that year, I remember a certain amount of sadness and regret and frustration. But I can also hear Rosemary's voice. I can hear her tell me to "take it nice 'n easy." I can hear her encourage me to "catch the wave," to "straighten up and fly right." And I can hear her tell me that "the best is yet to come."
I became infatuated with a 63-year-old "girl singer" from Maysville, Kentucky.
In 1992 I finally landed a job as a writer on a casino industry trade magazine. The following year I attended a black-tie banquet celebrating the fifteenth anniversary of the Atlantic City casino industry. The event was held at Merv Griffin's Resorts, and Griffin himself was scheduled to emcee the event. It was the middle of summer, with temperatures hovering in the 90s, so of course the air conditioning in the banquet hall crapped out on us. Was it hot? Imagine, if you will, a fur-lined polyester body suit. Dip that suit in hot tea. Put the suit on. Then climb into a pizza oven and turn on the heat. It was about like that at Merv Griffin's Resorts' banquet hall that night.
I ordered a very dry martini. Then I ordered another one. Then I poured a third one over my head just to cool off.
Eventually Merv made an appearance. He apologized for the air conditioning problem, and said he could only stay for a moment because he was rehearsing across the hallway for a show with Rosie Clooney. I immediately perked up from my martini- and flopsweat-induced lethargy. Rosemary Clooney was here? Right across the hallway in the "Coconut Theater"? There were grumbles across the banquet hall. Unkind things were said about Merv. He had made a commitment to emcee this event and now he was bagging us for rehearsals with -- who was it? -- some 1950s songbird named Rosie Clooney? People were not happy. But I was thrilled to even be in the same building with her.
I was thinking that I should bag this overheated event and follow Merv across the hallway to the theater when he left. I had done a telephone interview with him a few weeks earlier, so I was fairly sure I could get an audience with him, and then beg an introduction to Rosemary.
But my boss, the trade magazine publisher, had been enlisted to fill in for Merv as emcee, so I knew I couldn't sneak out of the room without him noticing from the podium, where he had a clear view of everyone in the banquet hall. I sat tight and sipped my martinis and formulated a plan.
It was nearly two hours later when the reception finally staggered to a close. The final congratulatory comments were barely past the lips of the assembled dignitaries when I executed my ingenious plan. I swept the rose-bedecked centerpiece from off of my table and rushed for the exit. Then, standing at the door of the Coconut Theater, stinking, I'm sure, of flopsweat and old martinis, in a damp tuxedo and a wilted flower arrangement, I knocked on the door. A security guard answered. "Flowers for Miss Clooney!" I said cheerfully, holding out the bedraggled centerpiece.
"She's gone." The security guard said, eyeing me suspiciously. "She went back to her room." The theater door slammed shut, and I was left there, a rumpled mess with a moth-eaten centerpiece, standing in front of a locked doorway.
Then, from behind me I heard a cultured voice call out to me: "Don't believe it, young man. Why would they have a security guard posted at the theater if nobody was inside?"
I turned and saw a tall, distinguished looking man standing behind me. He was now a casino industry executive but back in the 1950s he'd apparently worked in the entertainment business and had gotten to know many show business folk, including Rosemary and her then-husband, Jose Ferrer.
"I knew Joe better than I knew Rosemary," he recounted as we stood there in the casino hallway. "But Rosemary was always around."
I asked him what they were like. Being more familiar with Ferrer, he answered, "Joe was a great actor and a great director. But he could be a first class sonofabitch."
My boss, the publisher, was standing nearby, watching the entire scene with much amusement. A few months later he would amble over to my desk with a press release in his hands: "Rosemary Clooney is playing at the Tropicana in Atlantic City next month. Want me to call the Trop's president and get you a ticket?"
He had to be kidding, right?
After a two-hour trip to Atlantic City, my parents and I were seated at a table at the Trop's theater. I'll never forget the way the audience let out a funny little sigh when Rosemary walked out of the wings singing Antonio Carlos Jobim's "The Wave," one of the songs from "Girl Singer." The rest of the concert consisted mostly of songs from her new release, "Still on the Road," an album of songs that celebrated the life of the gypsy traveler. One of the last songs she sang that night was Paul Simon's "Still Crazy After All These Years," because, she said, "You have to be crazy to still be on the road after all these years." I later learned that between her engagement at Resorts with Merv in July 1993 and her appearance at the Trop about a year later, she did about thirty gigs around the country, from Atlanta, Georgia to L.A. to Schenectady, NY to Orlando, Fla., with many, many stops in between. It was a schedule that would have exhausted a much younger person, but at the time Rosemary was a relatively spry 66.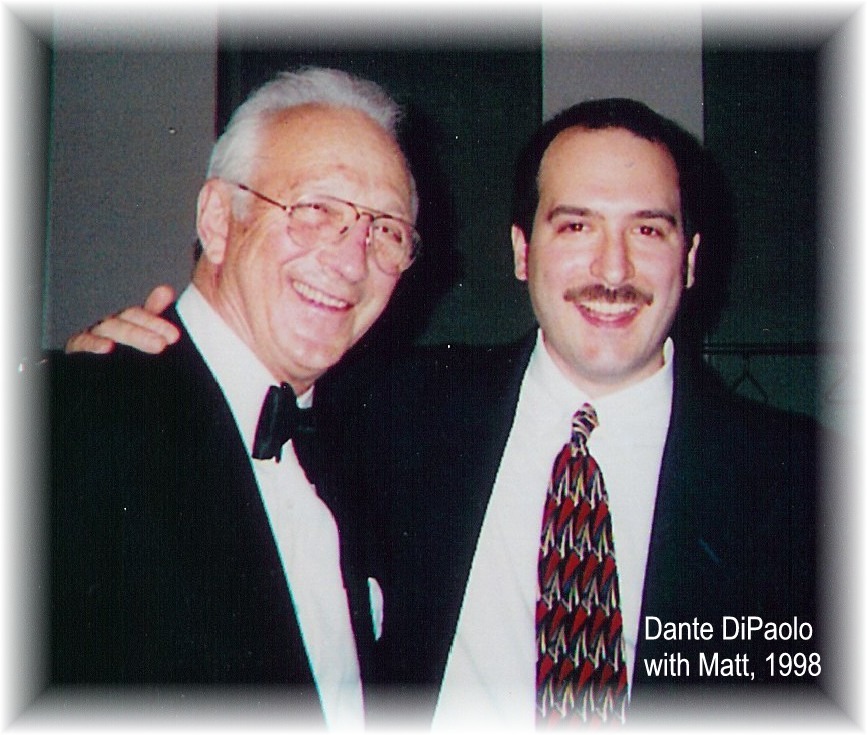 As my parents and I were walking out of the theater at the Tropicana that night, I suddenly got an idea and waved over one of the theater ushers. "Excuse me," I said. "My parents and I had such a nice time tonight, I wondered if maybe it was possible to go back and say hello to Miss Clooney." The usher answered somewhat patronizingly. "That's very nice, but I don't think so." So I threw in, almost as an afterthought, "The president of Tropicana arranged for our tickets." These words were like currency, and before we knew it we were being transported backstage, where we were plunked down at the entrance to Rosemary's dressing room, to wait for the star to make an appearance.
A few minutes later, Rosemary stepped out and greeted us warmly. My parents and I were so nervous and excited to meet her that at first we sort of mumbled incoherent greetings. But she was so friendly and accessible that we were quickly put at ease. Amazingly, she even claimed to have recognized us from the audience, and pinpointed, fairly accurately, where we had been sitting in the theater that night. Before she left, I said, with -- forgive me -- a bit of exaggeration, "Miss Clooney, I saw you in 'White Christmas when I was about this high (indicating knee level) and you've been right here ever since" I tapped the area above my heart with my finger, and for the first time -- and, wonderfully, not the last -- she reached up and gave me a hug and a kiss on the cheek. "You're so sweet," she told me.
The first time I brought her the blue rose -- thus cementing our friendship -- was about a year and a half later, when she performed a benefit concert at an area high school. She was in the early stages of a promotional tour for her "Demi-Centennial" CD, which celebrated the lives of the individuals who made the greatest impact on her life and career over the course of her fifty years in show business. It was an absolutely brilliant piece of work -- it stands shoulder-to-shoulder, in my opinion, with her great works of the 1950s and early '60s ("Blue Rose," the Nelson Riddle-arranged "Love" and her stunning Bing Crosby collaboration "Fancy Meeting You Here,") and it absolutely drove me to distraction for months to come.
During each tour appearance, Rosemary performed a duet of "The Coffee Song" with her niece, Cathi Campo. This number was a tribute to Rosemary's late sister Betty -- Cathi's Mom -- with whom Rosemary had started her career, in 1945.
In order to win myself a post-concert visit backstage for the appearance at the high school, I had had to write a substantial check to the nonprofit organization holding the benefit, plus insist (truthfully) that Miss Clooney had told me to stop back the next time I saw her perform. All this I did gladly, plus bringing the roses with me as a gift to her. Like the roses, my infatuation with Rosemary's music was in full bloom, and I probably would have sold my soul at that point to bask in her warm presence again.
It turned out that Rosemary was near exhaustion that night from lack of sleep and a rough tour schedule. But she accepted the flowers graciously and we chatted briefly about the new record, which I had played for some of my co-workers, all Manhattan Gen X'ers who were just beginning to catch the early part of the swing music craze that would later sweep the country. One of these guys, in particular, had me play "The Coffee Song" over and over again so many times that I had memorized the lyrics and could have replaced Miss Campo as a duet partner on the tour if the young lady had to quit for any reason.
From that point forward the blue rose arrangement went with me every time I saw Rosemary perform, and far from taking them for granted, Rosemary never failed to light up when she saw them, even years after they had become a dressing room staple. "Blue Rose," in fact, became her nickname for me, which, of course, delighted me: "My sweet Blue Rose!" she'd say when she saw me enter the backstage area. Or sometimes she would call it out to me during her performances, as she walked toward the center of stage from the wings.
During this period, Cathi Campo was a constant dressing room presence as well, and sometimes she would touch my arm, nod in Rosemary's direction and whisper to me, "You have no idea how much those blue roses mean to her." I was made a little light-headed by this outpouring of affection for such a simple, straightforward gesture, but I was delighted at the same time. If a blue rose gave Rosemary Clooney so much enjoyment, so much pleasure, then I would bring them to her every time I saw her for the rest of her life if she wanted me to. It was small payment for the enormous joy she brought to millions of people with her music.
And she did bring people enormous joy with that voice of hers. In the 1990s it was almost unrecognizable from the voice of her 1950s prime, but it was a beautiful instrument nonetheless. When she sang a romantic ballad, she could imbue it with a wistful poignancy and make you feel the deep ache of love gone wrong. When she sang a swinging, uptempo number, you could feel waves of joyful energy surging off of her. Critics of the time often mentioned her breathing trouble and her limited vocal range, but she more than made up for those difficulties with her depth of feeling for a song, with her precision timing and clarity of diction. She was damn good.
More than just good, even in her late period she could outsing most of the poptart divas on the top ten charts today. Case in point: The final moments of a 1994 Christmas episode of the television program ER on which she guested. For the last three minutes of the show, Rosemary's voice, singing -- mostly a capella -- is heard above, behind and around dialogue and hospital noise. There is a montage of clips of doctors racing around to perform a series of desperate emergency procedures, and only Rosemary's voice, singing "Have Yourself a Merry Little Christmas," to tie each segment together. It was a gutsy thing for a performer of her age to do, putting over a song in front of 30 million people -- competing for the viewers attention with doctors working over patients, parents embracing sick children, helicopters landing and rising -- with just an occasional tinkling piano to accompany her. But she pulled it off with a kind of brilliance that is unimaginable in the current crop of young singers.
But just try to tell her that. My mother once praised her after a nightclub performance and Rosemary dismissed the comment out-of-hand. "It was the audience," she'd say. "It's easy to sing for such a great audience."
Remarkably, her long "comeback" which had commenced with a Bing Crosby concert tour in the mid-1970s, and her signing with the tiny California-based Concord record label in 1977, accelerated to new heights during the mid-1990s. "Demi-Centennial" spent weeks on Billboard's Jazz Chart and her annual sellout performances at New York's Rainbow & Stars cabaret went from standing-room only to zero-room-only to hottest-ticket-in-town status.
1995 marked the fiftieth anniversary of the end of World War II, and to mark the occasion, Rosemary appeared at Trump Taj Mahal in Atlantic City to sing songs from both "Demi-Centennial" and an earlier Concord release, "For the Duration," in which Rosemary sang songs made famous during the war. Near the end of the concert, the audience, largely made up of World War II veterans and their wives, surprised her by spontaneously singing along to "We'll Meet Again," the the Hugh Charles-Ross Parker song made famous by Vera Lynn.
Backstage, Rosemary was luminous, holding court while Dante DiPaolo, her devoted companion (and future husband), ran around offering cheese from a round silver platter. "Did you see how everyone sang along on 'We'll Meet Again'?" she asked me, beaming. "I loved that!" Yes, I admitted, it had been a special moment: "And now I can tell people I once sang with Rosemary Clooney!," I joked. She laughed and said, "You betcha!"
From that point forward, every time she performed "We'll Meet Again," she encouraged the audience to sing along with her, sometimes feeding them the lyrics line-by-line.
Despite her good nature during this backstage visit, this was the first time I noticed Rosemary's health problems were becoming an issue. While it was clear that she had trouble standing for any length of time, and often seemed to steady herself on the piano when performing in front of an audience, I hadn't heard her complain so much about her legs prior to this. It turned out that she was going to have knee replacement surgery as soon as the Trump Taj Mahal engagement was over. I sympathized, I said, having had two major surgeries on my right knee after a car accident seven or eight years previous. "Mine was twenty years ago," she said, "And by now the doctors say there's no cartilage left. It's just bone against bone. So I have to have it fixed."
It worried me, but I told myself that knee surgery is fairly routine anymore. A lot of people older than Rosemary have had knee replacements and come out of it fine. And, like the great survivor she always was, she pulled through and went on to release several more records and do hundreds more concerts, often joking with her audiences about her new titanium kneecaps, and how her little grandson kept trying to stick refrigerator magnets on her legs because he had heard Grammy's knees were made of metal.
By this time I had become very chummy with Dante, a veteran song-and-dance man who had carried a torch for Rosemary since first giving her dancing instructions during the filming of "White Christmas" in 1953. They had dated for a while in those days, and then each had gone their separate ways -- both marrying and eventually separating from other people. They had become reacquainted just after Rosemary's much reported-on emotional breakdown in the late 1960s. The two met cute at a traffic light in Los Angeles, and Dante was invited over to her house for a meal. He'd been at her side ever since: "I was the man who came to dinner and never left," he would say. They were married in 1997, but by then she'd already been in his heart for over forty years.
Dante is also a wonderful storyteller who in everyday conversation will unselfconsciously drop the name of a legendary actor and actress he once worked with. He does not drop these names with any sense of self-aggrandizement, mind you. Indeed, he's so casual about it that you'd think it was perfectly normal have been Shirley MacLaine's on-screen love interest in "Sweet Charity" or had costarred with Rock Hudson in something called "Tobruk" or had been one of the brothers in the film of "Seven Brides for Seven Brothers" or had befriended Bing Crosby when playing a newsboy in 1939's "The Star Maker."
Once he came to understand that I loved his show business tales, he always made a point to share some little nugget with me: "Did you know that I was the first person to dance with Ginger Rogers after her last film with Fred Astaire?" he'd say, referring to a television show he once did with Rogers. In fact, his friendship with Astaire himself was an enduring one, beginning before DiPaolo's enlistment in World War II and lasting until the Astaire's death in 1987. During some of Rosemary's last concert appearances in 2001, she would read aloud a lovely letter Astaire wrote to DiPaolo during the production of "Yolanda and the Thief" in 1942. She used the letter as a segue into a wonderful full-throated version of a song Astaire wrote called "If Swing Goes I Go Too."
After "Demi-Centennial" came "Dedicated to Nelson," a CD in which Rosemary re-recorded, with Nelson Riddle arrangements, a number of songs she had performed on her popular 1950s musical variety show. Riddle had been an unbilled musical arranger on the show, and the two had become romantically involved at the time. Spurred by a recent public re-evaluation of Riddle's work, and the popular re-release that year of a Riddle-Clooney collaboration from 1963 ("Love,"), the brand-new "Dedicated to Nelson" was an even bigger critical and financial success for Rosemary than "Demi-Centennial had been.
By now Rosemary and I had known each other for a couple of years, and our friendship had begun to mellow from that of a "fan" and a "star" to that of a couple of folks who just enjoyed spending a few minutes together every few months. Despite all that, I was completely and utterly stunned one night when, during an appearance at Rainbow & Stars, Rosemary gave me a warm glance and began, "This next song I first I did on a record called, 'Blue Rose,'" she said. "And I'd like to dedicate it to my friend Matt, who always brings me a blue rose when he comes to see me."
She then sang, "I Got It Bad And That Ain't Good," a song that also appeared on her "Dedicated to Nelson" CD. When she finished, she looked down at me from her position on the raised platform of the stage and said, "That was for you, honey."
During this engagement, too, Rosemary had health concerns. A bad bout of the flu caused her to cancel a few Rainbow & Stars performances. The problem was that Rosemary's tour schedule post-Rainbow & Stars was packed solid, so at first her management wasn't sure they'd be able to add new days to the current engagement to make up for the days lost due to illness. Some customers who had reserved seats weeks in advance were told they would get their money back. I remember talking to R&S staffers about this afterward, and was told there were full-throttle screaming matches over this. Her New York fans did not want to settle for refunds. They wanted to see Rosie, and they were not easily turned away.
Besides Rainbow & Stars, Rosemary was making fairly regular appearances at Carnegie Hall at this time. Her "Dedicated to Nelson" concert there had been a smash, and she had participated in a sensational three-day Tribute to Frank Sinatra where she had sung alone and duetted with Linda Ronstadt. After a performance at the New Jersey Performing Arts Center in Newark, I went backstage with my blue rose and had a nice quiet, uninterrupted conversation with Rosemary, which was unusual because she almost always had visitors and staff in her dressing room buzzing around and making arrangements for future shows.
"Excuse me," I said with a bit of mocking playfulness in my voice, "But I happened to read in Billboard magazine that 'a certain party' is the number one independent-label jazz artist in America."
I was talking about Rosemary herself, of course. Billboard had done their annual "indie" issue and posted charts listing the biggest acts on independent record labels in all categories of music. On the strength of "Demi-Centennial," "Dedicated to Nelson" and one or two other albums, Rosemary had made Concord records the biggest independent jazz label in America. "Isn't that amazing?" she said. "At my age?!"
In December of 1996, just after the release of her new Christmas CD, she was scheduled to return to Carnegie Hall for a tribute to Ira Gershwin, marking the 100th anniversary of his birth. It was a major, star-studded event hosted by Michael York and Angie Dickinson and featuring performances by Rosemary, Vic Damone, Michael Feinstein, comic Jon Lovitz, songwriter Burton Lane, society figure Kitty Carlyle Hart and many others. A workplace acquaintance of mine had once worked for the Gershwin organization and had had a hand in organizing the Carnegie Hall event, so she was very interested that I had tickets.
At the time I had been commuting daily from my home in New Jersey to my job in Manhattan, located about a block from Carnegie Hall. On the day of the Gershwin tribute, I showed up for work in the clothes I intended to wear to the theater that night: a light tan jacket, blue casual slacks and a matching shirt and tie. But it had been raining hard that day, and being a commuter I didn't want my feet to get wet. So I wore a pair of work boots.
When my friend saw me at work that day, she eyed me carefully. "So this is what you're wearing?" she said. "What about the shoes?"
"Oh, come on," I said. "Nobody's going to see my shoes. I'll be sitting down the whole time."
"But didn't you say you were going backstage to see Rosemary?"
"Well, yeah," I answered. "But I don't think she'll mind the work boots."
"Maybe you should go out and buy a new pair of dress shoes," she said. "You never know. You might just run into Frances Gershwin backstage."
"Who's Frances Gershwin?" I asked.
"She's George and Ira's sister. She's turning 90 the same day Ira would have turned 100. She'll be in the audience in a place of honor."
"Yeah, right," I sniffed. "Like I'm going to run into George and Ira Gershwin's sister backstage at Carnegie Hall."
Flash forward to the concert, which was amazing. Rosemary sang three Gershwin songs and had the crowd in the palm of her hand. At the end of her last number, "Our Love is Here to Stay," the audience gave a thunderous ovation. Few noticed, as I did, that Rosemary briefly forgot one tiny bit of lyric in the song. Just after "Not for a year, but ever and a day..." she paused, and for just a beat and a half, she seemed a bit panicked. She turned to her accompanyist, John Oddo, and tapped the top of the piano to get his attention so he could cue her on the words. Then the lyrics came to her, as they always did, and she finished flawlessly. Afterward I walked backstage and was told to take the elevator to the third floor, where Rosemary's dressing room was.
I stepped on the elevator and pressed "3." The elevator rose to the second floor, the doors parted. In walked Kitty Carlyle Hart, the brilliant songwriter Burton Lane... and Frances Gershwin. I backed quickly into the elevator to give them room, and looked down miserably at my scuffed old work boots. I felt like a man wearing a jockstrap for an audience with the Queen of England. In my mind, I raged against myself: "I should have listened to her about the shoes!!"
When I got out on the third floor, I saw Rosemary's manager, Allen Sviridoff, and we chatted for a bit while we waited for Rosemary's dressing room door to open. I told Allen I had just purchased Rosemary's new Christmas CD, and he told me that when Billboard magazine came out the following day, the new CD would be on the top of the Billboard jazz charts, the first time Rosemary had had any record on the top of any Billboard chart in three decades or more. Then the dressing room door swung open and we found Rosemary sitting inside agonizing over her little blip during "Our Love is Here to Stay."
"The RADIO!," she called out as Allen and I walked in. "It was 'The RADIO, and the telephone and the movies that we know!' Did you see that! I forgot 'THE RADIO!'" She was repeating the lyric she had almost flubbed in the classic Gershwin tune, and kicking herself for nearly blowing it.
I told her that, yes, I had noticed that she had nearly forgotten the lyric but that she had recovered well. It was nothing to worry about. But she agonized over it, in a funny way, for the next ten minutes. "The Radio!" she kept saying between chuckles. Truth be told, it was practically impossible to notice the gaffe. The Gershwin tribute was taped for PBS, and if you were to watch the show today, you might notice that the pause between "...ever and a day" and "The radio" goes on a nanosecond longer than normal, but more likely you wouldn't notice a thing.
"White Christmas," Rosemary's first "official" holiday LP, was an even bigger hit than anyone expected. The same week it came out at number one on the Billboard jazz chart, it also made a brief appearance on the Pop Album chart, which was truly astounding, considering the median age of the record-buying public and the sales power of the contemporary megastars that crowded the list. It appeared that her "comeback" that had started twenty-odd years earlier had come to full fruition.
Following "White Christmas" was another number-one jazz album, "Mothers and Daughters" and more triumphant appearances at cabarets and concert halls. I saw her perform at Rainbow & Stars three times that year, once at a special Mother's Day brunch, to which I took my parents. Rosemary had met my mom and stepfather so many times by now that she started to greet them as old friends. My mom once said to her, "Rosemary, you had five children in five years, but I had seven children in nine years."
Not to be outdone, Rosemary said, "How many grandchildren?"
"Five," Mom answered.
"I've got ten," Rosemary quipped. "So you had more kids, but mine were more productive."
Over the years it was hard not to notice that Rosemary was becoming increasingly frail. She started walking with a cane, and backstage on one occasion Dante told me that she'd had a respiratory failure one night -- it might have been fatal had he not immediately rushed her to the hospital. That was when she was told to give up smoking, a habit she had had for fifty years. Then in 1998 she was hospitalized in New York for spinal meningitis and slipped into a coma, terrifying her family and friends. When she seemed to be through the worst of it, I called the hospital and talked to Dante. He was as optimistic as ever, saying that while she was in serious condition, she was expected to recover completely. Could I send a the blue rose arrangement? I asked. No, he said, she's not allowed flowers in intensive care. A few days later I called again, this time to warn him that the Globe tabloid had run a story on Rosemary's illness. "I haven't seen that," he said. "Were there any pictures?"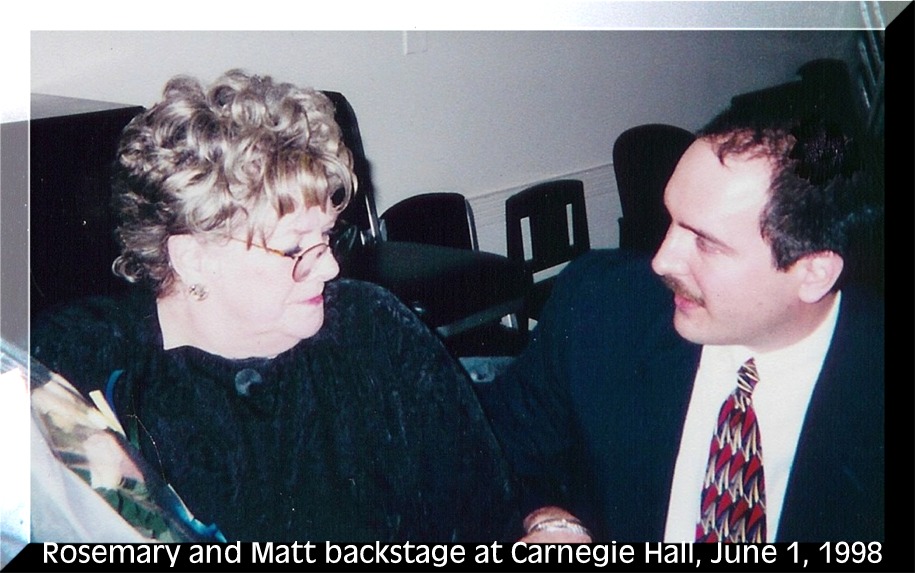 In June of '98, after she had recovered from this last health crisis, she appeared at Carnegie Hall with the Count Basie orchestra. She performed an extraordinarily long set for her -- about an hour and a half, but her voice was strong and as ever she was capable of making you laugh one moment and cry the next. At the close of the concert, I followed her with my eyes as the strode off stage. I noticed something fall from her hand as she exited stage left, so as the rest of the audience shuffled to the exits I wandered up to the foot of the stage to see what it was that Rosemary had dropped. It was a white handkerchief, the kind she used during almost every engagement, to keep the sweat from the hot lights out of her eyes. I asked one of the stagehands if I could have it, and he was nice enough to pick it up for me. It was smudged with her stage makeup. I pocketed my little treasure and went to look for the friends I had brought to the theater with me.
When we arrived backstage, the room was a virtual mob scene. There looked to be about 50 people in there, waiting to get their few words with the star. The strain of a particularly long performance and the crowds of well-wishers afterward was showing on Rosemary's face, however. "I'm so tired," she said to me when I finally got a chance to sit down with her. My friends asked her to sign a CD, and she began to write, "To Rosemary..." then realized she was making a mistake, crossed it out, and wrote, "To John, with love, Rosemary."
"I'm sorry," she said as she handed the CD back to my friend's husband, "I was so tired I messed up your autograph."
"It's okay," he said before adding, in reference to her recent health problems, "I'm just so glad we didn't lose you."
"So am I," she quipped.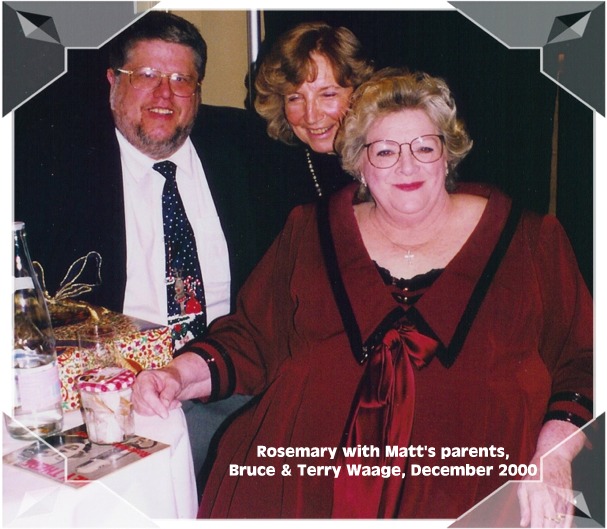 The last time I saw her was at Feinstein's at the Regency, her new cabaret home in New York, as the Rainbow & Stars had closed down a couple of years previous. It was April 3 or 4, 2001, and I was celebrating my 36th birthday. Adding to the occasion, Rosemary had a martini sent over to my table. She was performing with Big Cahuna and the Copa Cat Pack, a hot young swing band that seemed to energize Rosemary and give her a special enthusiasm for the work. But by now she was sitting down during her performances and was clearly was having more trouble than ever getting on and off stage. She adopted a new song, "Rockin' Chair," that Mildred Bailey had made famous in 1937. It was a sad song, about the inevitability of decline and death. It made me terribly sad to hear Rosemary sing it.
But backstage she was her old self, laughing and joking with the ever-present celebrities that now paid homage to her after every show. In recent years I had watched a virtual who's who of the entertainment business prostrate themselves before Rosemary backstage at her New York shows. On this particular visit, Rosemary told an uproarious story about a 1950s dinner party hosted by Rocky Cooper, the socialite wife of the film star Gary Cooper. The story involved Rosemary's attempt to switch the dinnertime place settings so she wouldn't have to sit next to the director Charles Vidor, with whom she had little in common. Cole Porter caught her making the switch and chastised her vigorously -- and seemingly endlessly -- about changing the seating arrangements when Rocky had gone to such trouble to mix the people in just the right way. Alright already, Rosemary moaned to Cole, I'm sorry, okay? She went looking for Rocky to make additional apologies. She opened a door. She peaked into a bedroom. And she saw Rocky Cooper in a passionate embrace with the B-movie actor George Nader.
That's when I interrupted her.
"Um, excuse me Rosemary, but wasn't George Nader..."
"Yes!" she said, "Gay! But not that night!"
The punch line to the whole story was even better. Quickly closing the door behind her, Rosemary nearly bumped into Cole Porter as she scurried down the hallway. "You think I did something bad?" she asked him, gesturing toward the door she had just closed. "I only changed the place settings! Take a look at what's going on in there!"
When I returned home from Feinstein's that night, I suddenly realized that I had not even thanked Rosemary for sending the drink to my table. Chastising myself for being rude, I phoned her at the Regency the next day and apologized for not acknowledging her gesture the night before. She laughed and said, "Never mind. You always bring me that beautiful blue rose." After all these years, I said to her, that silly blue rose still makes you happy? "Yes," she said, "It really does, and you're very sweet to bring them for me." I tried to tell her that it was small payment for all the happiness she had given me, and so many others, with her music, but she just brushed it off as if to say It's no big deal. It's just what I do. Her grandchildren were visiting, and she wanted to get back to them. I said goodbye. I never spoke with her again.
On December 14, 2001 Rosemary had an engagement at the Count Basie Theater in Red Bank, NJ, just an hour or so from my home. A friend of her family, with whom I had become friendly in recent years, was making the trip from Ohio to see her perform there. She emailed me several times, asking me to attend the show with her. I demurred, however, because the following day I was having 30 people to my home for a large Christmas party. There was just too much to do between now and then.
In January Rosemary checked into the Mayo Clinic for lung cancer surgery. The same family friend who had encouraged me to see Rosemary perform at the Basie Theater a few weeks earlier said Rosemary had confided to her after the show that night that she was going to have the surgery, but while cancer is always serious, she had no reason to believe the operation wouldn't be successful. She had done her traditional holiday show that night, showing clips from the movie "White Christmas," telling backstage anecdotes, singing songs from her 1996 Christmas album and selections from the film. It was a wonderful show that varied little from year to year, but always seemed timeless.It was her final live concert.
Twice I was in contact with Dante during this period. The first time I called him at the hospital, and he was his usual optimistic self. Rosemary was recovering slowly but surely, he said. It would take a while, but she would get better and be able to resume her career. "Everyone's going to be happy," he said.
I called him at his hotel near the hospital a few days later, after I had heard she had been placed on the critical list. He called me back and left a message on my answering machine: "Rosemary's coming along really well," he said. "Every day she keeps getting better, that's the main thing we have to know. She's not critical. She's been off the critical list for two days now... She's in an area now where she keeps getting better... She's coming off of all the support systems and taking over on her own... With this kind of operation it's going to take a while..."
And it had been a serious operation. She had had the upper left lobe removed from her lung. There is cancer in my family, and I was very worried about the things I had heard about the size and shape of the tumor they had removed from Rosemary's lung. To me and many others it just didn't sound good, despite what Rosemary's organization was telling the public.
After the first couple of weeks I decided to stop pestering Dante, and let Rosemary have her privacy. But weeks at the Mayo Clinic turned into months. There were rumors that she had had a second operation to make sure the first had gotten all of the tumor. She was battling a series of infections. She had lost weight, which the doctors encouraged.
Finally she returned home at the end of April, much to the profound relief to her devoted fans, who had clogged the internet message boards with notes of concern about her. Then, near the end of June, I saw a news bulletin scroll across the bottom of my TV screen: "Singer Rosemary Clooney re-admitted to hospital after recurrence of cancer."
This time there was no way to put an optimistic spin on her condition. After a brief hospital stay she was sent home and her family reportedly had gathered around her. Her spokesperson said Rosemary was "the eternal optimist" but refused to comment on her prognosis.
Most of us started the mourning process right about that time. On June 27 I wrote to Rosemary one last time. I said, in part, "I think you already know, Rosemary, that your music has been the background of so many happy times in my life, and has also eased me through difficult moments. It lends a special poignancy that I treasure every time I listen to your wonderful voice.
"I thought perhaps I might send you a blue rose, as I often have in the past, to let you know you were in my thoughts. But Dante told me some months ago that it might be better not to, for a number of reasons. So all I can do is send you my words, and hope they suffice in communicating to you how precious you are to me and my family."
I don't think she ever received my letter. She was gone two days after I wrote it.
At the beginning of this story, I wrote that, despite the lofty circles Rosemary travelled in, there were dozens of ordinary folk who considered her a personal friend. That, clearly, was a vast understatement.
The day after her funeral on July 5, the papers reported that 700 people had crowded into St. Patrick's Church in Maysville, Kentucky, where her services were held. One hundred more were forced to linger outside because there was just no more room inside the church.
"Everyone in their secret heart is saying 'I knew her best,'" Rosemary's brother Nick said during a brief eulogy. "And they are all correct. She connected with everyone from Maysville to Singapore, and all parts in between."
She sure did.