There for each other


Recalling the
stellar relationships
between
Rosemary Clooney,
Bing Crosby and
Bob Hope


By Matt Connor*
July 2003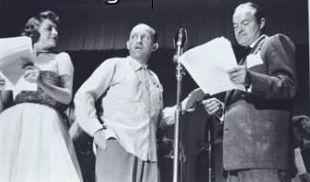 They made hit films, popular recordings, appeared on radio and TV and made personal appearances together across the nation and the world over the course of a quarter century. But the relationship between Bing Crosby, Bob Hope and Rosemary Clooney was more than just a series of successful show business collaborations. These three legends had a tremendous warmth of feeling for each other, and above all they simply had a ball anytime the three of them - or any combination of two - were in the same room together.
"They wouldn't see each other as much as they would have liked, but their friendship was understood," Dante DiPaolo, the late Rosemary Clooney's widower said. "Bob and Rosemary had a brother-sister relationship. It was the same with Bing. It was a brother-sister, very close relationship. Aside from being Irish, Bing and Rosemary were both very talented. But the Irish in them came through. They really were the true meaning of 'When Irish Eyes Are Smiling.' When they looked at each other, they just smiled. They were terrific."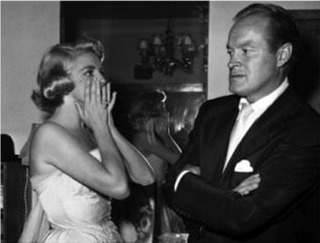 "They were exceptionally good chums," Hope's longtime publicist Ward Grant said of Bob, his wife Dolores, and Rosemary. "The Hopes went to her wedding to Dante in Kentucky. It was one of Bob's last big public appearances. And of course Dolores did Rainbow & Stars with Rosemary Clooney, and Bob was there in the audience. Rosemary was one of the nicest, dearest people that graced this earth and we have so many fond memories of her with the Hopes and with Dolores."
"She was just very true," the late Bing Crosby's widow Kathryn said of Rosemary. "And of course, working with Bing, they had great energy and great delight in each other and in the music. What a miracle that they're voices blended so well and their ranges matched perfectly."
EARLY ENCOUNTERS
Bing and Bob had already scaled the heights of stardom by the time Rosemary first stepped up to the microphone with her sister Betty in 1945. As one half of the singing Clooney Sisters, Rosemary had no idea that she was just six years away from pop superstardom and just eight years away from co-starring, separately, with the men she used to gaze at on-screen in the Russell Theater in Maysville Kentucky, her childhood home.
In later interviews she'd tell reporters how much, as a child, she'd enjoyed Paramount's old "Road" pictures that teamed Hope and Crosby on a series of raucous comic adventures with music. But she greatly underestimated her own potential stardom, or her career longevity.
"She used to tell me, 'Do you know what? In a year from now nobody's even going to be talking about me,'" DiPaolo said, recalling his early relationship with Rosemary, whom he had met on the set of her second film, "Here Come the Girls" in 1952. "She didn't have that, I don't know, she didn't think she'd be a lasting star. We were both young. She was only 21 and I was 23. We went together for about a year."
Rosemary co-starred in the picture with Hope, Arlene Dahl and Tony Martin, and DiPaolo was one of four featured dancers in the cast.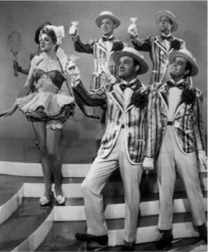 "She did 'Here Come the Girls' with Bob, and I was in that one," DiPaolo recalled. "I was in a number with Bob. It was Bob and four guys in blazers and straw hats. Her first movie was 'The Stars are Singing,' but 'Here Come the Girls' was the first movie we were both in together."
Tony Martin remembers those days on the set very well. He was interviewed about his memories of Bob and Rosemary in June of 2003, just weeks before Hope's death at age 100.
"That was a wonderful experience. It was a lot of fun," Martin said. "Rosemary was great fun and we had a lot of laughs. Hope was the best, wonderful to work with. If we felt like working, we'd work. If he didn't feel like working, he'd play golf, probably with Bing. There was always a lot of ad libbing going on. We were always allowed to say what we wanted as long as we kept within the general boundaries of the script."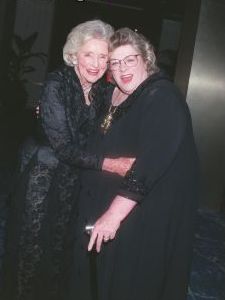 According to Grant, "Here Come the Girls" marked Rosemary's first meeting with Bob and Dolores, who would remain lifelong friends. The film itself was not one of Rosemary's favorites, however. In later years she would joke that nobody went to see the picture, not even Dolores.
"My mother loved Rosie, and worked with her, because they did a bunch of concerts together, as you probably know," said Tony Hope, Bob and Dolores' eldest son. "My sister Linda set them all up. She set up the appearances with my Dad and with my mother with Rosemary. She could tell you more about that than I could. All I did was love her."
(Interviews requests with both Dolores and Linda Hope were politely declined by Grant, who said Dolores, in particular, was simply not up to doing interviews. At the time Bob was in precarious health, and would pass away just six to eight weeks later).
"Rosemary sort of bopped in and out of my life about every ten years from the time I was a child until four or five years ago," Tony Hope said. 'She was always so open and welcoming and available in person that I always considered her to be a friend in spite of the fact that I look back now and see that conversations would be picked up after five or ten year lapses. She was just a delight."
THE GOLF CONNECTION
The fact that Bing Crosby and Bob Hope both adored the game of golf has been much reported on over the years, and according to Tony Hope the team's antics on and off the golf course were often a source of much amusement to casual observers. During the filming of "Road to Hong Kong" in 1961, Bing and Bob shared a house together in England, where the movie was being shot.
"It was called Cranbourne Court," Tony Hope said of the fellows' temporary residence. "It was out near the golf courses. They had some funny times together with the British on the golf courses. One time they had been filming a party scene on the set and they went straight from there to the golf course. They got into the men's locker room, and they were changing their shoes, and as they took off their street shoes, all of this confetti fell out of their shoes. And the British members of the club were looking at them and wondering what was going on. So they started doing some of their schtick: 'Oh, I see you've got some of the green stuff, Bob.' That sort of thing. This is what they did from the early thirties, when they were at parties together in New York, before they ever worked together.
"They had this instant repartee and this ability to banter, and they never lost it. But they were fairly reserved people. They didn't go out and shoot up the town and they were never involved in a business deal that I know of. It was golf and friendship. They weren't drinking buddies. My father didn't drink much and Bing had quit."
Tony flew out to England to visit his Dad during this period, and had occasion to spend some time with a then-pregnant Kathryn Crosby.
"I went over for a couple of weeks then, and that's when I met Kathryn, who was pregnant with her oldest son, Harry," Tony said. "I used to take her to the opera and things that neither Bing nor my father was interested in. I was 19 at the time, and people would see me with this very attractive quite pregnant older woman and we'd get a lot of looks. She'd say, 'You don't seem to mind.' And I'd say, 'I don't. I think it's great.' I was getting a lot of glances, which I thoroughly enjoyed. She didn't mind either. She thought it was a hoot. She still had that great Texas sense of humor."
Rosemary didn't share Bob and Bing's passion for golf, but she frequently attended the Bing Crosby golf tournaments, often providing entertainment at the tournaments' charity fund-raising clambakes.
According to Kathryn, when home in California Bing and Bob played golf together regularly at the Lakeside Country Club in North Hollywood. Martin also golfed with both men.
"I played with Bob once," Martin said. "I played with Bing a couple of times, three times. We played with Phil Harris over at Lakeside Country Club and played in tournaments with him. Phil Harris and Bing were very good friends. And I did alright with Bob. I had a good handicap. I think they had a six or seven and I had an eight or nine. I played Bing once at Hillcrest Country Club. I asked him his handicap and he said his handicap was a six at that time. He asked me what mine was, and I said, 'It's an eight.' We got to a par at three hole and we were all even up till then. Bing took a five iron and hit it up to the apron of the green. So I said to my caddy, 'Give me a six iron.' With the six iron I hit right next to the flag. So Bing turned to me and said, 'What did you say your handicap was?' He thought I was pulling a fast one on him. We laughed about that. I happened to make a lucky shot. To tell you the truth, I was fascinated by him because he was always an idol of mine."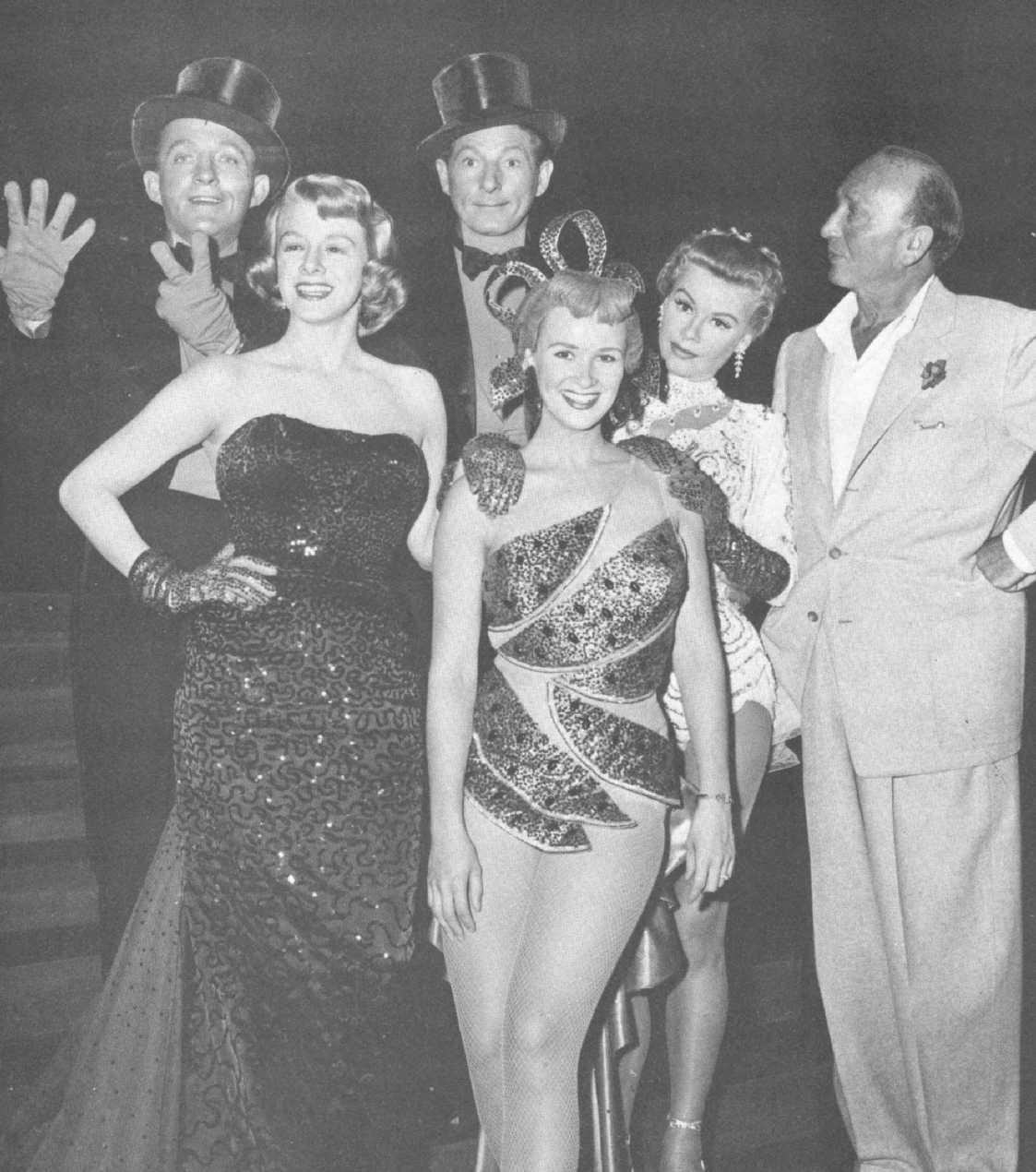 DREAMING OF "WHITE CHRISTMAS"
Bing was an idol of Rosemary's as well. She talked about her admiration for the singer in an interview included on the DVD of "White Christmas," the smash 1954 film in which both she and Bing starred.
"I met Bing when he was doing 'Road to Bali' [released in 1952] and I had been to the lot a couple of times," Rosemary said. "And Bing was on his bicycle and his shirt exactly matched his eyes, which was a stunning thing to see because he had great eyes, great blue eyes."
She looked back happily on their filmed collaboration because it greatly enhanced their personal relationship, she said.
"My fondest memory is just being able to further the friendship, deepen the friendship I had with Bing," Rosemary said. "That's the thing that came out of the picture that I was left with for the rest of Bing's life. That was very important to me."
The movie also helped initiate a lifelong friendship with Bing's spirited wife Kathryn, who encountered Rosemary soon after first meeting her future husband.
"It was 1953," Kathryn said. "I met her the same time I met Bing. I met Bing first, but then I went over to the 'White Christmas' set and I met her and Danny Kaye and Vera Ellen. Her dressing room was by Bing's, and so I got to visit with her. She was just as down home as she was the rest of her life."

Kathryn, who recently released a new book, "My Last Years With Bing" said Rosemary and her family were a regular presence in their lives.
"If you get my book, you'll see pictures of Rosie in our lives," she said. "Of course, my books are all about our private lives. So you'll see pictures of her down in Baja, California. [Rosemary's children] Maria and Miguel were also there. Sometimes all of her children were there with us, but usually at least one or two were there. Bing really cared for her so much, and she cared for him. And she's always been there for me."
Indeed. According to an earlier book by Kathryn, "My Life with Bing," Rosemary was visiting the famous couple and their two small children, Harry and Mary Frances, in Mexico in 1962, when a truly frightening incident occurred.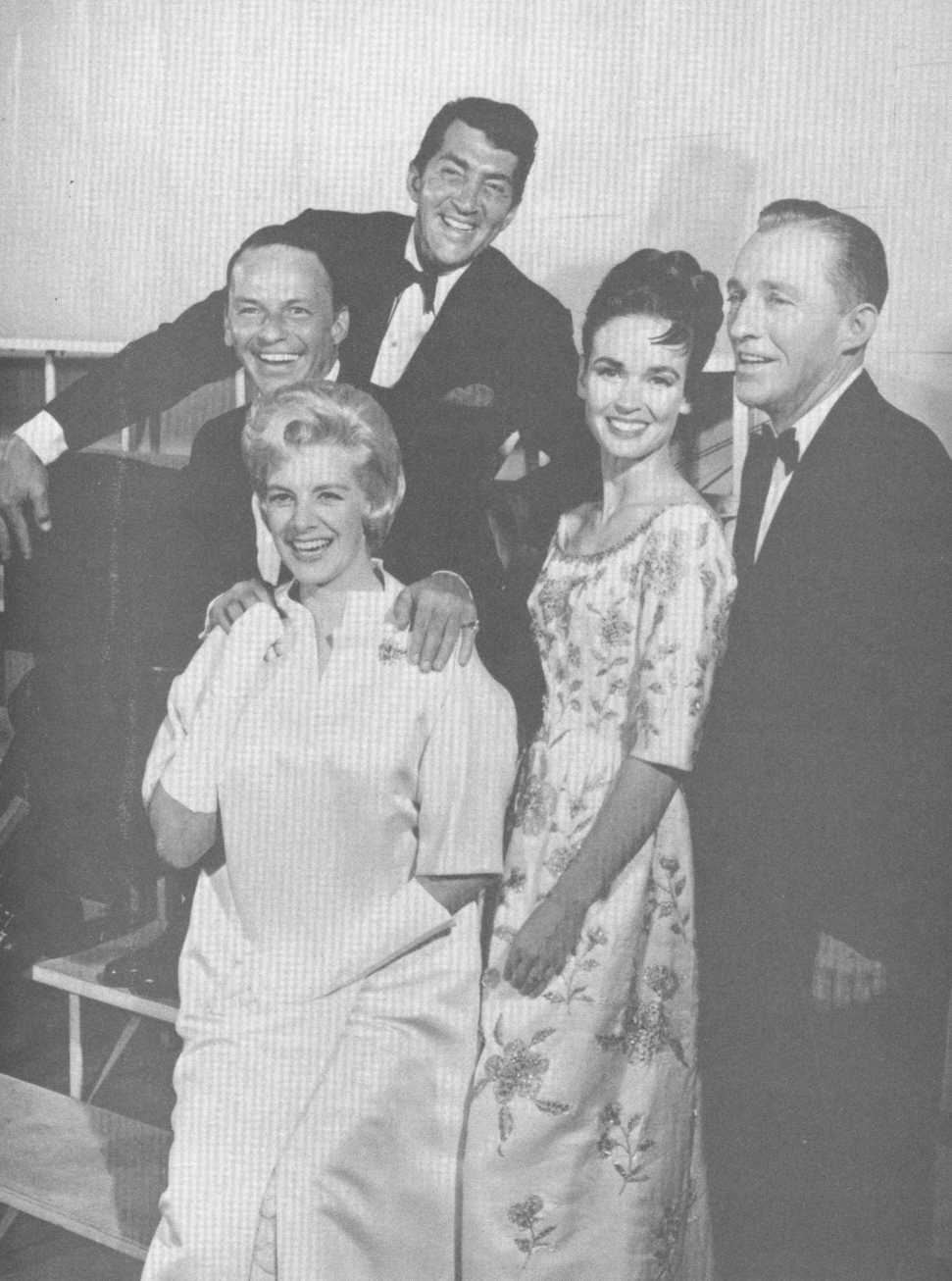 "We returned from a swim at the hotel with Mary Frances on Bing's lap 'helping him drive,' Harry in the wicker seat to his right, and Rosie and me in the back of the little Renault beach wagon," Kathryn wrote. "Our conveyance lacked not only seat belts but also doors, and the sandy road was a series of deep ruts and bumps. In a scene that appeared to have been filmed in slow motion, Bing turned a corner to the left just as Harry stood up to gesture to me. I saw the child tumble over the side of the car, and felt an ominous bump as Bing jammed on the break, leaped out dumping Mary Frances into the sand, and raced for Harry."
While Bing and Kathryn checked on the little boy -- who had gotten a great deal of sand in his eyes but was otherwise, miraculously, unharmed - Rosemary grabbed Mary Frances and led her away to protect her from a potentially frightening scene.
Harry was only four years old at the time, but when contacted for this article recently, he said Rosemary remembered this incident vividly and occasionally talked to him about it.
"I've known her all of my life, so she's been like a family member," Harry said. "We were very, very close. She was a straight talker, a wonderful guide and a loving soul. She was truly family... When I was 18 I lived in the back of her garage, when I'd come down to visit the family members. I was going to the California Insitute of the Arts and I always had a bed there. I had a really close relationship with all of her children, all of her five kids."
Thirteen years later, Rosemary would again be a calming presence in the lives of the Crosbys when another potentially deadly accident impacted the family. In 1977, at the close of a concert in Pasadena, California, a technical snafu would cause Bing to tumble from the theater stage and fall into the orchestra pit, rupturing a disc in his back. Rosemary was touring with Bing at the time, and had already left the theater with Bing's children. They were being driven to a local restaurant when the news reached them about the incident. Rosemary did her best to keep the Crosby kids calm while they raced to the hospital. Remarkably, Bing had recovered sufficiently from the fall to resume the tour some weeks later.
ON THE ROAD WITH BING & ROSEMARY
It was this tour with Bing that had returned Rosemary to the wider public spotlight after some highly publicized health problems in the late 1960s. DiPaolo said her habit of taking Crosby's children out for dinner after the show began early in her series of appearances with Bing, which began around 1973 and continued until Bing's death in mid-October, 1977.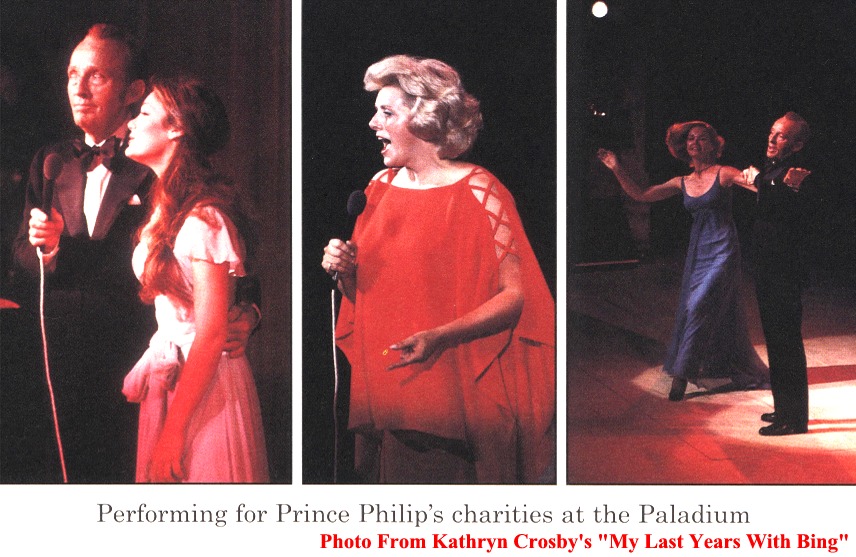 "This was funny," Dante began. "Rosemary would take all of the kids to dinner, especially when we were in London. She'd take Harry and Mary Frances and Nathaniel and her kids and me and we'd all go to SoHo and have dinner almost every night at this Italian restaurant. Bing and Kathryn wouldn't go. They'd stay home. Bing finally said, 'My goodness, you're really taking the kids around here a lot. You must be spending a fortune.' And she'd say, 'Oh no, I'm having fun.' But he never really made an attempt to take anybody out, not really! Although he did throw a great party in London with caviar all over the place. Sylvia Sims was there. It was a great party. We went two years in a row to the Palladium and on to Scotland, in Edinborough, to Dublin, Ireland. Crosby and Clooney were so popular in Ireland that people didn't know what hit them. They performed at a little theater called the Gaeity."
Kathryn recalls those Ireland performances well, too.
"We had the most wonderful time on the road," she said. "During our first trip to Ireland, Rosie got there before Bing and I. When we arrived at the Grisham Hotel, there was Rosie standing outside in sort of a misty drizzle. She was wearing a raincoat and that was all she was wearing. A bomb had gone off in the hotel and they ushered everyone out. She had just come out of the shower and she grabbed her raincoat and there she was. She said, 'It's pretty lively over here.'
"That was also the time Peter O'Toole came back during intermission," Kathryn continued. "Peter O'Toole and about seven young men who were dark and rather short to be around Peter -- who must have been eight feet tall and gorgeous and blonde with those huge blue eyes - came backstage. He said, 'These are my brothers, Sean and Michael and Danny...&ldots;' They visited for a while in the green room with Bing and Rosie and I. Ted Rogers, the comedian, was also there. Ted was a political satirist. The guys looked at him and said, 'Good routine. Let's see how you go tonight.' After they left, Ted was absolutely dead white. He whispered, 'That was the IRA.' And Bing said, 'I hope they enjoy the show.' It didn't mean anything to Bing, but Rosie and I looked at each other and said, 'Oh my God!'"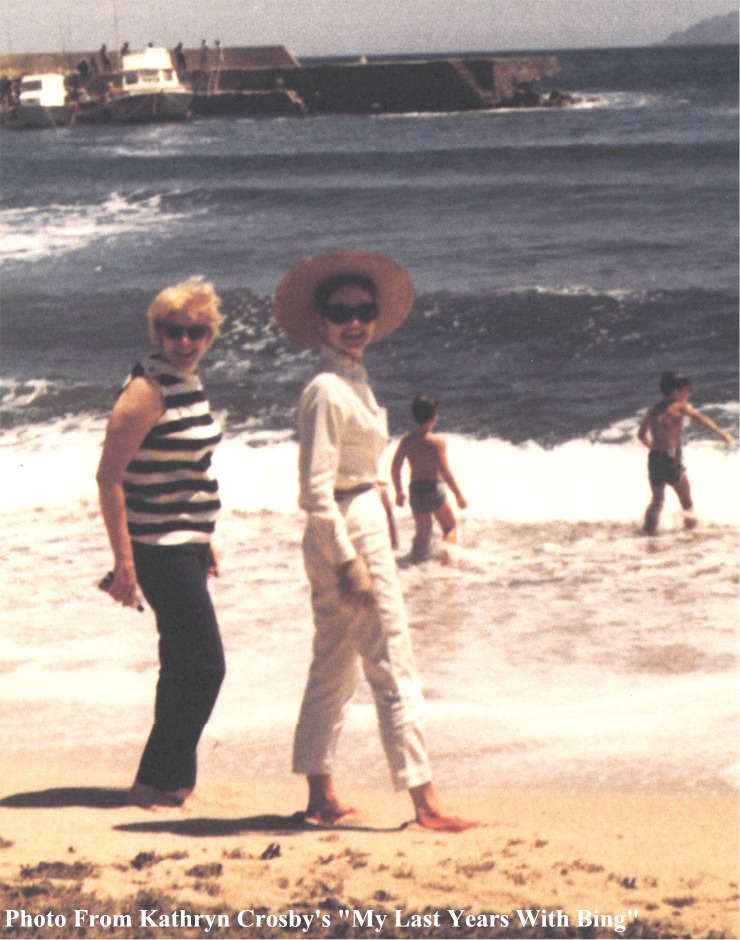 Rosemary's friendship with the talented wives of her friends Bob and Bing were as enduring as her relationship with the men themselves. Long after Bing had passed away, Rosemary, Dolores and Kathryn would get together frequently for card playing and cocktails.
"My mother's a gin player, and Rosie played gin," Tony Hope said. "Kathryn doesn't, I don't think. But Kathryn was always kind of in there and enjoyed everybody."
Kathryn's memory of their gin games was slightly different, however.
"I did more card playing, and they did more singing and, I think, drinking actually," Kathryn said with a chuckle. "Dolores told the story, at Rosemary's memorial, about how Dolores never went on stage without first having a drink. And Rosemary said, 'I never drink before a show. Afterwards, yes.' But then Dolores added, 'But I was always one ahead of her.' Dolores was planning the revisions to Rosie's home when she came back from the hospital after her final illness. She had come in and advised about what doors needed to be taken down, and which ones needed to be widened, how things should be done."
Rosemary's battle with lung cancer at the end of her life nearly shattered her close friends and family.
"The Hopes were very concerned about her. Very much so," Hope publicist Grant said. "They were always calling to see how she was doing."
Though the heartache of losing Rosemary left Dante somewhat dazed during the weeks just before and after Rosemary's passing, he said he remembered how the Hopes had worried over his late wife: "It was so weird at that time. So many people called and sent flowers. Everybody was doing that. I lost track. It was a terrible time for me. I didn¹t make a note of anybody. Bob and Dolores were very concerned though, oh yeah. Dolores always said she was Rosemary¹s mother, like her spiritual mother."
Recalled Tony Hope, "The last time I saw her in person was at my parent's house. It was a party, and Rosie was there and giving hugs and talking to everybody. It was a surprise to me that she died so soon after that. It was fairly recently, a couple of years ago."
Phyllis Diller was apparently at that same party. She told Larry King that two years ago, at Bob's 98th Birthday party, she witnessed Rosemary's comeraderie with the family.

"It was a family affair with a few close friends and it was quite exciting because Rosie Clooney and the hosts were always terribly close and Dolores and Rosie sang duets to Bob and it was heart rending."

By then, Diller said, Bob had lost much of his sight and hearing, but still he enjoyed the duet: "But he heard them. Of course, he always knew Dolores' voice."

The Hopes customarily celebrated three birthdays -- Bob's, Dolores's and Rosemary's -- with a single party in May, the month in which all three were born. Dante remembers one such birthday party vividly.
"They¹d have one party, over at Bob Hope¹s. Every year they would do that. The last time they did it, the cowboy singer, the millionaire, Gene Autry, he came in with his wife, Jackie. We all sat at the same table outside, on the patio. I couldn¹t believe I was sitting across from Gene Autry. I said, 'You know, one of my very favorite songs that you recorded was 'The One Rose.' He says, 'Oh yeah, I liked that one.' Well, he started singing and he sang the whole song, right there."
The song "The One Rose (That's Left In My Heart)," with it's title that is so evocative of Dante's relationship with Rosemary, was, ironically, a hit record for Bing Crosby in 1937.
Poignantly, Rosemary hoped to do for Kathryn Crosby what she had already done for Dolores Hope. In 1997, Rosemary sponsored Dolores' return to the New York nightclub world by inviting her to appear at Rainbow & Stars cabaret with her. Dolores had started her singing career in the 1930s, well before she met Bob. Her show business career was put on hold after her marriage, however. With the exception of a few singing engagements on her husband's TV specials, Dolores maintained a fairly low profile publicly. But in the early 1990s she returned to the recording studio and released a handful of charming classic pop CDs on the Hope Enterprises label. The Rainbow & Stars engagement was by far her highest profile public outing, and she seemed to glow in the center of the public's adoration. Rosemary hoped to extend a similar invitation to her old friend Kathryn.
"Rosie, when I saw her last, said, 'Next time I go to New York, I'm going to take you, and you will sing with us,'" Kathryn Crosby said. "I thought that was the greatest compliment she could ever give, because of course she knew she was dying. But she was going to do the next tour of New York and she was going to take me, as a gift to Bing, I think."
The lives of the three entertainers and their spouses seemed perpetually interwoven. In 1997, when Dolores appeared in New York with Rosemary (with Bob front-and-center on opening night), Kathryn was starring on Broadway in David Merrick's production of Roger's and Hammerstein's "State Fair." The following year, on Rosemary's 70th birthday, Harry Crosby accompanied Rosemary on guitar while she sang at the Rainbow & Stars, with Kathryn in the audience. Later that year, Rosemary appeared at Carnegie Hall, where she beautifully sang Bob Hope's theme song, "Thanks for the Memory." And again, Kathryn was in the audience.
"Rosie's been like a mentor as related to our performing together," Harry Crosby said. "We performed from about the time I was 17, at the Dorothy Chandler Pavillion; I played the guitar and we did a duet. We went on with her at what was then the Uris Theater in New York and the Palladium for two years, in '76 and 77. Then every time she went into New York she'd call me up and we'd do a song together, right up through her 70th birthday and a couple of years after that."
EPILOGUE
The first of the three friends to shake loose his mortal coils was Bing, who slipped away on a Spanish golf course in 1977.
"When Bing died, I flew up to New York to see my father, who was supposed to go on [and perform] that night," Tony Hope said. "It was the only time he ever missed a show that I know of. He just decided he wasn't going on and he flew home."
Clearly, Rosemary and Bob were devastated by his death, and were among the very few invited to attend Bing's funeral. After witnessing the public spectacle that had been made out of his first wife Dixie's funeral in 1952, Bing had been determined to keep his own services under tight control. Only 20 friends and family members were invited to his services, which were held at 4 a.m. to discourage crowds.
Still, according to a close Clooney family friend, a tabloid photographer had managed to snap a photo of Bing lying in his casket. Rosemary was mortified.
When her time came at the end of June, 2002, Rosemary's arrangements allowed for crowds of hundreds to attend her funeral in Maysville, but she had long ago stipulated that her services would be closed-casket. She did not want a repeat of what had happened to her dear friend Bing.
Bob Hope's astounding vitality allowed him to continue performing well into his 90s, and occasionally appeared in public to accept major awards and honors as late as the early 00s, but it was clear that he was becoming increasingly frail as he approached his 100th birthday.
Among the handful of public appearances Bob made after age 94 was the 1997 wedding of Rosemary to Dante DiPaolo.
"The weird thing about that was Uncle William," DiPaolo said with a chuckle.
"Rosemary's Uncle William came in first, before Bob Hope did, and everybody thought he was Bob Hope. He looked like Bob Hope quite a bit. He came in and everybody was smiling at him and looking at him, and he thought, 'Why is everybody looking at me?' And he took it. He bowed to them and waved to them and all that. About ten minutes later Bob Hope came in, and everybody was just bewildered. That's when Bob sang 'Get Me to the Church On Time,' because he was arriving so late, after everyone else.
"He had a ball at the wedding. A ball. People came up to him and he talked to everybody and had a lot of fun."
Despite his advanced age, his death on July 26, 2003 shocked and saddened the world. Many of his fans and friends said they could not imagine a world without Bob Hope.
In a telephone interview for this story in June of 2003, Kathryn said Dolores, at 94, was becoming increasingly private and that Bob was having problems with his vision and hearing.
"Dolores does not leave her house," Kathryn said. "She never gets more than an hour away from her house, so going to another city is out of the question. But that's her choice. Bob still responds to her, and he can still hear her, when he can't hear many other people. There's not much wrong with him. His brain is just fine. But moving is difficult. He can't hear most people and he can't see very much. So it's tough, but Dolores is there for him and she would tell him a story and he would respond, 'That's great.' It gives her joy. I can't imagine that Rosemary's not with us."
Rosemary herself had a strong belief that her deceased loved ones remained a presence in her life. During a 1991 appearance on Marian McPartland's "Piano Jazz" on National Public Radio, she complimented jazz pianist McPartland on a particular piano solo, adding that she wished her late sister Betty had been able to hear it herself.
"I really believe, sometimes, that everybody [who's been] in your life is with you all the time," she told McPartland.
Kathryn and Dolores, too, have very strong religious beliefs centered around the idea that our loved ones live on in a happier place and remain a constant presence in our lives.
After Hope's death, calls were placed to the Crosby home outside San Francisco in an effort to get additional comment from Kathryn. Dr. M.W. Sullivan, the trustee for the Crosby estate and a friend of Bing's for the last 14 years of his life, said that Kathryn had already left for the Hope residence, where she would do what she could to comfort her old friend Dolores.
The previous night, on CNN's Larry King Live, Bob and Dolores' eldest child, Linda, appeared with Kathryn Crosby on the show. A caller asked Linda whom Bob might be happiest to see when he reached the pearly gates.
"He's got a whole big group up there," Linda said. "But I know Bing, and his friend Rosemary Clooney and so many people up there."
It's nice to know that, for the living, the spouses of these three legends remain there for each other, just as they had through marriages, children, the passings of loved ones and career triumphs and tragedy.
It's also comforting to think that when Bob finally made his debut in that great nightclub stage in the sky, he had two of his favorite partners there to share the spotlight with him.
---
*Award-winning journalist Matt Connor is Senior Editor of IGWB, a gaming industry trade magazine, and is Editor of Indian Gaming Business, which covers the multi-billion dollar Indian casino industry. He is also a Contributing Editor of Casino Journal magazine. Connor's work has appeared in numerous publications, including Forbes FYI, POZ, Genre, Unique Homes, Travelware and Men's Style. A friend of the late singer Rosemary Clooney, Connor contributes regularly to The Rosemary Clooney Palladium. His first book, "Watering Hole: The Colorful History of Booze, Sex and Death at a New Jersey Tavern" is set for release in October, 2003.