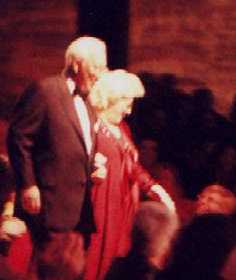 That's Rosemary Clooney being escorted to the stage by her darling husband Dante DiPaolo. She gave a few fans something extra to smile about when she reached out and grabbed their hands as she walked by. She took enough time to flash her beautiful smile and to look them in the eye, lighting up their faces just a bit.
That was only one of many special gifts she shared with the audience at Chicago's Drury Lane Theater on Saturday, March 25, 2000.
Rosemary was in fine voice and jovial spirits. She was accompanied by some of the best jazz musicians around. She sang, she told jokes, she shared heartfelt memories and she sang some more, leaving a packed house at the Drury, a theater-in-the-round, to feel as if they had visited a bit of "good ole yesterday" and were given a little hope for a few more tomorrows.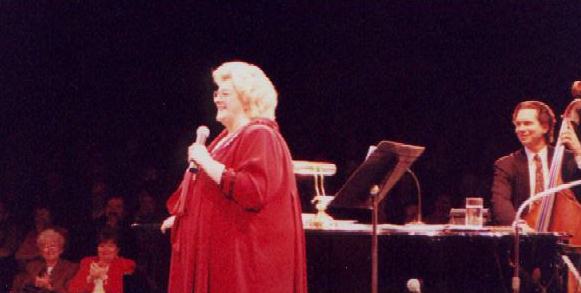 Rosemary's first song, "Sentimental Journey," set the mood for many in the audience
who had listened to Rosemary sing much of the soundtrack for
many of the important events in their lives.
See that smile -- it was contagious!!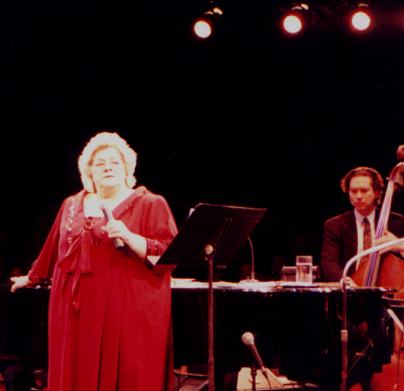 When Rosemary sings a song, she does more then use her voice to put words to music. She draws the listeners in and takes them along...by the time she finished singing "Sentimental Journey," members of the audience were happily ready to go with her anywhere.
That's Rosemary reflecting a bit for the audience on some of her more fond memories of her darling nephew George Timothy Clooney. She told of how he'd come to California in the "Danger Car," an old Monte Carlo that she was sure her neighbors in Beverly Hills were glad to have on their street (in order to get rid of it, she had to buy it off of him). She also told of his inventive approach to household chores, mentioning specifically his creative way of painting the fence around the swimming pool -- only painting that area that Dear Aunt Rosemary could see from her bathroom window and leaving everything to the left and right of her field of vision totally untouched. His creativity has paid off, not only for him, but for the family, and so she dedicated her next song to him from the family...."We're in the Money."
Here's Rosemary holding that mic
in her distinctive style,
just so matter-of-factly,
as if it's not really there at all
and convincing all the listeners
that the message in
"More Than You Know"
was meant just for them.
She got the crowd to clapping
when she enthusiastically
broke out into
a favorite,
but not often heard number
in her concerts,
"Strike Up The Band."


She seemed to enjoy the crowd's participation
as much as they enjoyed helping her along.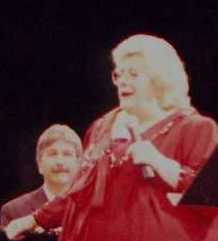 Some of Rosemary's favorite songs were written by Johnny Mercer. She listened to them when she was growing up and living with her grandmother, whose children were serving in the war. Johnny's lyrics "talked about the little things that mattered, including the big things, too," she said. He seemed to really know what they were going through during that time, so she shared a medley of his songs with us: "P.S. I Love You;" "I Thought About You;" "Bye Bye Baby;" and "I'll Remember You."
At the risk of sounding a bit like Kathie Lee, Rosemary told us a few stories about her grandkids. She has nine (though she was quick to point out - she's not talking about her kids, but her grandkids which makes THIS OKAY). She spoke a bit about her wedding a couple of years ago, telling us that the wedding party was made up of her grandchildren, that the oldest grandson served as best man, and that she believes she was the only 69 year-old bride who had an 11 year-old maid of honor. She spoke of grandson Harry, who is quite comical but has not an iota of musical talent, although he insists he's going to be a piano player. So true to his personality he TOLD HIS TEACHER what music he wanted to learn. He wanted to learn grandma's famous song "Hey There" (to the right, is her singing "the whole damn thing" for us).
Well, he stuck with "Hey There" until he got to the difficult parts. And so he knows half of it, and he insists on playing it always and everywhere, including one time when the family went out to dinner at a really nice restaurant that had a fine pianist playing lovely dinner music. Harry excused himself, which no one thought too much about, until they saw him at the piano. Harry had gone to tell the pianist that his grandmother Rosemary Clooney was in the restaurant, that she's a singer, and that HE PLAYS FOR HER. So the pianist announces to the patrons that they have a special treat. Rosemary Clooney is going to sing for them. Now she's stuck and has to do it. The problem is that Harry learned the song in its original key, which Rosemary doesn't sing in -- never did -- and he only knows half of it. So they begin. Harry gets half-way through and departs, leaving Rosemary to finish it a cappella and not in her key. She figured that by the time she was done, folks just thought she "was nuts and at it again."
She told one more story about Harry that just broke up the crowd. One day her wonderful daughter Monsita was in the kitchen and had just had it with the older boys fighting and yelling and sort of lost it a bit and told them she couldn't stand the raging hormones anymore. Harry asked his Mom, "Does Grandma have raging hormones?" Trying to conceal her laughter, she said she didn't think so, but why did he ask. Harry said, "Cause that's how she yells at Papa all the time!!"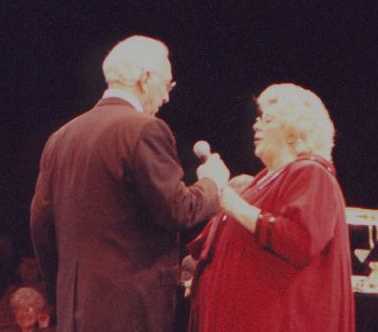 The audience was in for a spectacular treat after Rosemary took them down memory lane a bit with "Hey There." She introduced her adoring husband, whom the theater owner, Johnny, had heard sing at dinner the night before. Johnny wanted Dante to sing the same song for the audience. Dante, who had also had a career in Hollywood as a song and dance man, appearing in films like "Seven Brides for Seven Brothers," and was a friend of Fred Astaire, is very talented in his own right. Pictured here is Rosemary almost reluctantly passing off the microphone to him. It was as if she was almost afraid she wouldn't get it back. Dante made sure that we knew that he was singing tonight without the benefit of the glasses of wine he'd had the night before.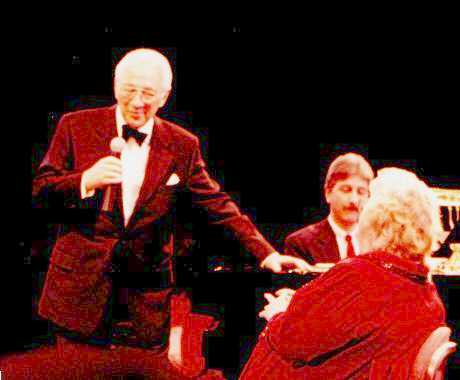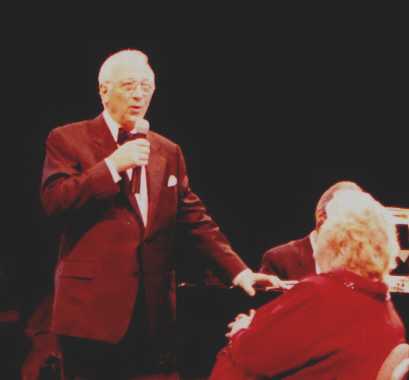 You know after watching and hearing Dante sing "Sorrento" to Rosemary, that she is absolutely the love of his life. Rosemary kept gesturing to Dante that he needed to turn around and sing to the whole audience, but as you can see pictured above and below, his focus inevitably returned to his "Rosella." She appeared to use some humor so as to not get too affected by what appeared to be a beautiful Italian love song. At one point she turned to the audience and whispered "I have no idea what he's saying!"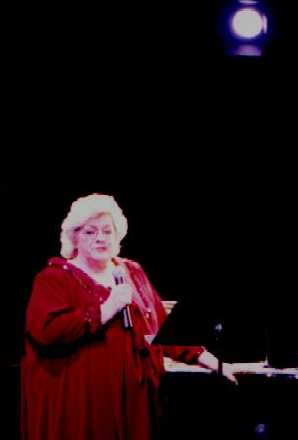 After Dante's serenade, and the audience thanked him, Rosemary warned the members of the audience that they were lucky they had asked him to sing, and "thank God we didn't ask him to dance. He'd never leave," she said.
Rosemary shared her story of meeting Pope John Paul II, one of the most wonderful experiences of her entire life, thanks in large part to her dear friend Delores Hope, who had arranged for her to get into St. Peter's Square. After telling the audience some of the details, including how she reversed roles a bit and blessed the Pope and made him laugh, she sang for us Bob Hope's theme song, "Thanks for the Memories," with the real lyrics and not the Pepsodent or Texaco ones. She let us know that next week she would be going to Larry Hagman's house and would be singing at an event to celebrate the music that Hagman's mother, Mary Martin, made famous. Bob and Delores would be there, along with Rosie's daughter-in-law Debby Boone. She told a wonderful story about Bob. Recently his daughter had asked him where he'd like to be someday. Did he want to be near one of the houses, or would he like to be at Arlington National, as they'd really like him there for all that he'd done for the troops? His simple reply was "Surprise me!"
Before rousing the audience with her most famous song, Rosemary reminded the audience that she had first sung "Come On-a My House" in Chicago back in 1951, when she was appearing with Frankie Laine, doing seven shows a day ("not anymore folks," she said).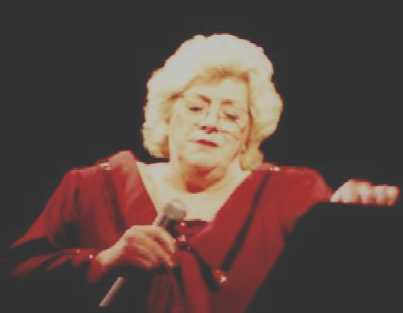 After telling the folks a little bit about her relationship with Ira Gershwin, her next door neighbor for 35 years, she introduced her closing number, a George and Ira Gershwin song, "Our Love is Here to Stay," the only one of their songs that Ira wrote the music for, as George had passed away before it was completed.
Rosemary imbues all her songs with sweet emotion, but there seems to be something extra special in the way that she delivers this one to us.