Ms. Clooney looked lovely, attired in a beautiful cranberry-colored dress. She was accompanied by John Oddo at the piano and Joe Cocuzzo her favorite drummer. Also part of the ensemble was Mr. Rabbi on the trumpet (and boy could he sing jazz, he tour up "Jingle Bells"), who according to Rosie was Mr. Herman's favorite singer. There was a bass player, and a sax player, who according to Rosie gave up a gig with Liza Minelli to be with her.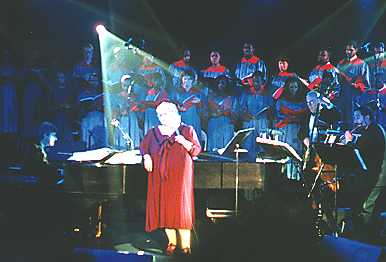 While listening to Rosie is always a joy, she was especially wonderful when she sang "Count Your Blessings" and the Berlin song written just for her, "Love, You Didn't Do Right By Me", like others have said, she owns that song and seems to relish in the fact that she is one of the few folks who can say that Irving Berlin wrote a song just for her. When she sings the line "You Done Me Wrong" anyone listening knows she's lived it! The other song which really moved me was the Bergman/Mandel song written for her "Christmas Love Song" which she dedicated to her family.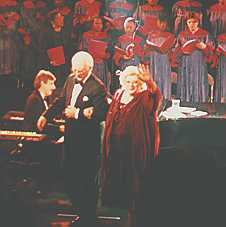 During the course of the evening, Rosemary told some of her typical stories, but unique to this performance, I believe, was mention of her Mom. She commented that Dover was familiar to her, for during the time that she left Tony Pastor and went to New York to make it on her own, her mother was living in Wilmington (a town just up the road from Dover) and working for Lerner's. She also mentioned that Nick's first radio job was in Delaware. She said that she use to leave NYC and come down on the weekends to stay with her Mom. She added a little aside, "and to get some money." You got the sense that these visits were good ones.

The picture above was taken just after Rosemary's finale "White Christmas." During the first part of the performance Rosemary sang a myriad of Christmas songs, but during the later part she showed numerous clips from the movie "White Christmas," and told stories about the different scenes, mentioning of course that her husband Dante had tried to teach her to dance, so that she could do the steps for the "Sisters" scene in the movie. Before she sang "Count Your Blessings" she mentioned that it was Bing's favorite song from the movie. You got the sense that it had a little extra meaning for her for that reason alone. When Rosemary finished White Christmas, she thanked the audience and summoned Dante to come out and get her. Using a few of his best dance moves, Dante glidded across the floor to escort his lovely wife off stage.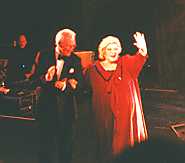 She took her time leaving the stage, stopping to wave and acknowledge her fans who were most appreciative of her performance.
Rosemary mentioned that after her stay in Dover, she would be heading HOME!
This picture was taken in the Fall of 1998 during a
stroll through this famous street where legends live!!