CLICK HERE TO GO TO THE JOHN PIZZARELLI OFFICIAL HOMEPAGE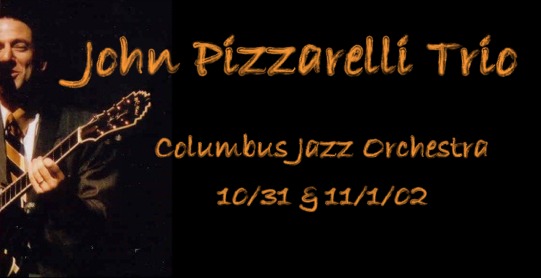 John Pizzarelli, Martin Pizzarelli, Ray Kennedy and Tony Tedesco
wowed Columbus, Ohio, audiences when they performed with the
Columbus Jazz Orchestra under the leadership of Bryon Stripling.
After a day or two exploring the city, they realized one way to "suck up" to their audience
would be to become Ohio State Buckeye fans, thus the hats you see
Martin and Tony wearing in these photos.
A huge fan of Rosemary Clooney is most likely to become a huge fan of John Pizzarelli. To that end, the Palladium attended two of John's concerts with the Columbus Jazz Orchestra. Had John not recorded with, performed with, and been friends with Rosemary we might not have known about him, but gratefully we do!! Praise from Rosemary is one review folks ought to listen to, couple that with John's kindness in being one of the first to respond to the Palladium's request for a tribute to Rosemary, and one would have every reason to believe these concerts and John would not disappoint.
John is a magnificent performer. A smooth singer, a genius on the guitar, backed by superb musicians and able to connect with an audience in the same way Rosemary did. It's true that John doesn't sound like Rosemary, his arrangements aren't the same as hers, he sings at a different pace and makes the songs his own...but as far as being an entertainer...you'd swear he was her star pupil. He's studied at the feet of the master, and learned the lessons well.
In the same way that Rosemary didn't get in the way of the song, neither does John. Like her, he doesn't draw attention to himself, rather, he does what she and Sinatra did, which was be a conduit from the writer to the hearer, conveying the emotion of the song. So often performers are so busy doing vocal gymnastics that you miss the whole message of the song. Well, John is all about communicating the message in a very pleasant, appealing, warm, genuine way. John's ability to enjoy the songs and the music and to convey that he's having a good time, makes it an even more enjoyable experience for the audience.....except, like with Rosemary, you don't feel like a member of an audience, but rather a friend invited to a jam session in their living room.
The evening started with the Jazz Orchestra playing the first half of the show. The second half began with the new artistic director for the Jazz Orchestra, Byron Stripling, giving John a huge build-up of an introduction. Byron said that every generation has their greats, Ella, Rosemary, Frank, the ones who set the standard for the American popular song. Byron went on to say that this generation has a new standard and he's John Pizzarelli, a performer who draws on the richness of the past, but has an eye to the future.
Once John took the stage he told the audience that he wanted to add to Byron's insights by sharing with them that a reviewer once noted that he, John, played like Chet Baker and sang like Alfalfa.
They opened with "Three Little Words" which found John doing some major scatting, Ray doing a beautiful piano solo, and Sonny McBroom making his tenor sax sing. Next was "My Baby Just Cares for Me" followed by "Avalon." In watching John play during "Avalon" it was amazing. He covered every inch of those strings and moved so fast, his hand was a total blur. Ray and Martin also did amazing solos on this number which really showcased their jazz sensibilities. When it was over John deadpanned - "and that was the ballad."
At this point in the weekend show, John proceeded to announce scores to football games. 24 to 7, 9 to 6, 13 to 7. He failed to mention the names of the teams, so as to not spoil it for those taping the games for viewing later. The audience was washed in a wave of laughter.
Their next number was a Harry Warren tune called "The More I See You." It seemed to be a lovely dance between John and Sonny on the sax. The combination was gloriously beautiful and romantic.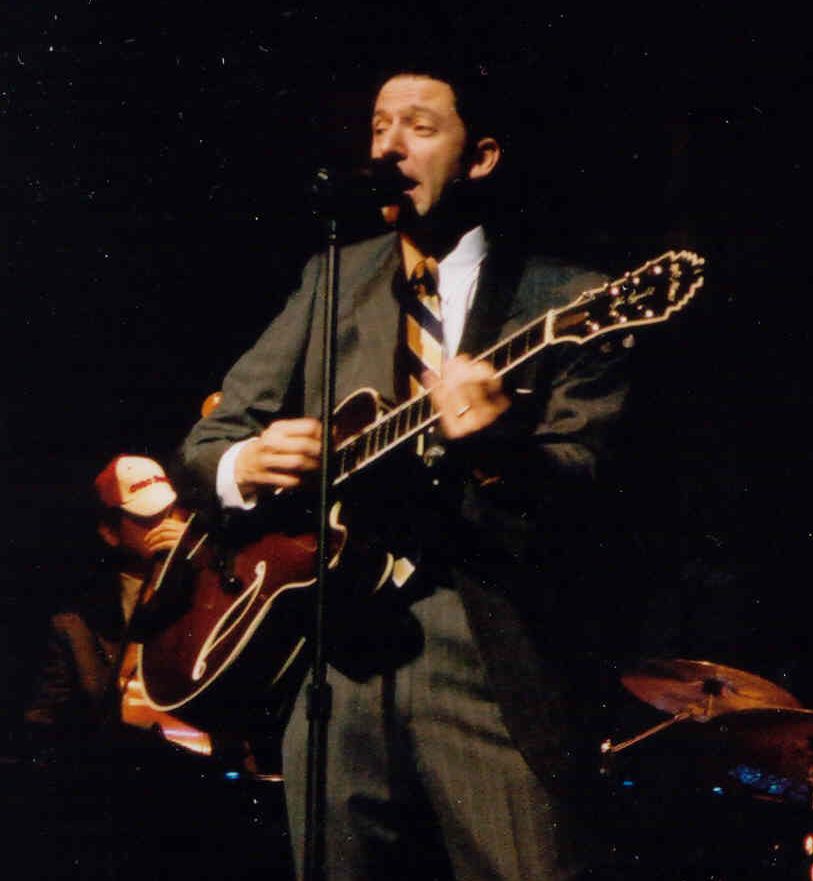 It was at this point that John confessed he'd learned from his father BUCKEYE PIZZARELLI that you ought to suck up to the audience, they were going to attend to the fact that Columbus is a major football town, and combine football and music by doing Johnny Mercer's "Jamboree Jones." This was when Martin and Tony jazzed up their attire by donning their new Buckeye football caps. The crowd was most appreciative.
The Harry Warren, Johnny Mercer composition "Goody Goody" was next. This arrangement allowed the orchestra to showcase their singing abilities. It proved to be a fun number for everyone.
Much like "The More I See You," their next number "Something to Remember Me By" tugs at your heart strings. It began with just John accompanying himself on the guitar, proving that less is often times more. John was able to make the guitar produce sound that I didn't know a guitar could make, at times sounding like a piano, a harp or a violin. John has said that he's worked hard on his singing and his playing, but to listen you'd swear it was absolutely effortless. It was on this number in particular that you noticed how in sync and in unison Martin is with what his brother is doing.
John took some time to share a story of the trios experiences at Pizza on the Park in London. The stories provided a number of laughs and also a segue into Ray's playing one of his own beautiful compositions.
The next selection, is one so identified with Rosemary. In the last couple of years, she often closed her shows with Gershwin's "Our Love is Here to Stay" John's arrangement is very different than Rosemary's, which allows a Rosemary fan to hear it in a new way. This arrangement also really allowed the orchestra to strut their stuff a bit.
The concert wrapped up with "The Say Hey Kid" and "Route 66."
All in all it was a wonderful evening of music. John is an absolutely amazing guitarist, he scats well, and his pianist, bassist (his brother Martin) and drummer are all top notch. But like with Rosemary's performances where it wasn't just about the music, but about feeling connected to her, that's what you get with John. He is hilarious - maybe musical timing is akin to comedic timing as well? He's so comfortable in his own skin, there's no pretense, he can be self-deprecating, doesn't take himself too seriously, and so willing to share his story and experiences. At one point he wanted to tell the audience something, and got side-tracked telling a different story that was really funny. He looked over to Martin and Ray and said, "I think I'll keep that in." That kind of exchange took place countless times between Rosemary and John Oddo. So many shows are so scripted, so tight, no room to react or be spontaneous, not with John, so free flowing...so comfortable...a lot like spending an evening with Rosemary....which, coming from a Rosemary fan....is pretty high praise!!!
check out
www.johnpizzarelli.com