AN EVENING TO REMEMBER ROSEMARY
December 10, 2002 - Beverly Hilton Hotel
A grand affair to pay tribute to a grand lady. Held in the International Ballroom at the Beverly Hilton Hotel, home of the Golden Globes...on this night, it was home to the gold of Hollywood. There was a private reception with the family and VIPs, while other guests gathered in the ballroom for cocktails before the gala began. One guest said, there are only a few individuals that could bring out a crowd of family, friends and celebrities like was present on this evening. Rosemary was beloved by so many, she had a career that spanned six decades and touched millions, had an unparalleled capacity for friendship, and was surrogate mother to countless sons and daughters....hundreds of them were present to pay tribute to her this night.
In addition to Rosemary's husband Dante DiPaolo and her five children with Jose Ferrer -- Miguel Jose, Maria Providencia, Gabriel Vicente, Monsita Teresa & Rafael Francisco, Rosemary's brother Nick Clooney and sister-in-law Nina Clooney, sister Gail Stone Darley and her husband, nephew George Clooney, niece Cathi Campo (daughter of Betty), cousin Ben Breslin from Maysville, surrogate son Gavin DeBecker and long time friend Jackie Sherman Rose were also in attendance. Among the celebrity friends and performers present were Tony Bennett, Bob Hope's wife Delores Hope, Bing Crosby's widow and daughter--Kathryn Crosby & Mary Frances Crosby, Nancy Sinatra & Nancy Sinatra, Sr., Merv Griffen, Mimi Hines, John Bayless, Marilyn & Alan Bergman, Bob Mackie, Keely Smith, Jimmy Webb, k.d. Lang, T-Bone Burnett, Shaun Cassidy, Michael Feinstein, John Pizzarelli, Bucky Pizzarelli, Linda Ronstadt, Diana Krall, Army Archerd, Diahann Caroll, Ann Rutherford, Skitch Henderson, Gary Giddins, Mary Cleere Harrin, Ken Howard, Kathryn Hahn, Mary McDonough, Scott Hamilton, Florence Henderson, and Matt Cattingub.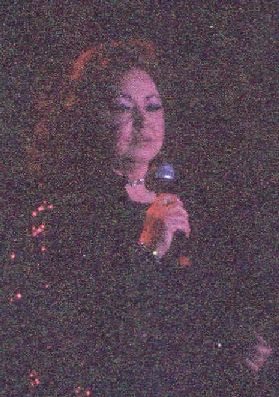 Flanked by large video screens which featured photos and video of Rosemary, the stage was packed with the Joe Sulvill orchestra who were donating their time and talent to pay tribute to Rosemary, with whom they worked, and to benefit the Rosemary Clooney Pulmonary Research Fund at the Mayo Clinic. The evening began with Matt Cattingub conducting the orchestra in a medley of Rosemary hits, a medley which also happens to be the first track on Rosemary's last CD, THE LAST CONCERT. Rosemary's long-time friend Mimi Hines provided the first vocal performance of the evening, singing "Til There Was You," which captured for so many in the room, how they felt about Rosemary.
Rosemary's friend of 54 years, Merv Griffen served as MC for the evening and began by doing some introductions, mentioning the sponsors for the evening which included Concord Records, Bob & Delores Hope, Pilot Pens, David Murdoch & Merv himself. Rosemary's sister Betty's daughter, Cathi Campo, then paid tribute to their family's Irish roots by doing a beautiful rendition of "Oh, Danny Boy," surely making her mom and Aunt Rosemary proud.
Gavin DeBecker took the stage next to share some of his memories of Rosemary. Gavin had started out as a friend of Miguel's, but when he was just sixteen and his mother committed suicide, Rosemary took him in to live with her family. He said what he learned about love and family, he learned from Rosemary. Gavin spends half of his time in Fuji and has adopted some children there. He showed a video of the next generation of Rosemary fans, his children singing "Mambo Italiano."
Pianist John Bayless took the stage next and played the prayerful "Ava Maria," which was followed by some remarks by Dr. Raleigh Dickson from the Mayo Clinic. He shared that Rosemary had been a very special patient to everyone at the clinic and that several years ago she had come to him and said she wanted to do a benefit concert for the staff at the clinic. It ended up being a standing room only affair which was warmly received by the nurses, technicians and other employees.
Marilyn Bergman, half of the dynamic song-writing team of Alan & Marilyn Bergman, was next to the podium. Rosemary loved singing Bergman compositions. Marilyn had originally thought she would just "wing" her comments, but earlier in the day had listened to Rosemary's recording of the Christmas song they had penned for her, and realized she'd need to write out her remarks or risk choking up. Rosemary had always said she loved the way Alan sang "...all I need for Christmas is you..." so for Rosie, Alan sang it.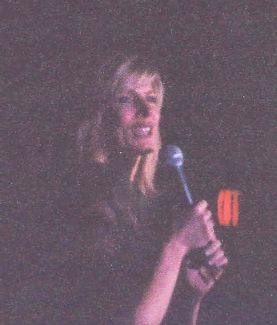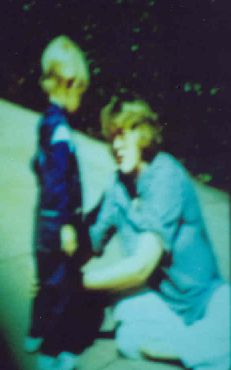 Probably the most touching moments of the evening came when Rosemary's daughter-in-law Debbie Boone took the stage. Debbie shared that she feels so blessed to be mother to four of Rosemary's grandchildren and to see her in them. When Debbie's son Jordan was little, Rosemary used to sing a special song to him when he was down and needed his spirits lifted. She'd even call him when she was on the road and sing it to him, she later recorded a tape of it, so that he could play it and sing it with her whenever he needed to. While photos of Grandma Rosemary and Jordon appeared on the screens, the a cappella tape of Rosemary singing "Blue Skies" for Jordan played in the background. As the song winds up to its conclusion, you hear Rosemary saying..."NOW BIG finish" and then continuing to sing the song's ending. Debbie then did her rendition of "Blue Skies" with a lovely jazzy feel, and stopping near the end to pay tribute to her mother-in-law says, "NOW BIG finish" and wraps it up.
Designer Bob Mackie was next to pay tribute to Rosemary. He first worked with her years ago when he was a costumer on a show she was doing. He had to make her an ugly Irish outfit. Years later when Rosemary's manager Allen Sviridoff contacted him and asked him if he would like to make some gowns for Rosemary, he was thrilled to get to work with this woman whom he had admired for years, and also grateful for the opportunity to make up for the ugly Irish outfit of years before. Bob said Rosemary used to tell people that her gowns were made from the remnants of Cher's gowns. In one of the highest compliments paid to Rosemary during the evening, Bob said that in his experience of working in Hollywood for years, Rosemary was "the real thing!"
Merv spent a few minutes talking about how Rosemary recorded his song "The Big Band Singer" but didn't tell him. She just sent him an advanced copy of her CD "Sentimental Journey," not mentioning a thing about the recording, and just letting it be a surprise.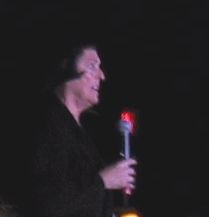 Fellow Concord recording artist Keely Smith took the stage and sang "You Go To My Head" which really let the orchestra shine.
The spotlight moved to the center of the ballroom floor to find Delores Hope who shared about her years of friendship and their different working styles. Delores always needed a martini before she took the stage, which just amazed Rosemary that she could do that before going on. Rosemary said she couldn't do it til after the shows were over....but Delores figured that always meant she was one up on Rosemary. What was most evident in Delores' comments was what an abiding and deep love she had for Rosemary.
The video screens were the next focus. A clip from Rosemary's comeback on Merv's show in 1977 was played, it featured Rosemary singing "All of My Life" and being so relieved and thrilled when it was over to discover she'd done it and done it really well. Merv then talked about how Rosemary had asked him to help get Sondra Locke to read the script of the movie that was going to be made about her life. She felt that Sondra looked just like her and would do a wonderful job. Merv was actually going to be with Sondra and Clint the day after Rosemary had approached him with the request. Merv told Rosemary to get a copy of the script to him where they would be staying. The hotel staff relayed the message to Merv once the script arrived, saying that it had been delivered by Rosemary herself. Apparently she jumped on a plane, flew to their location, dropped off the script and jumped back on a plane to LA. The end result was that Sondra loved it and wanted to play Rosemary.
Songwriter Jimmy Webb, who said that what any songwriter wants to hear is that "your song was recorded by Rosemary Clooney," sang his own "Time Flies" which Rosemary had recorded several years ago.
Rosemary's eldest son Miguel Ferrer came to the stage to share about two of the loves of Rosemary's life, his father and Dante. Miguel said his parents loved one another deeply, they just couldn't live together. A video clip of an Ed Murrow interview of Jose and Rosemary shortly after Miguel's birth was played. Next Miguel talked about Dante, his mother's best friend and constant companion for the second half of her life. He told about their second chance meeting on Santa Monica Boulevard and how much the children love him. He did have to ask Dante though what the hell took him so long to marry his mother.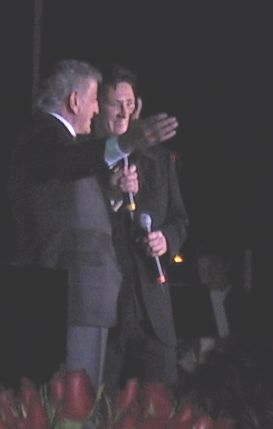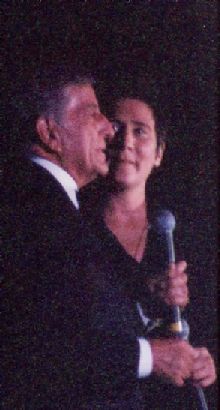 Tony Bennett and kd Lang dueted on Louis Armstrong's "What a Wonderful World." You got the sense that Tony knew that despite the ups and downs, Rosemary had certainly felt it was "a wonderful world" and he thought she was right.
Again the video screens were the focus as the audience was treated to a video clip of Rosemary with Frank and Bing from the 1957 Edsel Show, which served as a lovely segue to comments by Kathryn Crosby and her daughter Mary Francis. Kathryn met Rosemary when she met Bing. She said that Rosemary had actually had the love of three wonderful men in her life, Jose, Dante & Bing. He said they shared something that probably no one will ever really be able to understand as their voices melded together seemingly magically. Mary Francis grew up hanging around Rosemary and her kids, and then when they were on tour in the late 70s, she was treated to even more mentoring, friendship and love from Rosie.
Tony came back out to chat with Merv a little bit about their shared beginning in the business, when they all appeared on "Songs for Sale." It was during this discussion that Tony shared a quote from Mike Nichols which he believed described Rosemary accurately, which was that she was the Spencer Tracy of music.
Producer of the soundtrack for "O Brother Where Art Thou" and friend of Rosemary, T-Bone Burnett took the stage with his wife to perform a song he wrote called "Say What You Mean."
Shaun Cassidy was the next to take the microphone. He seemed to represent all the orphan children that Rosemary had taken into her home over the years. Shaun attended Beverly Hills High with Rosemary's kids and spent a lot of time on Roxbury drive. When he was going through an especially difficult time after his father died, she was there for him, the way she had been for so many others who had literally called her home their home.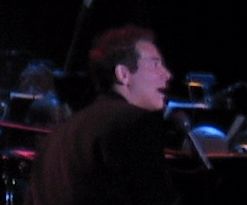 Merv appeared again from backstage to introduce Michael Feinstein, but first had to share that he'd seen George Clooney backstage, and it was like looking in a mirror. Michael accompanied himself on two fitting pieces, one that seemed as if it was written specifically about Rosemary, called "You Are There," and followed by "They Can't Take That Away From Me," which is a song Rosemary used to pay tribute to Frank.
Rosemary's brother was next to the stage to provide the connection to Rosemary's Kentucky roots. He gave his self-obituary introduction which Rosemary insisted he use whenever they appeared together. He talked about their growing up in Kentucky, returning there for her premier and then again to live in Augusta, and then to perform at the music festival, where his son had appeared last year. That brought George to the mic, where he deadpanned, "I just saw Merv backstage, and it was like looking in a mirror." George has his Aunt Rosemary's wit. He commented that he was sure there was a wonderful concert going on in purgatory -- as that is where she'd be, cause she said if you lived your life - you had to go there first -- and his Aunt Rosemary had definitely lived her life. He ended by saying drawing attention to Dante again, saying that he spoke for all of the family when he said that they all loved him very much.
During Nick's time at the mic he announced that the Rosemary Clooney Music Festival in Maysville would continue, and that Linda Ronstadt was scheduled to perform [on September 20, 2003].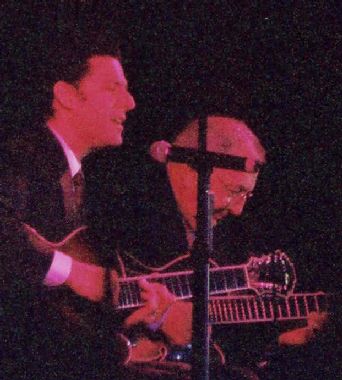 Two of Rosemary's regular musicians and good friends next graced the stage. Bucky Pizzarelli and John Pizzarelli performed two songs. One was a Dave Frishberg song, that Rosemary hadn't yet recorded, but would have eventually gotten around to, and the second was a song that Rosemary often used as her finale when she performed in New York with Bucky and John, called "Will You Still Be Mine."
Paying tribute to Rosemary's days with orchestra leader/arranger Nelson Riddle, Linda Ronstadt, with whom Nelson had also worked, performed "What's New."
A TV appearance of Rosemary and Diana Krall was next seen on the video screens. It showed very vividly the mutual admiration and friendship they shared. Diana thrilled to be working with THE Rosemary Clooney, and Rosemary predicting that Diana will join the league of truly great jazz performers. With more jazz than Irving Berlin could have ever imagined, Diana performed "Count Your Blessings Instead of Sheep." If she hasn't already recorded this, she most definitely should.
The Earl Brown singers sang what had been Rosemary's signature song for years, "Tenderly," and then led by Rosemary's middle son Gabri, her children came to the stage to thank everyone, especially Rosemary's manager Allen Sviridoff, the orchestra, the sponsors and the audience for helping to create a perfect tribute to their mother and raising money for a most worthy fund.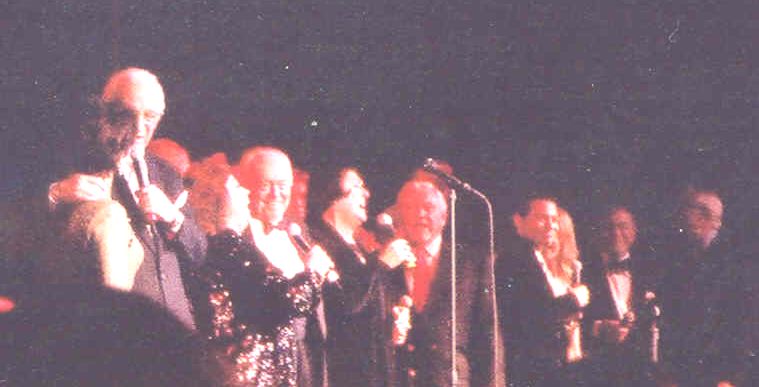 Then in the way Rosemary had come to close her shows for the last several years, Gabri asked the audience and all of the performers to join in in singing "Our Love is Here to Stay." And as the grand finale, Merv said it was only fitting that Rosemary have the last word, and so the screens came alive for the last time to find Rosemary singing "White Christmas" at the lighting of the Christmas tree in Rockefeller Center a couple of years ago. It seemed as if her last words that evening were coming this evening from a heavenly vantage point when she said, "God Bless You All."
---
Tony & Merv arriving
Florence Henderson and Ann Rutherford arriving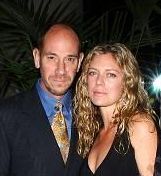 Rosemary's oldest son, Miguel and his wife Leilani arriving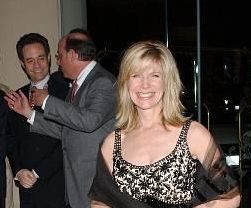 Rosemary's daughter-in-law Debbie Boone arriving
(That's her husband, Gabriel in the gray suit, talking to Rosmeary's
long-time attorney & friend, Mark Sendroff.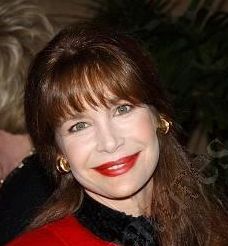 Mary Frances Crosby arriving
Rosemary's nephew George, making his way into the hotel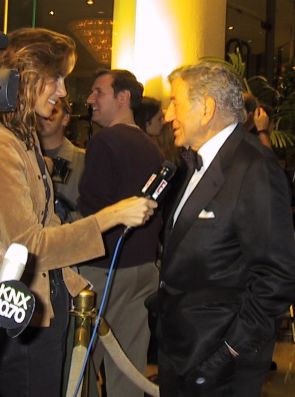 Rosemary's good friend Tony Bennett being interviewed by E!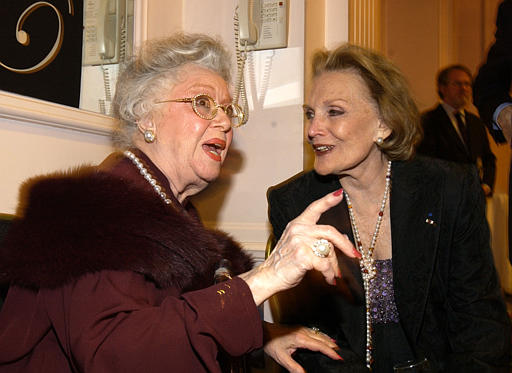 Rosemary's faithful friend Ann Rutherford (L) talking with
another guess at the VIP reception prior to the gala.
Rosemary's husband Dante DiPaolo, friend and MC of the evening Merv Griffen,
and treasured friend Delores Hope arriving for the evening.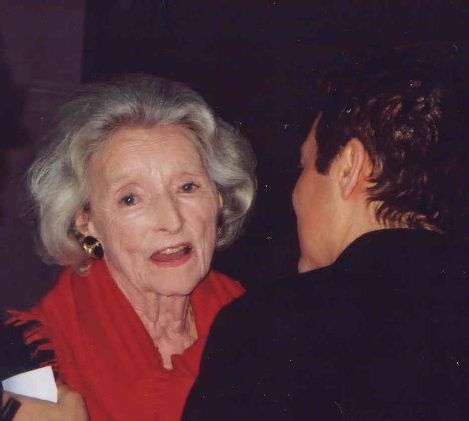 Michael Feinstein greating Delores Hope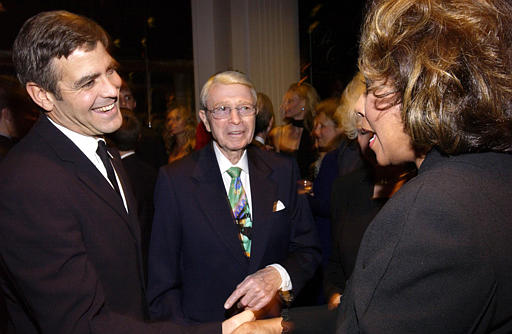 George Clooney, Army Archerd & Diahann Carroll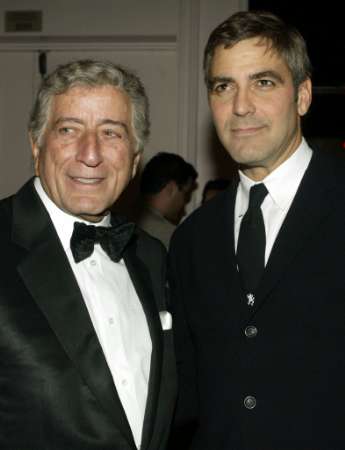 Tony & George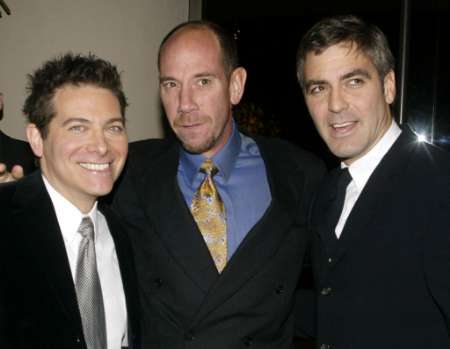 Cousins Miguel & George with family friend Michael Feinstein (L)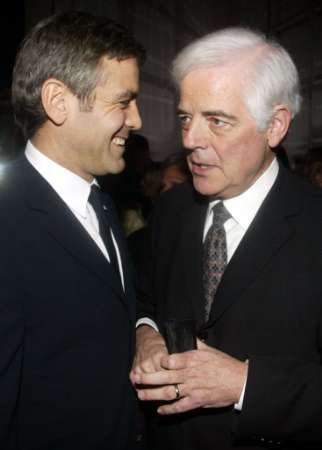 Nick and his son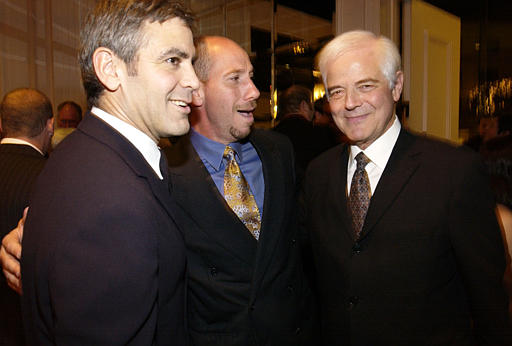 Nick with his son and nephew (that's another nephew Rafi over George's shoulder).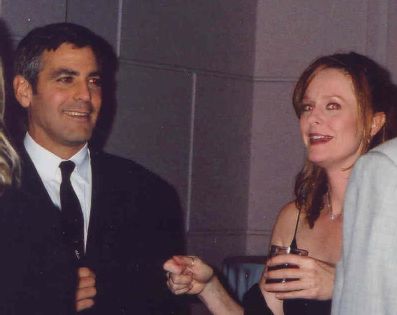 Mary McDonough and George

George Clooney with Mayo Clinic physician, Dr. Catherine Roberts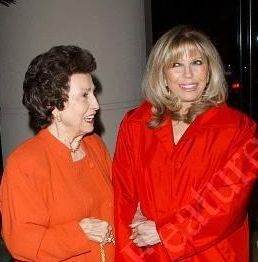 Nancy Sinatra, Sr. and daughter Nancy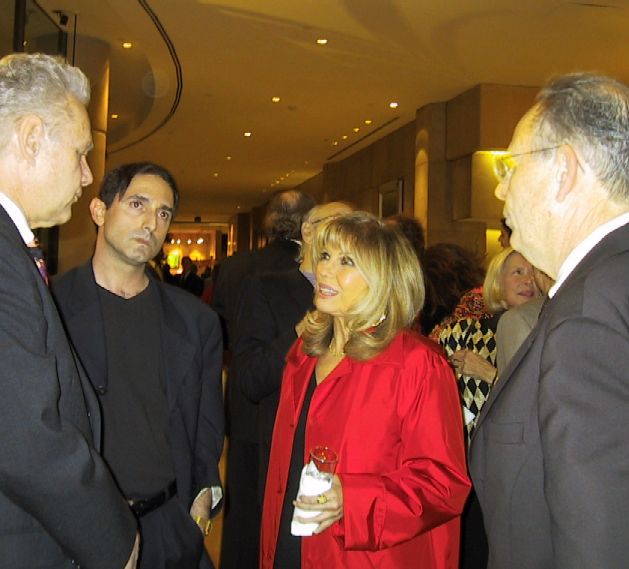 Nancy Sinatra making her way into the event.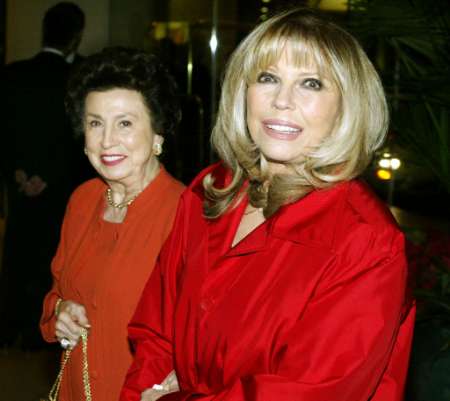 Nancy Sinatra, Sr. and her daughter.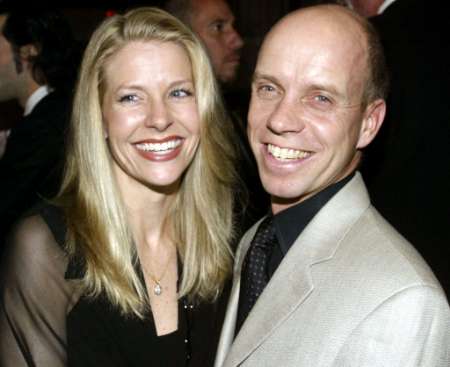 Scott Hamilton and his fiance (that's Miguel behind them).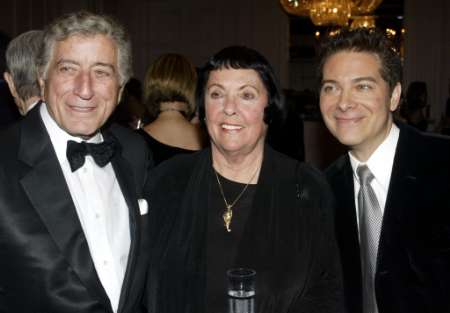 Three of the evening's performers: Tony, Keely Smith & Michael Feinstein.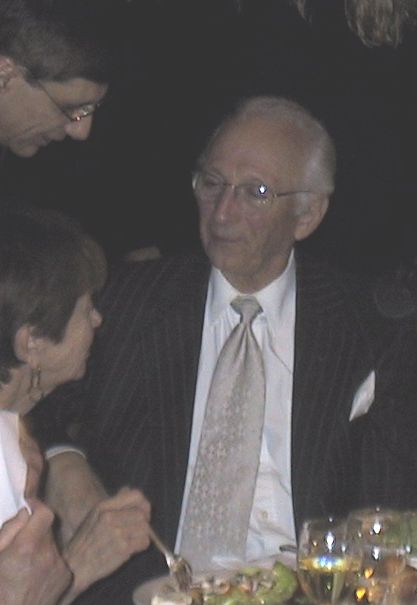 Dante being greated by friends before the program gets underway.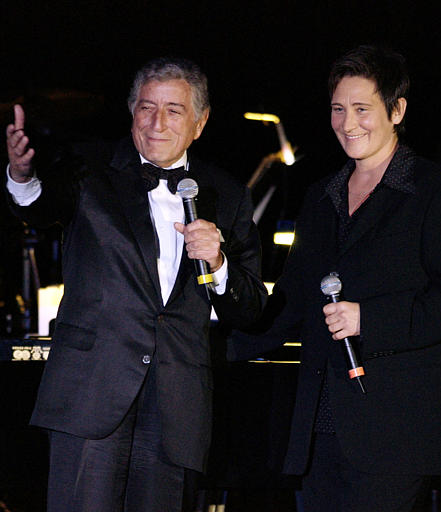 Tony and kd lang after performing "What a Wonderful World"
to the phenominal accompaniment of John Oddo.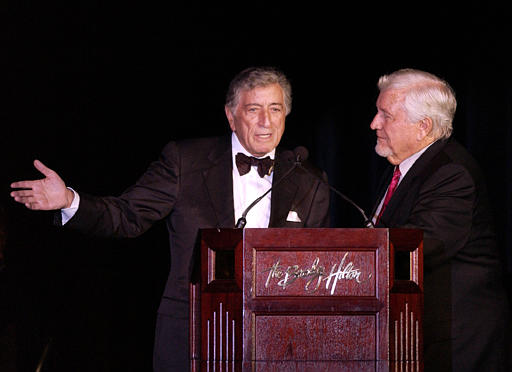 Tony joined Merv on stage again to talk about the early days with Rosemary on "Songs for Sale"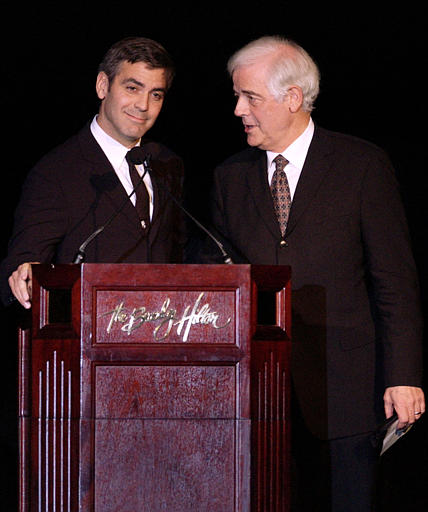 George taking over the mic from his broadcaster Dad.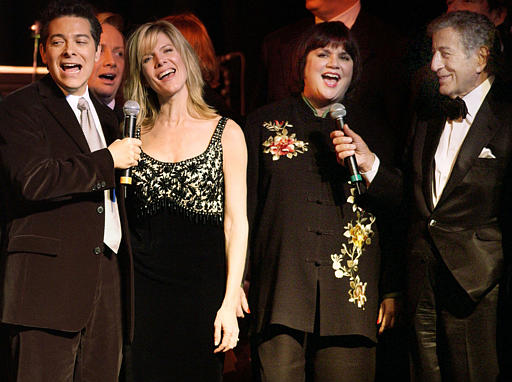 The entire cast took the stage to close the show as Rosemary would have with "Our Love is Here to Stay."
Here is Michael Feinstein, Debbie Boone, Linda Ronstadt and Tony Bennett.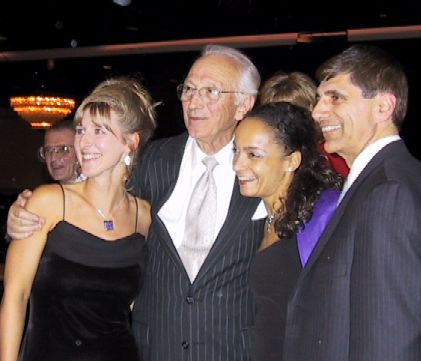 Dante making his way to the car, stopping to take a photo with some friends.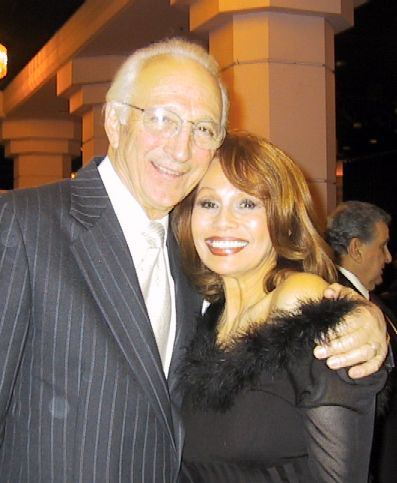 As Dante was leaving, he was re-introduced to a former colleague.
These two apparently worked together on a movie...way back when!!!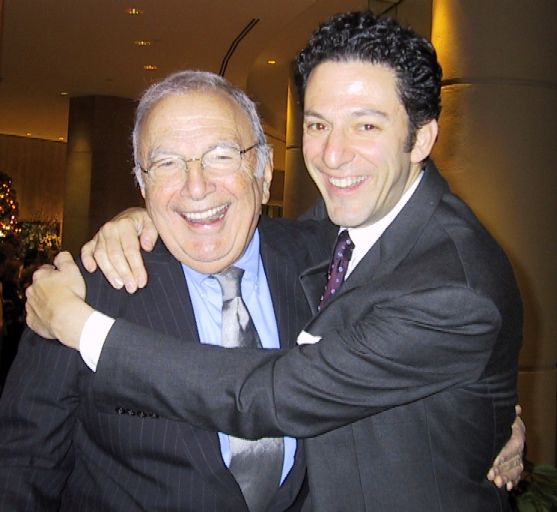 Two of the evening's performers after it was all over, Bucky and John Pizzarelli.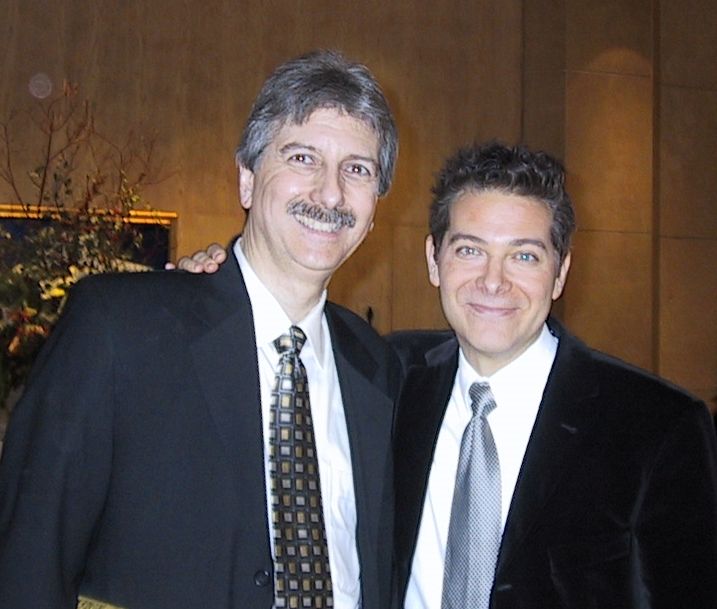 The fantastic John Oddo and Michael Feinstein.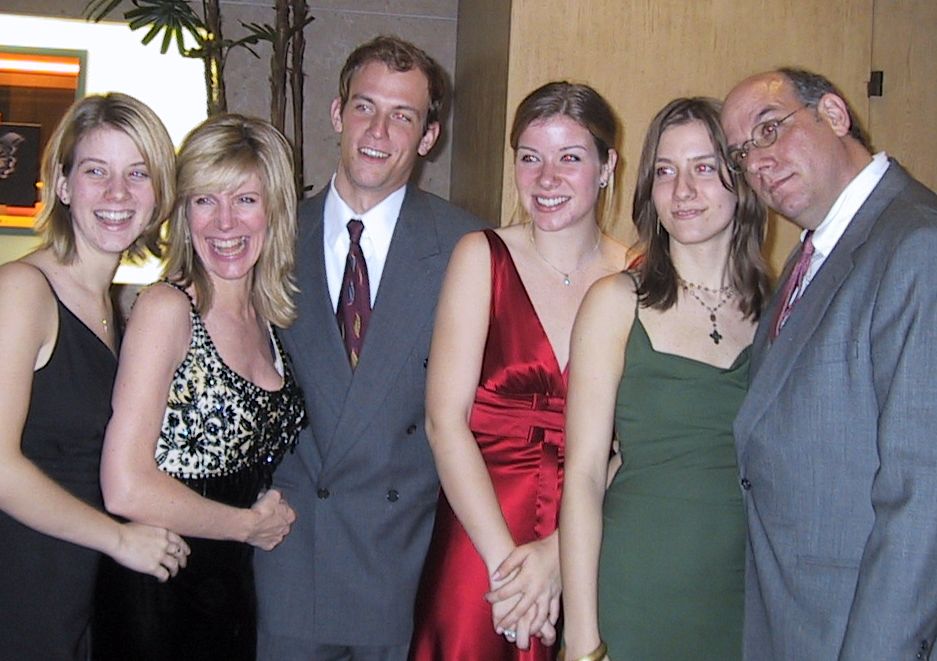 And just six of Rosemary's large family, at the end of the evening. This is Rosemary's middle son Gabri
with his wife Debbie Boone and four of Rosemary's ten grandchildren.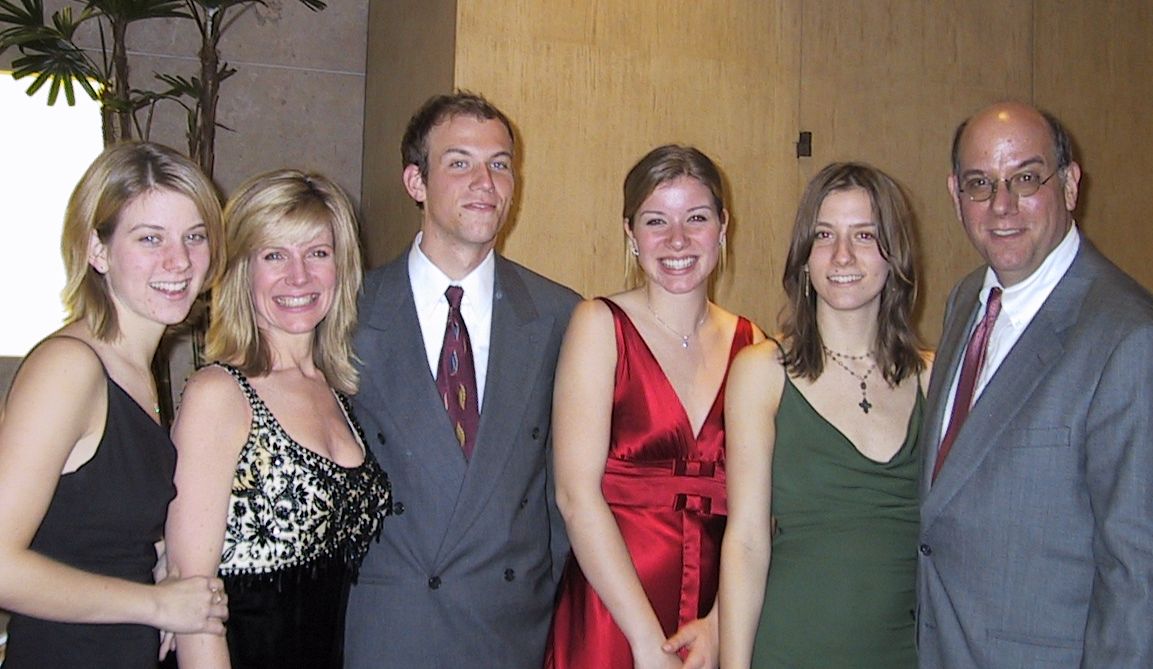 How proud Rosemary must be!!!!
---
Host of pop singers perform at tribute to Rosemary Clooney
BOB THOMAS, ASSOCIATED PRESS - It was billed as "a party, a show, an Irish wake" for the late singing great Rosemary Clooney. It turned into the biggest parade of pop singers in recent memory.
So many performers appeared for the tribute to Clooney, who died in June after surgery for liver cancer, that most were limited to one song apiece.
Tuesday night's memorial at the Beverly Hilton was hosted by the children of Clooney and first husband Jose Ferrer - Miguel, Gabriel, Rafael, Maria Ferrer Murdock and Monsita Ferrer Botwick - as a benefit for the Mayo Clinic Rosemary Clooney Pulmonary Research Fund. The master of ceremonies was Hilton boss and former talk show host Merv Griffin.
"I first met Rosemary in 1950 when she and her sister Betty were singing with Tony Pastor's band at one end of the Atlantic City Steel Pier," Griffin said. "I was at the other end of the pier singing with Freddy Martin's band.
"Who would have guessed that 45 years later I would own the Steel Pier - for 24 hours. Then I sold it to Donald Trump."
Most of the singers said their personal lives had been touched by Clooney. Marilyn and Alan Bergman sang songs they wrote for her. Tony Bennett and k.d. Lang belted "It's a Wonderful World." Linda Ronstadt did her hit "What's New." Keely Smith, Michael Feinstein, Debby Boone (Clooney's daughter-in (law)-, Jimmy Webb, Mimi Hines and Diana Krall were among the entertainers.
"She was the Spencer Tracy of singers," said Bennett, quoting filmmaker Mike Nichols.
Kathryn and Mary Crosby, widow and daughter of Bing, told of touring with him and Clooney to New York and London on Bing's first public performances after a 20 year absence.
Shaun Cassidy recalled what happened after his father, actor Jack Cassidy, died: "Rosemary took me in and made me part of her family."
Dolores Hope, who was a singer before she married entertainer Bob Hope, reminisced about appearing with Rosemary in their later years.
Broadcaster Nick Clooney, Rosemary's brother, told funny stories about their early lives in Maysville, Ky. Son George Clooney, the actor, recalled asking his aunt why she was a better singer in her later years. Her reply: "Because I don't have to prove myself."
George Clooney said his aunt made a guest appearance on his TV series "ER." He added: "And she got an Emmy for it; that really bugged me." George Clooney never won an Emmy for the show.
Interspersed throughout the program were film clips and video tapes such as Clooney singing with Crosby in the 1954 movie "White Christmas" and clowning with Hope in TV specials.
---
Hollywood Pays Last Respects to Rosemary Clooney
REUTERS: Hollywood paid belated last respects to singer Rosemary Clooney on Tuesday night with a star-studded gala in which a show business who's who recalled what a wonderful woman she was while Tony Bennett and kd Lang teamed up to sing "What a Wonderful World."
It was a night to remember as singers Linda Ronstadt, Diana Krall, Bennett, Lang, Keely Smith, Mimi Hines and Michael Feinstein serenaded an audience at the Beverly Hills Hilton hotel that ranged from celebrities including Nancy Sinatra, Diahann Carroll and Bob Hope's wife Dolores to nurses and neighbors of the singer who died last June after six decades singing jazz and pop tunes.
Her nephew, actor George Clooney, recalled her as a woman of wicked wit. He said that when he sent her a note asking "What's the hurry" in 1996 when she married a man she had lived with for decades, she replied "We had to, I'm pregnant."
"It's strange to be here around Christmas time without her. We're betting that there's a free night's concert going on up there in purgatory. Rosemary always said that if you lived your life you'd go to purgatory -- and Rosemary lived her life."
Planned by Clooney's five children by actor Jose Ferrer to be both a memorial and an Irish wake, the evening included reminiscences by many friends including designer Bob Mackie, daughter-in-law Debbie Boone and Clooney's brother Nick.
The evening ended with a film clip of Rosemary Clooney singing one of the songs most associated with sometime singing partner Bing Crosby: "I'm Dreaming of A White Christmas."
---
George Remembers Rosemary Clooney
ENTERTAINMENT TONIGHT: It was a night of music, celebration and tender reflection as GEORGE CLOONEY and other celebrities came out to remember the life and legendary career of George's aunt, ROSEMARY CLOONEY.
Guests and performers including TONY BENNETT, CONNIE STEVENS, DEBBY BOONE, MICHAEL FEINSTEIN and kd lang attended the event at the International Ballroom of MERV GRIFFIN's Beverly Hilton Hotel in Beverly Hills Tuesday night. Rosemary died in June.
"Officially, it's a memorial," explains Rosemary's longtime manager ALLEN J. SVIRIDOFF, "but it is also a party, a show, an Irish wake including humorous stories and poignant recollections, a concert with the world's greatest singers and musicians, combined with video clips of one of America's legends, Rosemary Clooney."
For six decades, Rosemary was one of America's most beloved, award-winning entertainers. She is perhaps best known for co-starring opposite BING CROSBY and DANNY KAYE in 'White Christmas' and for her first big radio hit in 1951, "Come On-A My House." Rosemary continued touring and recording albums until her cancer surgery in January 2002. She died in her Beverly Hills home on June 29, 2002.
The evening also provided an opportunity to celebrate the release of Rosemary's final album, Rosemary Clooney The Last Concert, conducted by MATT CATINGUB with the Honolulu Symphony Pops. Proceeds from the event will be donate to the Mayo Clinic Rosemary Clooney Pulminary Research Fund to study new ways to diagnose and treat lung disease.
---
FROM ROLLING STONE:
Tony Bennett, K.D. Lang, Linda Ronstadt, Nancy Sinatra and Diana Krall performed at a gala in honor of the late ROSEMARY CLOONEY in Beverly Hills on December 10th .
---
Clooney remembered in tribute
ARMY ARCHERD: JUST FOR VARIETY: Director, producer, actor George Clooney will rest on his laurels next year. "I have absolutely nothing on my plate," he tells me -- and he plans to fill that plate with pasta, vacationing in the villa he bought (for cash) on Lake Como. Clooney took bows Wednesday night at the preem of Miramax's "Confessions of a Dangerous Mind" which he directed and in which he stars. (His other credits amassed in the past year include exec producing "Insomnia," "Welcome to Collinwood" and "Far From Heaven." He also starred in "Collinwood," "Solaris" and "Intolerable Cruelty." But, Tuesday night, Clooney joined his family and the Hollywood community for "Rosemary," a never-to-be forgotten tribute to his aunt, Rosemary Clooney who died June 29, 2002. The evening at the BevHilton benefited a Clooney Pulmonary Fund at the Mayo Clinic. It was hosted by Merv Griffin, who probably knew Rosemary longer than anyone -- except for a few family members. Rosie, Merv and Tony Bennett first met in 1950 on CBS' "Songs for Sale." Bennett was, of course, one of those performing Tuesday (in duet with k.d. lang on "What a Wonderful World"). The flawless night was produced by Rosie's manager of 23 years, Allen Sviridoff . . . When Griffin came to the podium, he said he'd just seen George Clooney backstage. "It was like looking into a mirror." The audience roared. Later, when Clooney came onstage, he said, "I just saw Merv Griffin backstage -- it was like looking into a mirror." The audience again roared ... All the talent -- the 35-piece orchestra, conductors, and technicians for the show worked free. When she had her first hit record, "Come On-A My House," she personally wrote a bonus check to all on the recording session.
Gavin DeBecker was among the speakers who credited Rosie Clooney with taking him into her home during a tragic period of his childhood. Clooney also mothered her own five children (by husband Jose Ferrer). Each of the performers brought down the house: Mimi Hines with "Til There Was You," Cathi Campo, "Danny Boy," John Bayless, "Ave Maria," Alan and Marilyn Bergman, ""The Christmas Love Song," Debby Boone, "Blue Skies," Keely Smith, "You Go to My Head," Jimmy Webb, "Time Flies," T-Bone Burnett and Sam Phillips, "Say What You Mean," Michael Feinstein, "You Are There," and "They Can't Take That Away From Me," Bucky and John Pizzarelli, "Will You Still Be Mine," Linda Ronstadt, "What's New?" Diana Krall, "Count Your Blessings," The Earl Brown Singers "Tenderly." Plus remembrances delivered by Dolores Hope, Kathryn Crosby and Mary Crosby, Shaun Cassidy and Bob Mackie. Rosie's brother and George's father, Nick Clooney, displayed yet more of the family's comedic talent. The family's love for Rosie's husband, Dante Di Paolo, was expressed by her five children with Ferrer -- Miguel, Gabriel, Rafael, Maria and Monsita. Clips from Rosie's movies, TV shows (such as "Person to Person" with Ed Murrow) were capped with a final tape wishing everyone a Merry Christmas. Guests departed with a copy of Concord's "Rosemary Clooney, The Last Concert"; everyone left humming 'Tenderly."
---
Gala remembers Rosemary in great musical style
Rosemary missed quite a party
By Nick Clooney, Cincinnat Post - December 13, 2002
Tuesday night at the Beverly Hilton Hotel, there was a benefit performance in memory of my sister, Rosemary Clooney. Southern California, and a substantial sprinkling from the rest of the country, turned out to fill the coffers of the Mayo Clinic in Rochester, Minn.
Rosemary had a long history with Mayo, going there for regular check-ups in the last decade and more of her life. There is little question that they extended her life with their diagnostic skill and world-class treatment.
So, it followed that the show had to be world-class, too. It was. There was a 40-piece orchestra and a 20-voice chorus. While we're dealing in numbers, more than 1,000 people were on hand, and the ticket prices would get anyone's attention.
The lineup of those who sang, spoke or otherwise performed was impressive and I'll get to it in a moment. First, however, an announcement was made that has importance to those of us in the tri-state.
Actually, David Cartmell, mayor of Maysville, was scheduled to make the announcement to that high-powered Beverly Hills audience, but a flu bug with no sense of timing intervened and the mayor had to cancel. I'm sure it was disappointing to him.
So, I was the one who delivered the news that next year's Rosemary Clooney Music Festival in Maysville will be held on Saturday, September 20th, and that Rosemary's good friend, Linda Ronstadt, will be the headliner. That should be quite a show.
In the meantime, let me get back to Tuesday night's show and tell you who was there. One of Rosemary's oldest friends in the music business, Tony Bennett, was on hand doing a duet with K.D. Lang on the song "What a Beautiful World."
Debbie Boone had a cassette tape Rosemary had made for Debbie's children to play when they weren't feeling well. The song was "Blue Skies." Rosemary did one chorus, then Debbie sang for us.
My sister Betty's daughter Cathi came in from Las Vegas to remind us of the family's Irish roots with "Danny Boy." Both Rosemary and Betty would have been very proud.
All the way from New York, it was the superb guitarist Bucky Pizzarelli and his very successful son, the cabaret singer and guitarist Johnny Pizzarelli, doing an instrumental duet that had the crowd buzzing.
To tell the truth, every performance had the crowd buzzing. Each artist did only one song, and each poured his or her heart into every note. Michael Feinstein, Mimi Hines, the Earl Brown Singers.
The marvelous songwriters Alan and Marilyn Bergman were there and Marilyn told how Rosemary made Christmas time so special that they wrote a Christmas song just for her. Then Alan came out and sang it: "All I Want For Christmas is You."
Diana Krall walked to the piano and walked off with our hearts with her "Count Your Blessings."
Merv Griffin -- a longtime friend -- was the master of ceremonies and did one of the best jobs at that difficult chore in memory.
Many told Rosemary stories that hit home, including Dolores Hope. Memorably, Miguel Ferrer spoke of his mother, his father, and then of his mother's second husband, Dante DiPaolo, who was there to hear the words that must have helped ease his ongoing sense of loss.
At the end, Rosemary's five children were on stage to honor her memory. Miguel, Maria, Gabriel, Monsita and Rafael led us in the song Rosemary always ended her shows with, "Our Love is Here to Stay."
The Mayo Clinic's Rosemary Clooney Fund was much richer by the end of the evening.
So were all of us in the audience.
---