Rosemary Clooney appeared with the Toledo Symphony Orchestra on Saturday, February 26, 2000. Conducting the orchestra for her was her long-time accompanist and arranger John Oddo. Rosemary also brought with her "the nicest man [she] know[s]" drummer, Joe Cucuzzo.
The evening began at 8 p.m. with the symphony, conducted by Andrew Sewell, playing four pieces, Captain Blood Overture, Big Band Country, Music from "Big Country," and a Duke Ellington medley, which included Sophisticated Lady, and It Don't Mean a Thing If It Ain't Got That Swing.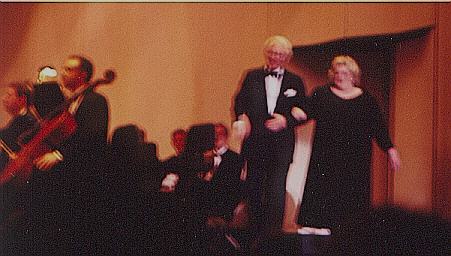 Promptly at 9 p.m. Rosemary made her entrance, escorted by her adoring husband Dante, while the symphony played the introduction for A Foggy Day.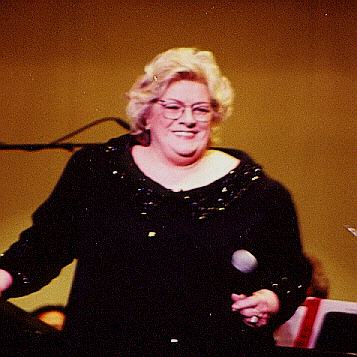 Ms. Clooney was genuinely touched by the very warm welcome she received from a very appreciative and excited audience - as you can tell from this smile.
John had the orchestra ready for Rosemary to break out into song, but she had something she wanted to tell the audience first. She said, "I was here twice, back in 1979, and I've obviously been brought back by popular demand! I suggest you don't wait that long next time!" The audience roared with laughter, and then she sang A Foggy Day better than any recorded version I've ever heard. She seemed to be energized and carried through the lyrics by this wonderful symphony backing her up.
After completing her first number, she turned to the symphony musicians and thanked them, and complimented Toledo on what a fine orchestra they had.
Her second number of the evening was the song she dedicates to her nephew George, We're in the Money. She began singing only after she had relayed the infamous story of George's innovate approach to painting the picket fence surrounding her swimming pool.
Rosemary's next numbers where Johhny Mercer songs. She recalled for the audience how his songs from the WWII era were some of the first songs she sang. Her Aunt Ann, who was also a singer, had some of Johnny's records which Rosie listened to. She also mentioned how she'd been introduced to Johnny through their mutual friend Bing Crosby. Johnny and Bing had "bent an elbow" together many times in earlier days, but Bing had cleaned his act up by the time Rosie met him, by Johhny was getting smashed. In fact one party hostess was to have said to Johnny, "I don't want your damn flowers tomorrow, so don't cause trouble tonight."

The three Johnny Mercer numbers she selected for the evening were:

P.S. I Love You

Bye Bye Baby, and

I Remember You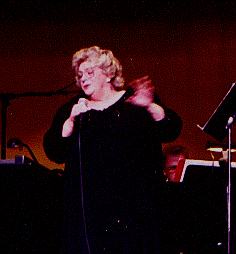 She began her next number by telling the audience she wanted to do an Ira Gershwin song (likes his songs, maybe because she lived beside him for 35 years) which she recorded on her CD Mothers and Daughters. She said she has five kids, three boys and two girls, and she likes the girls better - cause the guys get in trouble and then they just grow up and marry girls. Telling the audience that, led her into telling us about her nine year-old grandson Harry, whom she believes is her cross to bear in this life. She told of how Harry, upon learning of his Grandma's new artificial knee (which she received at the Mayo Clinic), immediately left the den where she was talking to her grandchildren, causing her to believe he might be upset by this news, only to find out that he'd really gone to the kitchen to retrieve a magnet from the refrigerator to see if it would stick to Grandma's knee. She also told of Harry's attempts to master on the piano the hit she recorded fifty years ago, Hey There - he's only mastered half of it - but she sings it with him anyway! After that little digression, she finally sang that favorite Ira Gershwin song, Funny Face.
(I've had the privilege of seeing Ms. Clooney live several times. Never have I seen her more animated and emotive then she was this evening. I hope these pictures convey just some of that to you.)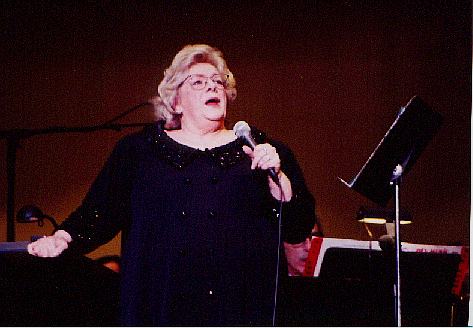 She informed the audience that most of the numbers they were performing tonight, were arranged by John Oddo, with the exception of two, which were arranged by Nelson Riddle.
Her next number was one that she'd recorded with Nelson but hadn't "done the verse before." She thought we'd like it--we did--More Than You Know.
Next Ms. Clooney gave the audience a thrill they'd been expecting when she performed Grandson Harry's song, Hey There, and she did "the whole damn thing."
Here you see Rosie as she engages in her typical banter with John during the instrumental interludes in the song. On this one, she's asking John what she just did, as she may have "come in" too soon.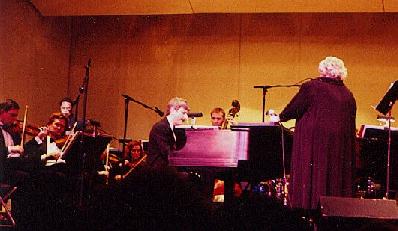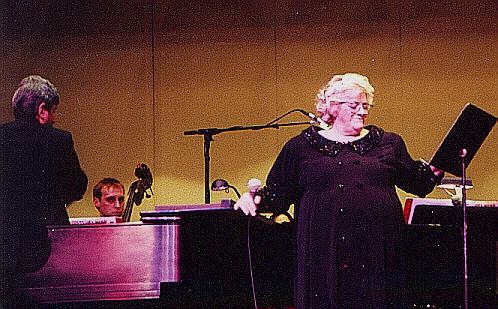 Following that popular big hit, Rosie sang a song she'd recorded with Nelson for her album Rosie Solves the Swingin Riddle - Limehouse Blues - one of Nelson's more inventive, cutsey arrangements, with the "gong" at the end.
It was fun for everyone, even Rosie!!
The packed house was next treated to Rosie's story about her favorite Catholic, Delores Hope, and how she helped make happen one of the most wonderful experiences of Rosie's life, her "audience" with the Pope.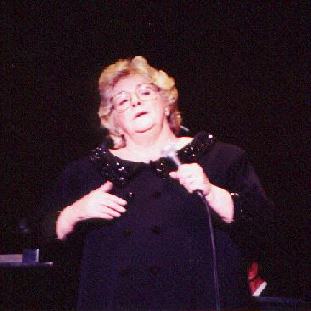 Right on cue, the audience exploded with laughter when she recounted how she, dressed in black wool and looking like she'd just walked down from the mountains to see him - "God Bless You"ed the Pope when he sneezed.
That was Rosie's segue into Bob's signature song Thanks for the Memories, only Rosie sang all the verses, which Bob never did - they are beautiful and moving.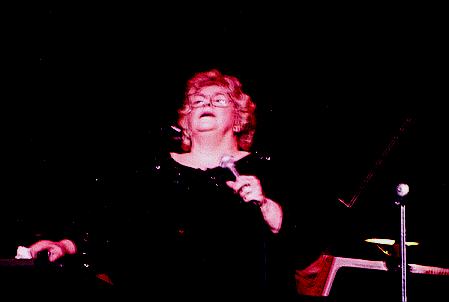 After a little break where she talked about how hot it was in the theater, not to mention the above average temps in Toledo (she said it was warmer here then in Arizona where she'd just been -but she was sure she'd get her fill of cold weather as she would be going to St. Paul tomorrow), she performed the beautifully moving lyrics of Johhny Mercer set to music by Barry Manilow (an artist she doesn't believe gets the credit and recognition that he deserves), When October Goes.
Telling the audience that the song she was to perform next was probably the reason for her being in Toledo tonight or anywhere, she delighted them with a verse of that Armenia Folk Song which catipolted her to stardom -- Come On-A My House.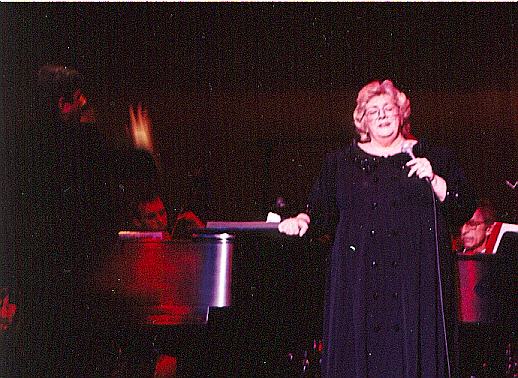 At the close of the hour, she finished up the set, as she often does, with another Gershwin tune that she believes only she and Michael Feinstein perform, Our Love is Here to Stay. She absolutely leaves you with the feeling that, just as we love her and all that she gives to us through her song, her voice, her grace, her courage and her example - she too loves us - and that mutual admiration will go on forever.
There on the left is a very happy and excited Dante escorting his wonderful wife off the stage after a spectacular performance. He so totally delights in her success - and tonight was certainly that. In typical fashion she waves to the audience and thanks them for being so kind and appreciative. They are the closest she'll get to home in several months.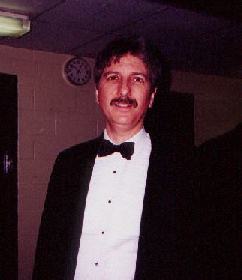 And that's John after the show backstage.
He's such a sweet guy.
Happy to know that there were folks online who would be happy to see his picture, so he made sure we took the photo where there would be enough lighting.
Spend just a few minutes with him and you know why Rosie loves him so.