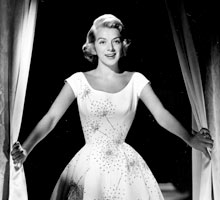 Vintage Rosie on PBS
By Rick Bird, Cincinnati Post staff reporter, March 5, 2004
As a television show it now looks a bit archaic and corny. As a collection of musical performances, it is stunning and timeless.
The estate of Rosemary Clooney is giving fans a true musical treasure with a new PBS documentary, "Rosemary Clooney: Girl Singer." It is full of vintage musical performances all from "The Rosemary Clooney Show," a prime-time syndicated TV show that aired in 1956-'57.
In between the songs there are heartfelt and, at times, tearful remembrances of Rosemary from all five of her children, plus brother Nick and nephew George.
"We wanted to have a proper memorial on tape. This is the beginning of it," said Allen Sviridoff, Clooney's longtime manager and executive producer of the documentary.
The show airs at 8 p.m. Sunday on Kentucky Educational Television (KET, Channel 54) and March 11 at 8 p.m. on CET (Channel 48; repeating 10 p.m. March 12).
The Thursday CET airing will be part of a fund drive with Nick Clooney hosting live.
Those looking for an objective, comprehensive biography of Rosemary Clooney won't find it in this hour-long piece. Instead, viewers get a personal memorial and musical showcase of the Maysville, Ky., native who died in 2002. Her family shares their most private memories of Rosemary, as if viewers were seeing a family photo album open up.
But, mostly, Rosemary does the talking; or in this case, the singing. This is all about the music as viewers see in their entirety, 18 songs she performed on the old TV show. It is the first time since the programs originally aired that extensive clips from them have been seen.
The 32 episodes she made were not exactly lost, but they had been collecting dust in MCA vaults. Sviridoff said, even 10 years before her death, Rosemary had talked about doing something with the music from the TV show. But corporate machinations over releasing the material got too complicated. After Clooney's death, Sviridoff immediately seized on the old TV shows as the centerpiece for a Rosemary biography.
What viewers get is a 30-year-old Rosemary Clooney at the top of her vocal game with exquisite arrangements done for the TV show by Nelson Riddle and performed by his orchestra.
"She was absolutely riding high as the Madonna of the '50s," Sviridoff said about the timing of the TV show. "This is '56, where she had a multi-platinum record with 'Hey There.' She had just made 'White Christmas.' She was recording constantly. She had a radio and television show and she was pregnant with her second child and married happily to Jose Ferrer. This is a woman having a great life."
The sound quality from the old clips is stunning, because it was one of the first TV shows ever recorded on 35 mm film. Each week Clooney and Nelson Riddle would hit the recording studio to lay down the songs for the show. Then Clooney would lip-sync them for the cameras. And that's another talent Rosemary had.
"She blew the editor's mind," Sviridoff said and chuckled. "When he was working on this (documentary) he called me and said, 'She's not lip-syncing. I cannot find a mistake in here. Her mouth is perfectly in time.' The amazing part is, today you watch the monitor, you sing, then you go fix parts. But this was all shot on 35 mm film, so there were no monitors. And maybe just a couple takes."
In the piece, the family talks about Rosemary's renowned personable style, her ability to make a song her own. Nick quotes Frank Sinatra as saying, "Rosemary could hit a note smack dab in the middle of it."
Her almost mystical ability to connect with audiences comes through in the TV performances even as the admittedly hokey production of the time finds Rosemary on a sparse set singing "Hey There" as she makes a floral arrangement. Even in the impersonal TV medium you get a sense she is singing just to you.
The songs are classic Rosemary, including plenty of Gershwin and Cole Porter. Her family tells great stories about how she hated "Come on-a My House," as they set up her performance of her breakthrough hit.
In the piece, George Clooney comments that he wishes his friends could have seen his aunt perform when it was just her and an audience, such as at her famed performances at Rockefeller Center's Rainbow and Stars room. "When she got up in front of people, with just her and a microphone, something magical happened," he said about her amazing ease and natural repartee with an audience.
There are such performances preserved on tape and fans will likely see them in similar future documentaries.
"The whole intent is to do a follow-up," Sviridoff said. "There is a whole lot more to say, but we wanted to start the audience with what really got her started and what she was doing at the height of her career."