Just weeks after Whiting left 4 Girls 4, she and Clooney launched their own nightclub act in New York City at the new Ballroom at 253 West 28th Street. The show had the clever title of "Daddy and the Boy Next Door." It was a tribute to Richard Whiting (Margaret's brilliant songwriter father) and Ira Gershwin (Rosemary's brilliant songwriter next-door-neighbor).
"From the beginning," Whiting told The New York Times, "Rosemary and I were the two members of 4 Girls 4 who got along the best. And once I had a dream that we worked together."
Immediately the press began to emphasize the similarities between the two women. Both, for example, had worked with their sisters. Rosemary had begun her career as one half of the singing Clooney sisters, with her sister Betty. Whiting had once co-starred with her sister Barbara on the TV program, "Those Whiting Girls." They were both pop singers who had crossover country hits. They had both duetted with Bob Hope and Bing Crosby. "Tenderly," a song originally written for Margaret, had become one of Clooney's biggest hits.
When the Ballroom show was in its planning stages, Whiting flew out to Clooney's home so they could rehearse a medley of Gershwin songs together. During their rehearsal, a message arrived from Gershwin's then-secretary, Michael Feinstein. Ira wanted to see both women right away.
"So we went," Clooney told the Times. "Me in my terrycloth slippers and robe, Margaret dressed to the nines, as usual. We sang our medley for him. I had never sung for him before, and I felt as though I was 10 years old. Neither Margaret nor I looked at each other while we were singing. And when we sang 'Someone to Watch Over Me,' Ira's eyes filled with tears. 'That is my favorite song,' he said."
In addition to their solo renditions of songs associated with Richard Whiting and Ira Gershwin, the two ladies sang a few duets together. Songwriter John Meyer recalled the Ballroom engagements.
"I remember that Margaret and Rosemary did an act together for Greg Dawson at the Ballroom later on. Margaret appeared with Rosemary and they did a song called 'Just the Two of Us,' which was similar to 'Together,' [which they had sung with the 4 Girls 4]"
The two continued to appear together occasionally, and as late as the 1990s were on the same bill for a Carnegie Hall tribute to Frank Sinatra.
By 1982 Rosemary was also starting to strike out on her own, often paired with other performers like Mel Torme, Tony Bennett, Count Basie and Red Norvo, and often accompanied by a jazz troupe assembled by Concord Records, with whom she would maintain a longstanding professional relationship.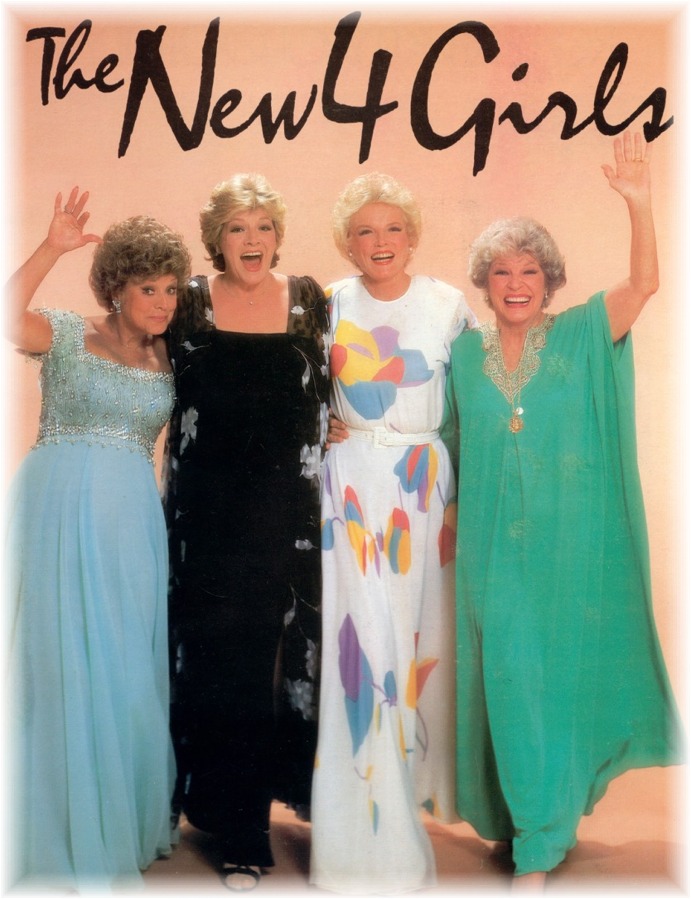 Meantime 4 Girls 4 continued to attract robust crowds. Now known as "The New 4 Girls," the act featured Clooney, O'Connell, Martha Raye, and its newest recruit, Kay Starr.
"I didn't have any sisters or brothers so I hesitated even joining the group for about two years," Starr recalled. "Clooney finally said to me, 'What the hell's the matter with you?!' And I explained to her, 'I don't have any siblings and I don't know what I'm getting into. I don't want to get in there and make a mess of things.' She said, 'Don't you understand? We wouldn't be asking you to do it if we didn't think you were the one.'
"So then I said, 'Well, let me try it for a week.' I joined them in St. Louis and I said, 'Two things: I'll join you for the week and we'll see if we get along. The second thing is, I want to go on first.'
"And Rosemary said, 'Now I know you're crazy. Nobody ever wants to go on first.' I said, 'I do.' She said, 'Do you mind telling me why?' And I said, 'If I go on first, by the time everybody else has sung, they'll have forgotten how much they dislike me! And when I do the finale I'll be accepted as one of the 4 Girls 4. It'll be tough enough to be considered a girl. You girls can be whatever you want to be, but I'm a grandma and I'm a woman!"
Some of Starr's early engagements with the group seemed to reflect her initial reservations with joining the 4 Girls 4. One or two snarky-mouthed critics said some unkind things about her, but she persevered and became an integral part of the act, continuing with the "girls" until the end of its run.
"Both Starr and Clooney, who bookend the evening, mix generous doses of their standards with more contemporary material," reported Variety in March of 1982. "It's all highly individual, capable of enthusing both old and young audiences... O'Connell takes the second slot, wrapping the first half with a delicate set highlighted by a personalized reading of 'Don't Cry Out Loud.' ...Predictably enough, Miss Raye's segment is the showoff set. Unlike the others, there are no attempts to update the image. None appears to be necessary, since the old routines still work."
Starr – who said she knew Rosemary for decades, as both had been big band singers in the 1940s – had a ball on the road with the "girls."

"I couldn't begin to tell you the funny things that happened on the road!" she said with a husky laugh. "And with four women? For god's sake! You don't have a newspaper or magazine big enough to cover that!

"I never had a sister before," she continues, "but I found a couple of them in the 4 Girls 4. I think we use the word 'girls' loosely. But nobody ever called us on it! That's the way the world experienced us... It was a fun time. About seven years. Seven years and I think I know women now better than I did before, because I had three of 'em to choose from."
Asked her memories of Rosemary, Starr chuckles and says, "Rosemary was the leader. She was the head nun, Mother Clooney. She was always there to put her hand on us to say, 'Hey, this is silly.' We never really fought but we disagreed on things. How many times have you ever seen four women who could agree on the same thing? Not very often, and certainly not for six or seven years."
Go To Page: 1---2---3---4---5---6---7---8---9---10---11---12---13---14 --- NEXT>>>